Elmo Fire bears down on hundreds of homes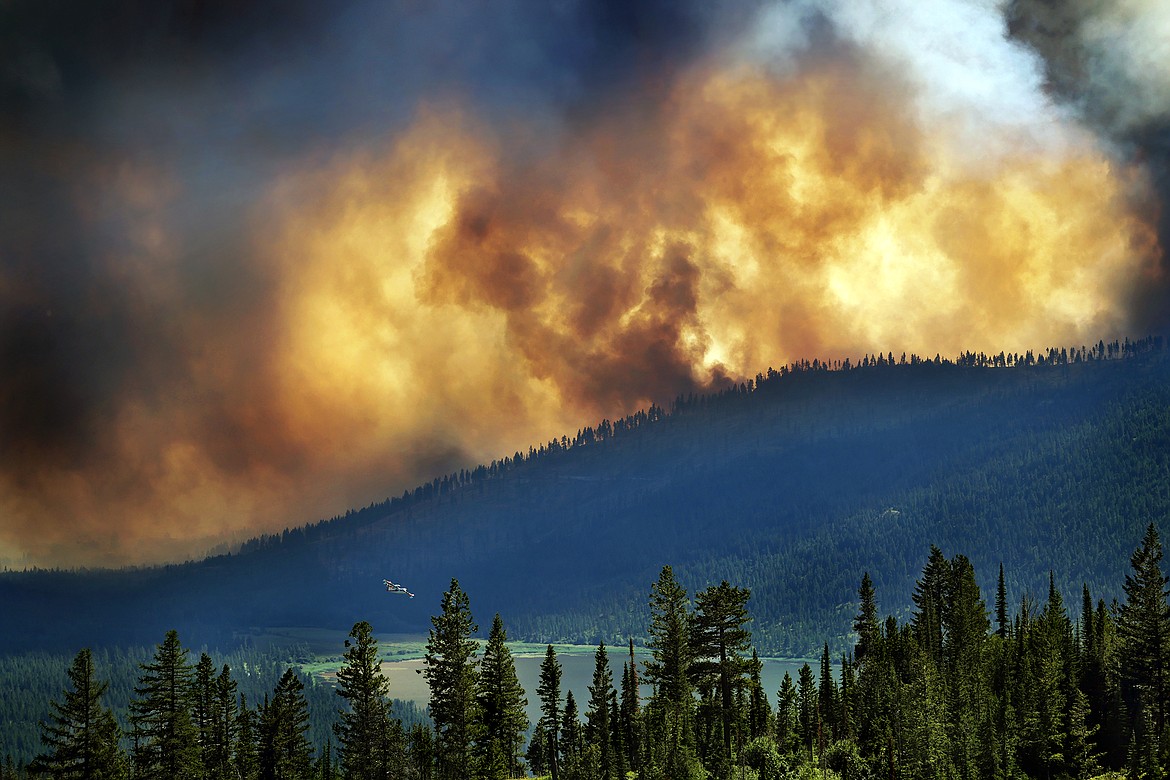 An Aero-Flite CL415 Super Scooper passes over Lake Mary Ronan during a period of intense activity in the Elmo 2 Fire Wednesday afternoon, Aug. 3. (Jeremy Weber/Daily Inter Lake)
by
MATT BALDWIN
Daily Inter Lake
|
August 4, 2022 10:00 AM
Fire crews lost ground on the Elmo 2 Fire as it made a run toward hundreds of structures in the Lake Mary Ronan area on Wednesday evening.
The human-caused fire west of Flathead Lake grew by about 2,200 acres and was estimated at 20,616 acres Thursday morning. It was 6% contained, with new growth on the northern perimeter.
Eight structures, including four homes, have been destroyed in the fire that is bearing down on Camp Tuffit Road and Lake Mary Ronan. As many as 250 structures are threatened in the area, according to the Northern Rockies Coordination Center.
Thursday brought some relief from the extreme fire weather that has pounded the west side of Flathead Lake all week.
"The fire has been fairly moderate at this point," fire information officer Sara Rouse said Thursday afternoon, noting that the footprint of the fire had not changed dramatically during the day.
She said the north flank of the fire was at the edge of Camp Tuffit Road and was nearing the southeast portion of the lake.
Six scoopers were dipping out of Lake Mary Ronan, which allowed for quicker turnaround times between water drops, Rouse said.
Two single-engine air tankers and three helicopters were also assigned to the blaze.
"They're getting after it pretty well today," Rouse said.
Total personnel battling the Elmo 2 Fire increased to 439 on Thursday. Rouse said that number will go up with the arrival of additional firefighters on Friday.
The blaze is the largest fire in the state, with resources costing about $5 million since the fire began July 29.
Officials closed Lake Mary Ronan Road to all traffic Thursday to allow fire personnel to safely conduct operations. The solid waste transfer site on the road is also closed.
An evacuation order remains in place for all residents north and south of Lake Mary Ronan Road, and all residents who live along Lake Mary Ronan. 
Pre-evacuation warnings are still in effect for residences east and south of U.S. 93 between intersections with Montana 28 and Lake Mary Ronan Road.
A public meeting is scheduled for Friday at 7 p.m. at the Elmo Pow Pow Grounds.
Dangerous fire conditions prompted officials to pull firefighters off the north flank Wednesday afternoon as winds caused upslope runs and torching. Crews were able to return later that evening for structure protection work.
Rouse said fire managers hoped to have a night crew on Lake Mary Ronan Road Thursday night, as well.
In response to the worsening fire conditions the CSKT Division of Fire enacted Stage 1 fire restrictions for the Flathead Reservation on Wednesday. This prohibits campfires except within a developed site, and limits off-road vehicle travel and smoking.
Also on the Flathead Reservation, the Redhorn Fire was estimated at 180 acres on Thursday. It is burning in rugged terrain on the Mission Mountains north of St. Ignatius.
About 40 firefighters were working on fuel breaks while helicopters hit the fire with water.
Recent Headlines
---