Eureka Community Players cook up 'The Kitchen Witches'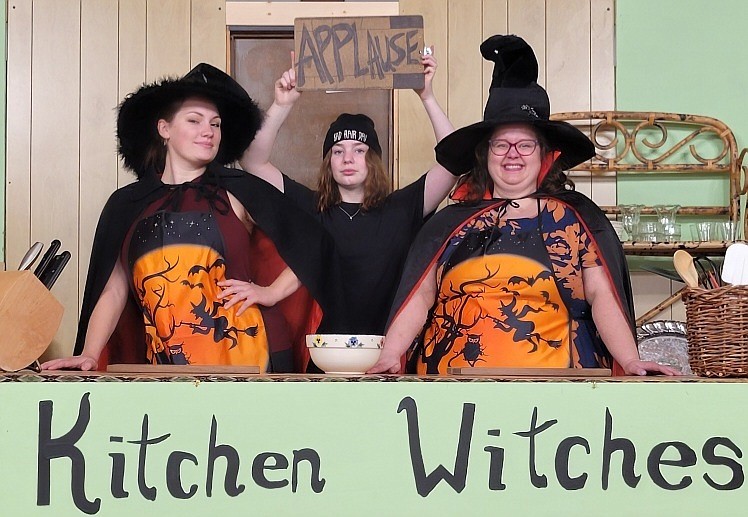 Caitlin Studevant as Isobel Lomax and Heather Smith as Dolly Biddle in Eureka Community Players' production of "Kitchen Witches." Behind them is stage hand Robyn played by Kerah Roose.
|
August 4, 2022 12:00 AM
The Eureka Community Players present "The Kitchen Witches" by Caroline Smith at 7 p.m. Friday and Saturday, Aug. 5 and 6; with a 3 p.m. matinee Sunday, Aug. 7. All performances are on the stage at The Timbers Lodge (the Eureka Community Hall).
Isobel Lomax and Dolly Biddle are two "mature" cable-access cooking show hostesses who have hated each other for 30 years, ever since Larry Biddle dated one and married the other. When circumstances put them together on a TV show called "The Kitchen Witches," the insults are flung
harder than the food. Dolly's long-suffering TV-producer son Stephen tried to keep them on track, but as long as Dolly's dressing room is one inch closer to the set than Isobel's, it's a losing battle, and the show becomes a rating smash as Dolly and Isobel top both Martha Stewart and
Jerry Springer.
Starring four local actors, "The Kitchen Witches" is a rollicking evening or afternoon of fun for everyone, starring Heather Smith as Dolly, Caitlin Studevant as Isobel, Christopher Beemer as Stephen, and Kerah Roose as stagehand Robyn.
Directed by John and Sharon LaBonty, "The Kitchen Witches" will be a fun addition to the Eureka Montana Quilt Show weekend.
According to NUVO, "The Kitchen Witches is raucously funny … interesting and believable characters in a fast-paced, high-energy farce … The show pulls no punches when it comes to both shocking and tickling audiences."
Tickets for the shows are $8 and are available at the door.
Recent Headlines
---