Cool weather aids battle on Elmo Fire; some evacuations lifted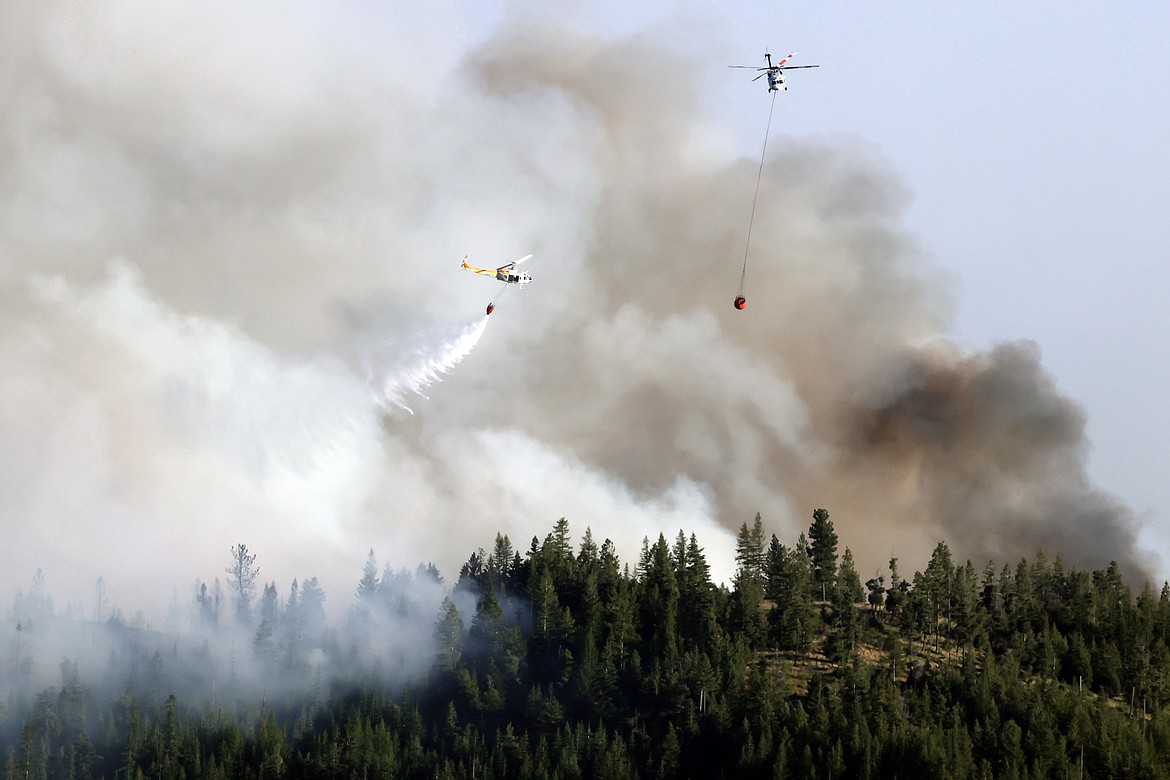 Helicopters drop water on the Elmo 2 Fire near Lake Mary Ronan Wednesday afternoon, Aug. 3. (Jeremy Weber/Daily Inter Lake)
by
MATT BALDWIN
Daily Inter Lake
|
August 6, 2022 8:00 AM
Cooler daytime temperatures are aiding a substantial effort to contain the Elmo 2 Fire and keep the blaze away from hundreds of structures in the Lake Mary Ronan area. As a result, some evacuation orders were lifted Saturday.
The fire grew by just 16 acres Friday, bringing total acres burned to 21,198 as of Saturday. The fire was estimated to be 18% contained.
Nearly 575 firefighters kept the north perimeter at Camp Tuffit Road and south of Lake Mary Ronan, where an estimated 250 structures are located.
After a week of critical fire weather, Friday brought calmer winds and lower temperatures. The conditions allowed crews to build more fire line and shore up existing lines, while air resources douse the fire from above.
Four scoopers, two single-engine air tankers and three helicopters continue to work the fire.
The cost to battle the human-caused fire since it began July 29 is estimated at $8.5 million.
Saturday, firefighters were focused on securing the west side of the fire, as well as continued efforts to hold the line at Lake Mary Ronan.
Evacuation orders were still in effect Saturday for residents west of the intersection of Lake Mary Ronan Road and Dayton Creek Road. Lake Mary Ronan Road remained closed at the Dayton Creek Road intersection, while arterial roads off Lake Mary Ronan Road were opened to residents only.
Meanwhile, evacuation orders were to be lifted Saturday at noon for residents of Chief Cliff Lane and Black Lake Road, and for residents of Big Meadows Road and Dayton Creek Road. These areas will remain under pre-evacuation warning.
Pre-evacuation warnings were to be lifted for residents east of U.S. 93 between Chief Cliff Lane and Lake Mary Ronan Road.
The Proctor dump was to reopen to Lake County residents at noon Saturday.
Closures remain in effect for the Boat Ramp at the Elmo Fishing Access site and Lake Mary Ronan State Park.
Lake County and the Flathead Reservation remain under Stage 1 fire restrictions, which prohibits open campfires, and limits off-road travel and smoking.
TO THE south, the Redhorn Fire was estimated at 281 acres Saturday. It is burning on the Mission Mountain north of St. Ignatius. Helicopter water drops Friday targeted the lower west perimeter of the fire.
In northern Lincoln and Flathead counties, the Weasel Fire is now at 2,274 acres and has crossed the border into Canada.
The lightning-caused fire made a 5-mile run on Aug. 4 toward Frozen Lake. As of Saturday, about half of the fire was in Canada, with the remainder on the Kootenai and Flathead forests. Fire crews based in Eureka and Cranbrook, B.C., are coordinating efforts to monitor and contain the fire as it burns in thick timber in remote terrain.
The historic Weasel Cabin and the Wam Fire Tower are both wrapped in fire-resistant material.
Recent Headlines
---