Campaign advocates treating outdoors like 'Grandma's House'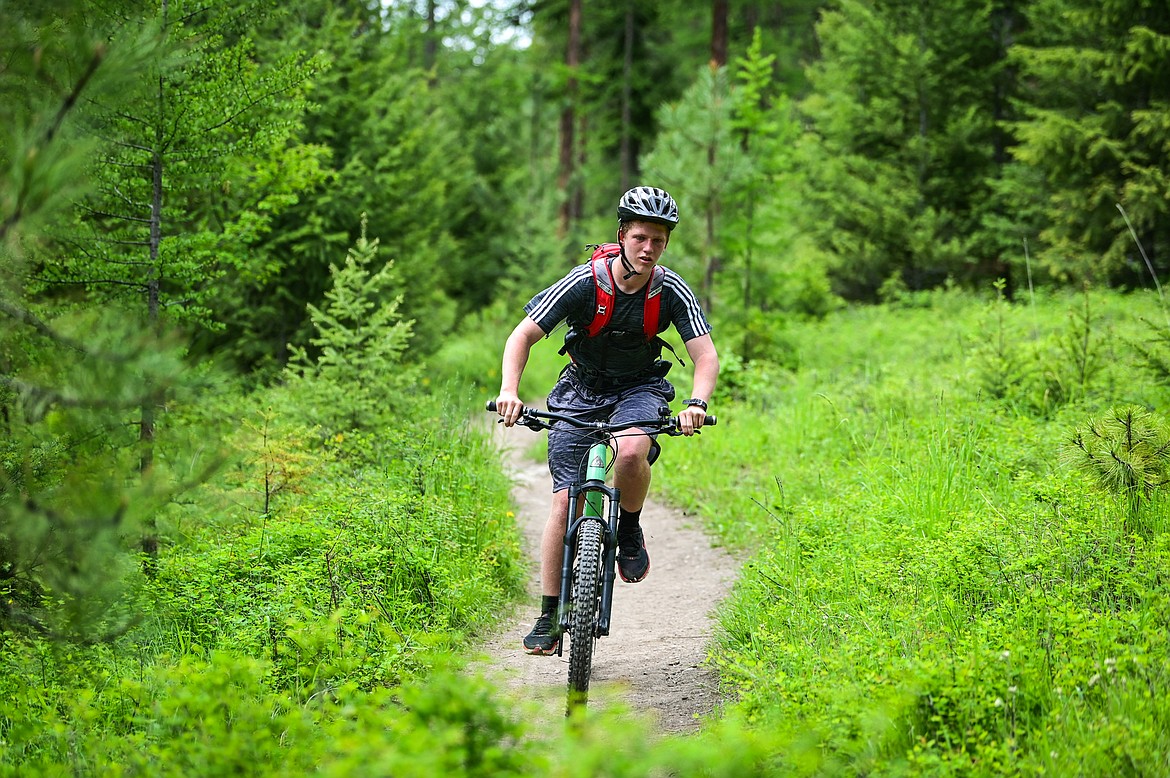 A mountain biker descends the Notch Trail, part of the Foy's to Blacktail Trail system at Herron Park, on Thursday, June 9. (Casey Kreider/Daily Inter Lake)
by
SUMMER ZALESKY Daily Inter Lake
|
August 7, 2022 12:00 AM
With the ever-growing number of residents and visitors, Discover Kalispell has launched a new campaign to encourage responsible recreation in the Flathead Valley — asking them to "Treat It Like Grandma's House."
"We simply mean that you need to be kind, mind your manners, pick up after yourself, follow the rules, be patient and leave things better than you found them," the campaign says. "Grandma and Montana don't like a messy house."
"People were getting a little numb to hearing the words 'recreate responsibly' and so we thought, 'we need to shake it up and get people's attention again,'" Diane Medler, Executive Director of Discover Kalispell, said.
"When we unveiled this new approach, the response we received was overwhelming," she continued. "We found that our audience appreciated this angle, as it's relatable, easily understood and attention-grabbing."
Kalispell is now the fastest-growing micropolitan in the U.S. and Flathead County is the fastest-growing county in the state, according to the U.S. Census Bureau. Thus, the campaign focuses on reminding not only visitors, but residents to recreate responsibly.

"It is really important to us to be good community stewards and to take a community-first approach on all of our promotions and initiatives," Medler said.
In addition, Discover Kalispell advocates for safe recreation practices by checking weather and forecast conditions, having a backup plan in case of emergencies, and being bear-aware.
Visitors and residents should also exercise leave no trace principles by checking fire restrictions, cleaning watercraft to prevent invasive species, and packing out any garbage or waste.
Discover Kalispell's website advocates for leaving the places better than recreationists found them. It also advocates showing appreciation for Kalispell's recreation areas.
"We all have a responsibility to do what we can to sustain the outdoor places we love," the website notes. "Volunteer, donate, and advocate for the outdoors."
"Equally important to us is reaching a certain number of visitors so that they're more informed before they get here and maybe they'll think twice and remember to be kind and patient when they're here. That's the ultimate goal," Medler said.
To learn more about the Discover Kalispell's initiative, visit discoverkalispell.com/blog/treat-it-like-grandmas-house.
Recent Headlines
---