14 candidates pursue open seat on ImagineIF library board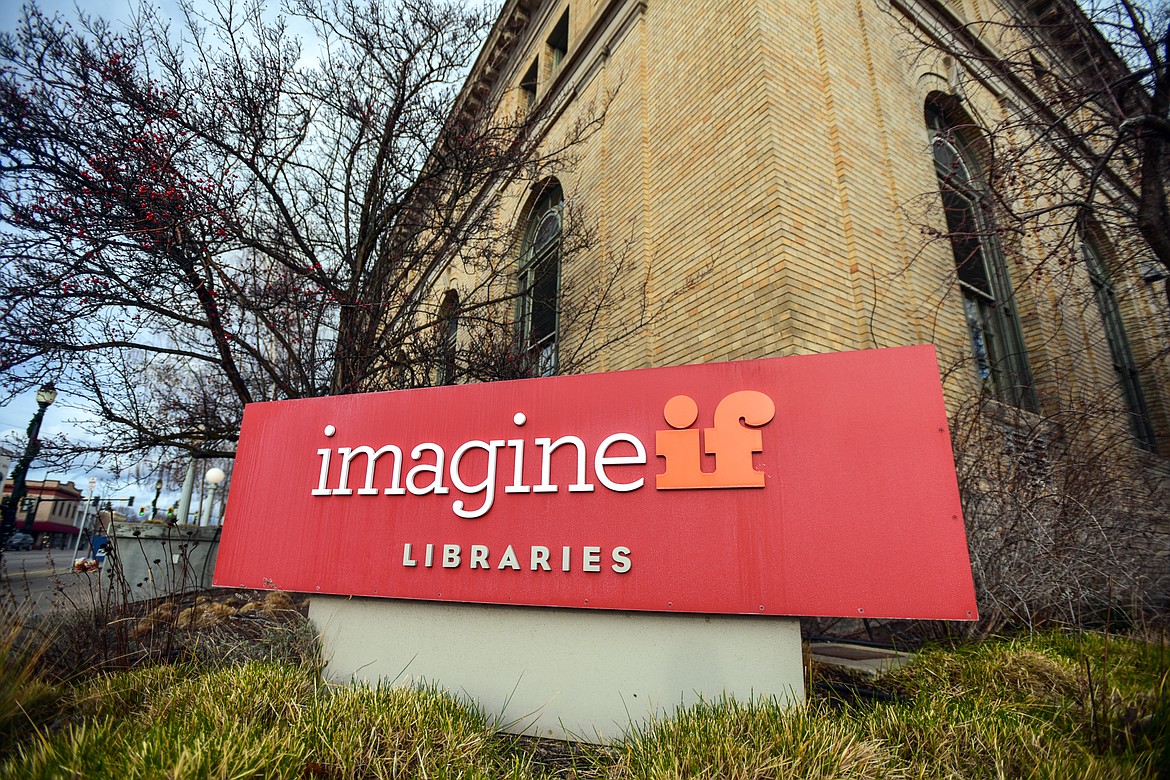 ImagineIF Library in Kalispell on Thursday, Dec. 2. (Casey Kreider/Daily Inter Lake)
The timeframe to submit an application to be on the ImagineIF Library Board of Trustees has closed and now begins the work of narrowing down the list to the top picks for the vacant seat.
ImagineIF Board of Trustees typically select three candidates to send to the Flathead County commissioners for consideration — although commissioners can forgo the recommendations. ImagineIF Board of Trustees Chairman Doug Adams said the board anticipates interviewing applicants toward the beginning or middle of September, which will be decided at the panel's August meeting.
Marsha Sultz, who resigned after the appointment of Carmen Cuthbertson to the board in June, created the opening. Cuthbertson's appointment has drawn criticism and resulted in loss of funding for nonprofit partners, but she has also heard from many who support her at recent board meetings.
Cuthbertson was the first to challenge the book, "Gender Queer" last year, which sparked a community conversation about materials in the library.
ImagineIF accepted applications until Aug. 1, but many of the applicants from Cuthbertson's appointment are throwing their hat in for this vacancy too.
Maureen Louden is a retired teacher who previously served on various committees, including the Reading Is Fundamental Committee. Since retiring, she has also been a member of the Flathead Quilters' Guild, serving as chair in 2012. She quoted the library's mission statement and strategic plan in her application, adding that it's her desire to see library staff and board trustees work collaboratively to reach goals without conflict or controversy. She said she has been concerned about the various challenges the library system has faced and wants to see the library in the news for "good reasons.".
Business owner Becky Saunders said her diverse background could be beneficial. Her application said that — in addition to owning a dry cleaners, gift store, gallery, book store, two restaurants, a bar and a furniture stripping business — she has worked as a teacher, accountant and realtor. An avid reader at a young age, she looked to books to escape a tough upbringing. She said she still enjoys reading many different kinds of books, and if she was appointed to the board, she would use her experience to give back to the community.
Abby Moscatel was inspired to apply after seeing the debate around "Gender Queer." She said her husband and son attended the last library board meeting where they discussed the vacancy and decided to apply. According to her application, she is primarily concerned with providing safe and fair access to information in the library. She said her family recently moved from Los Angeles, where their public libraries "smelled like urine and were [patronized] mainly by the homeless." She said she wants to keep ImagineIF "on the right track" for being a safe and enjoyable place.
Moscatel was a corporate trial attorney with State Farm, but launched Blacktail Law Group when she moved to Montana. She said she enjoys being able to offer her work at a reduced rate or pro bono for nonprofits. She recently worked with Fair For All, Pacific Justice and America First Policy.
Fair For All said their mission is to advance civil rights for all Americans. Pacific Justice Institute is a conservative legal defense fund based in California focusing on representation relating to "... religious freedom, parental rights and other civil liberties." America First Policy Institute was founded after former President Donald Trump took office in 2017. They describe their mission as "supporting key policy initiatives that will work for all citizens in our country and put America first."
If appointed to the board, she said will put her analytical thinking skills to work and bring decades worth of what she's learned practicing law.
Clinton Cathcart said he seeks "to be of service and capable of contributing in a meaningful manner." Retired, Cathcart said he previously served on Kalispell's Board of Adjustment for two terms as well as with the Middlefork QRU as a member and president. He said his educational background covers engineering, finance, economics and business management. During his working life, he said he served in "various roles at the top and the bottom of organizations, on committees and boards." He said he feels connected to the idea that the library should be more than a repository of books, "a place where Flathead County residents can access information, dreams, possibilities and a world where the imagination can allow us to journey without limits." He said he believes the board would benefit from his participation as an energetic team player who is a strong advocate of the library system.
Taaylr Claridge feels called to serve on the board as a mother of young children who has enjoyed enormous benefits over the years thanks to public libraries. To her, "libraries are more about people than books." She believes this idea is a key component of the effective operation of the system — especially when making difficult decisions.
The position would be a learning experience for Claridge, who said in her application that it would be her first foray into serving on a volunteer board. She works as an "instructor of the arts" with a decade of experience teaching people of all ages and diverse backgrounds. Claridge said this path in life began as a toddler at the Flathead County Public Library, when her parents checked out her first dance lesson video. She said this work has led to many opportunities for community involvement and outreach over the years.
Mitchell Drachman previously served as a trustee for the Whitefish Community Library Board. He loves libraries and the benefits it provides for people of all ages. Drachman cited several boards and committees he's served on since the early '80s, including serving as the Tamarack Federation state representative from 2015-18, serving as chair and vice chair of the Broward County, Florida Parks & Recreation Advisory Board from 1981-2000 and being elected to the City of Pembroke Pines Charter Review Board until 1986, among others. He said his experience serving on the Whitefish Community Library Board will allow him to fit in on the ImagineIF board. He said he also has extensive experience in finance and accounting, managing the credit department for a multibillion dollar company during his career. He has run his own mortgage brokerage business for 19 years.
Samantha Riley said she feels connected to the library's mission to provide safe access to information for the community. She currently serves on the Flathead County Republican Central Committee. She runs her own apparel business, Liberty or Lose, which "focuses on messages that resonate with a female conservative audience." She also is a substitute teacher in public and private local schools.
Riley's husband, Jim Riley, was the leader of a group of concerned community members who came to the ImagineIF Board meeting in June and expressed worries about the direction of the library during public comment. Jim Riley said at that meeting he believes the availability of "Gender Queer" at the library is "embarassing and dangerous." He said he believes the presence of the book can lead to perversion and violence.
Samantha Riley also introduced herself to board trustees at that meeting and announced her intention to apply for the vacancy.
Wanita Smith is a founding member of the Flathead Literacy Program and sat on their board for three years. In her application, she talks about how important the library is in offering opportunities for early literacy to children and their families. She said she has also taught English to adults from the Indian subcontinent, Europe and South America as well as Native American communities for more than a decade. She said she hopes she can bring her skills in listening and understanding others' viewpoints, adding that her background as an educator has made her "a listener first and a talker second." She said the library is important in making people aware of community service providers and building on their practical learning skills.
Jane Wheeler was one of three applicants brought before the Flathead County Commissioners for consideration in June, along with Jake Fulkerson and Cuthbertson. Wheeler's career centered around books. She served as a librarian for public libraries, school and university libraries and specialized (science) libraries. Wheeler also spent years serving on the board for the West Valley School District. She said she believes libraries are vital to a thriving community and that she believes "in consensus," adding that "the strength of any government organization is their ability to work together." Wheeler has also served on the Hockaday Museum of Art board and said she is a Cub Scout leader, soccer coach and the president of the Officer Wives Club.
Erica Wirtala considers herself a "super user" of the ImagineIF libraries, visiting one to three times a week. She said both her mother and grandmother were librarians, so she has fond memories of growing up in the book stacks. She currently serves on the ImagineIF Foundation board and has been part of Friends of the Library for many years. She said in her application she would resign from her Foundation position if appointed as an ImagineIF trustee. She is also the president of the Kalispell Chamber of Commerce Board as well as a member of the Northwest Montana Community Land Trust board.
She said she has a good track record of accomplishing an organization's goals, maintaining guidelines and adhering to protocols. She said she believes the community is fortunate to have an award-winning library and is committed to seeing it continue to thrive.
Diane Taylor-Mahnke worked for 15 years as a school librarian. She said in her application that she is looking for an opportunity to make libraries a major part of her focus again. During her time as a librarian, she said she attended many trainings as a member of the Montana Library Association, the American Association for School Libraries and the American Library Association.
Taylor-Mahnke is co-president for Flathead County Democratic Women and has served on several boards, including the Deer Park School Board, Northwest Montana Reading Council and Citizens for a Better Flathead, among others. She said the library's mission to provide safe and fair access to books and information was one of the reasons she pursued being a librarian. In a letter to board trustees in May, she said hearing from ImagineIF staff at previous board meetings inspired her to do all that she can for the library system.

Jake Fulkerson was another top pick for the last vacant board seat. He has been part of the Capital Campaign Committee for the Bigfork Library under the ImagineIF Foundation and has years of experience serving on boards and as a county commissioner in Wyoming. He said he got involved with the library after becoming part of the Foundation and taking his 5-year-old granddaughter there. He served as chair of the Park County, Wyoming School Board, was part of their Board of County Commissioners, and was chair of the Cody Economic Development Council. He was an active member of their Rotary Club as well as the Cody Rotary Foundation. During his time as county commissioner, he served as the liaison between the county and their library system.
Valerie McGarvey said she remembers frequenting the Kalispell library back when she moved to Montana as an 11-year-old. McGarvey worked for 25 years at Flathead High School, starting as an English teacher and eventually becoming theater director. She said she has remained a dedicated patron and appreciates the library for giving her tools to broaden and educate herself throughout life. In her application, McGarvey said that she is concerned about the direction the library is taking and would like to see it "fully funded and supported by the county commissioners."
In addition to her career in education, McGarvey said she also serves as chair of the Center for Restorative Justice board and previously served on the Alpine Theater Project board and was a founding member of the nonprofit Valley Neighbors. She said she has received training in board governance three times and has developed strategic plans multiple times.
Bruce Guthrie was an educator for 27 years, which he said has led to a deep appreciation of the role of libraries in the community. He said he has served on various committees throughout his career, as well as supervising and evaluating teachers while working at a private school in Saudi Arabia. He also co-produces an annual community event celebrating Martin Luther King Jr. since 2010. Guthrie said this has shown him how important it is to take multiple different views and opinions into account while being in a leadership role.
He said he would like to maintain the integrity of the library system as it has functioned for many decades, a community hub for research that makes information accessible to every citizen.
Recent Headlines
---