Kalispell's City Attorney sees importance of local government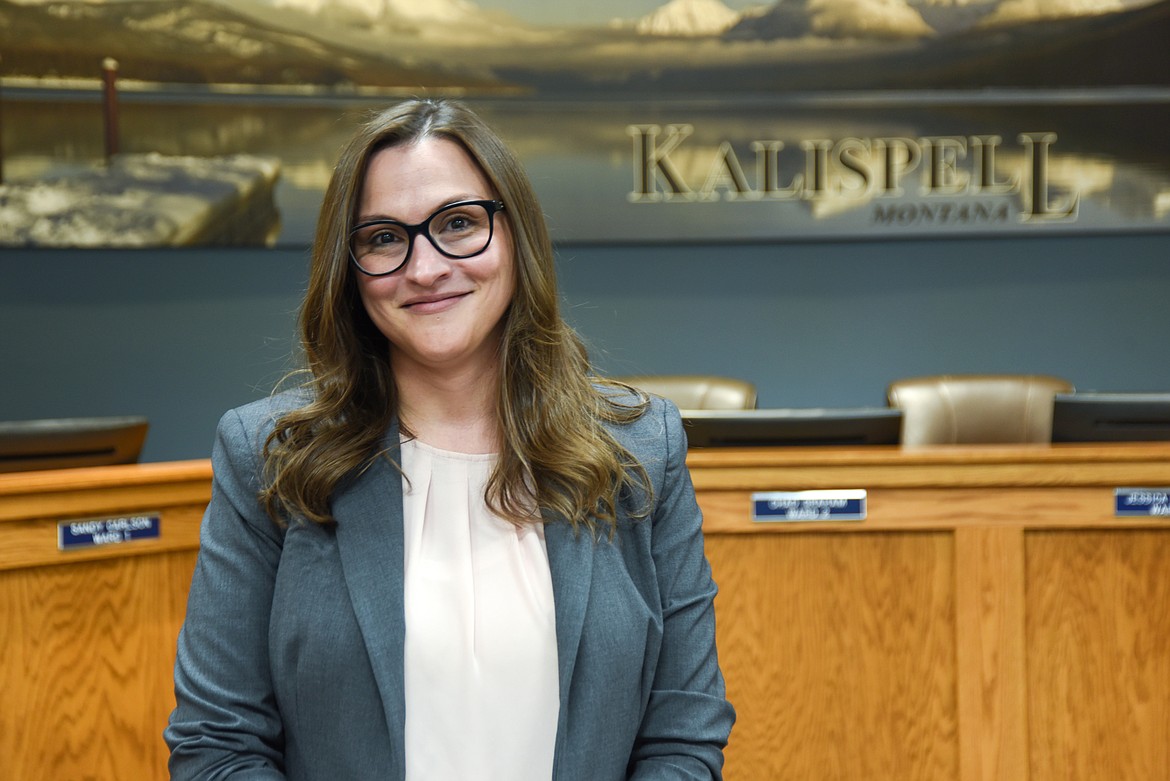 Johnna Preble moved into the position of city attorney for the City of Kalispell this summer after serving as assistant city attorney. (Heidi Desch/Daily Inter Lake)
by
HEIDI DESCH
Daily Inter Lake
|
August 29, 2022 12:00 AM
Studying to be a teacher in college, Johnna Preble was taking an ethics class when she realized it was time to switch career paths.
"There was a hypothetical scenario and everybody in the class was viewing it from the teacher's perspective and I was viewing it from a liability standpoint," Preble said. "I realized at that point there is a time where you can't deny where your passion is and what you're good at."
Preble has assumed the position of Kalispell city attorney after serving as assistant city attorney since 2018.
Growing up in Helena with a father who was a civil attorney and a mother who served on the city commission, Preble recalls dinner table conversations revolving around the law and local politics — two areas she was determined to avoid but life seemingly steered her in that direction anyway. Preble now finds herself working on civil matters for the city and attending Monday City Council meetings.
"Local government is such a unique, complex and important type of government," she says. "I'm a public servant for life at this point. I want to be involved in protecting my community and help in decision-making. While the federal government can affect your everyday life, local government absolutely affects your everyday life — many people don't realize that. Being in a position where I can protect that and be a good steward of city taxpayer funds and protect the city from liability, I knew I wanted that."
Preble earned her undergraduate and law degree from the University of Montana.
While attending law school, she served as a clinical intern for the Montana Innocence Project, a legal organization that works to free wrongfully incarcerated people. At the time she was looking at a career in criminal law and saw the opportunity as a way to help those who she says were not only wrongfully accused but disadvantaged.
"They are very discerning in the cases that they take on and as an intern, it was a great experience," she said. "I've always been blessed to have worked with very passionate, skilled attorneys everywhere I've worked."
Following law school, Preble and her husband selected the Flathead Valley to relocate while she applied for jobs. Preble has two stepchildren and two children, and the family enjoys hiking, fly fishing and biking.
"I do a lot of fly fishing — maybe not a lot of catching," she says with a laugh. "I do enjoy parking my chair in the river and reading my book."
After moving here, she first worked as an associate attorney for Framptom Purdy Law Firm in Whitefish where she says she learned about civil litigation.
When a job opening came up for assistant city attorney she applied, thus moving into a job that had her in Kalispell Municipal Court almost daily prosecuting misdemeanor crimes.
"I'm very protective of people and love my community," she said. "I saw my role as a prosecutor as protecting Kalispell and providing a benefit to this place I love so much."
The job also presented an opportunity for her to learn about other areas of legal matters for the city including contract review, union negotiations and human resource matters, preparing her to move into the city attorney job.
Coming with a different perspective now on those childhood dinner conversations, Preble says she now enjoys working in city government and dealing with the inner workings of government operations.
"It is fascinating what happens with local government," she said. "I like seeing people come and voice their concerns and then seeing Council listen and respond."
Features Editor Heidi Desch may be reached at 758-4421 or hdesch@dailyinterlake.com.
Recent Headlines
---