Trovare's cooking classes teach culinary techniques for hard-to-find dishes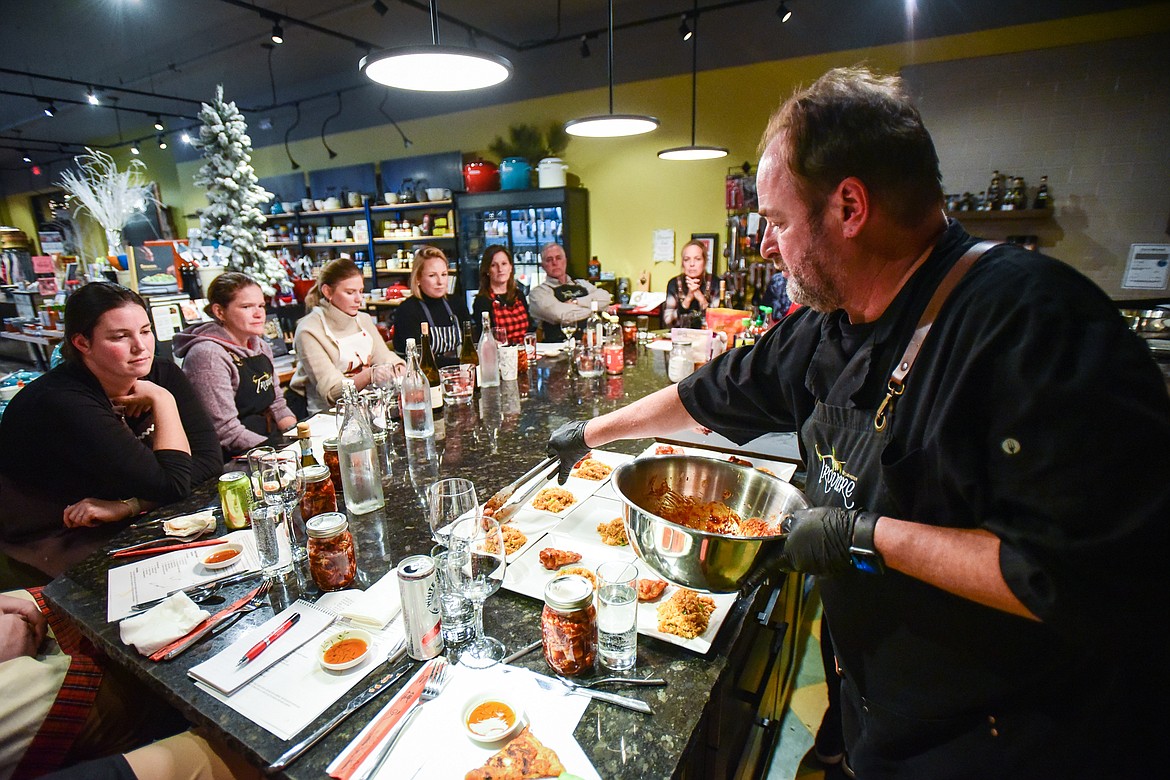 Chef John Evenhuis plates Kimchi Fried Rice & Korean Chicken Wings for attendees during a hands-on cooking class at Trovare in Whitefish on Tuesday, Jan. 18. (Casey Kreider/Daily Inter Lake)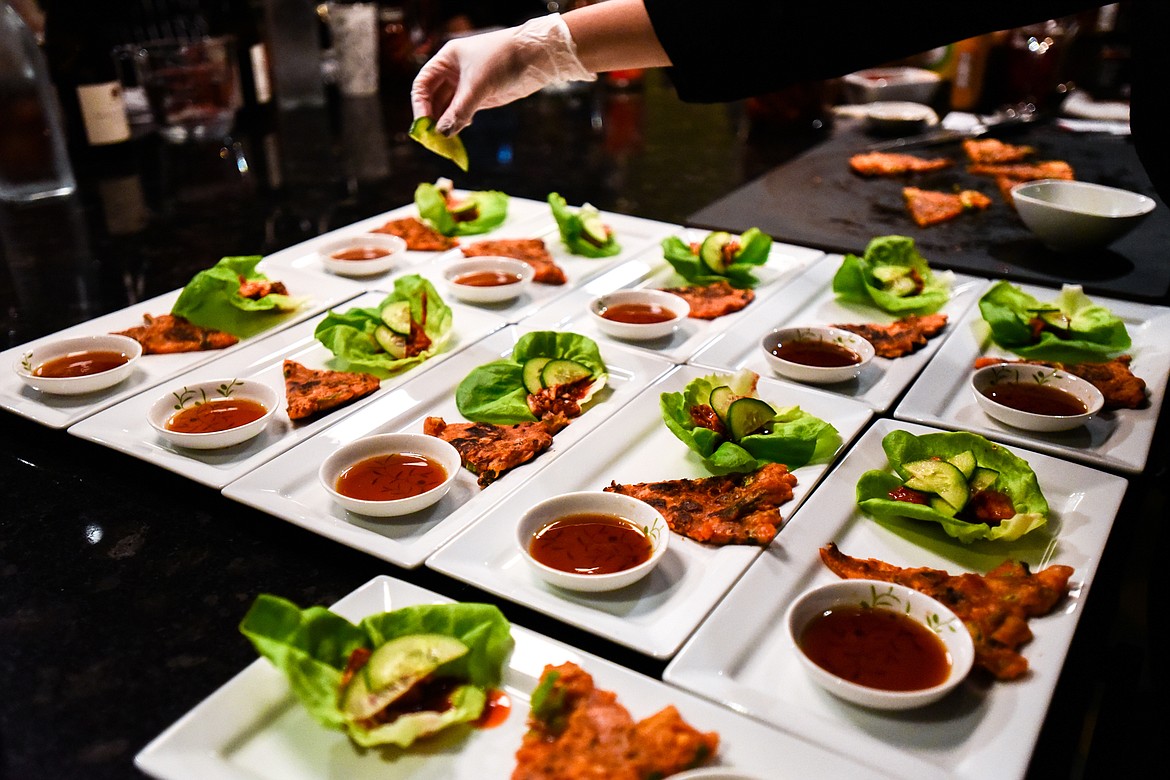 Trovare co-owner Mallory Hickethier places cucumber slices on individual Kimchi Pancake & Braised Pork Belly Lettuce Wraps for attendees of a hands-on cooking class with chef John Evenhuis at Trovare in Whitefish on Tuesday, Jan. 18. (Casey Kreider/Daily Inter Lake)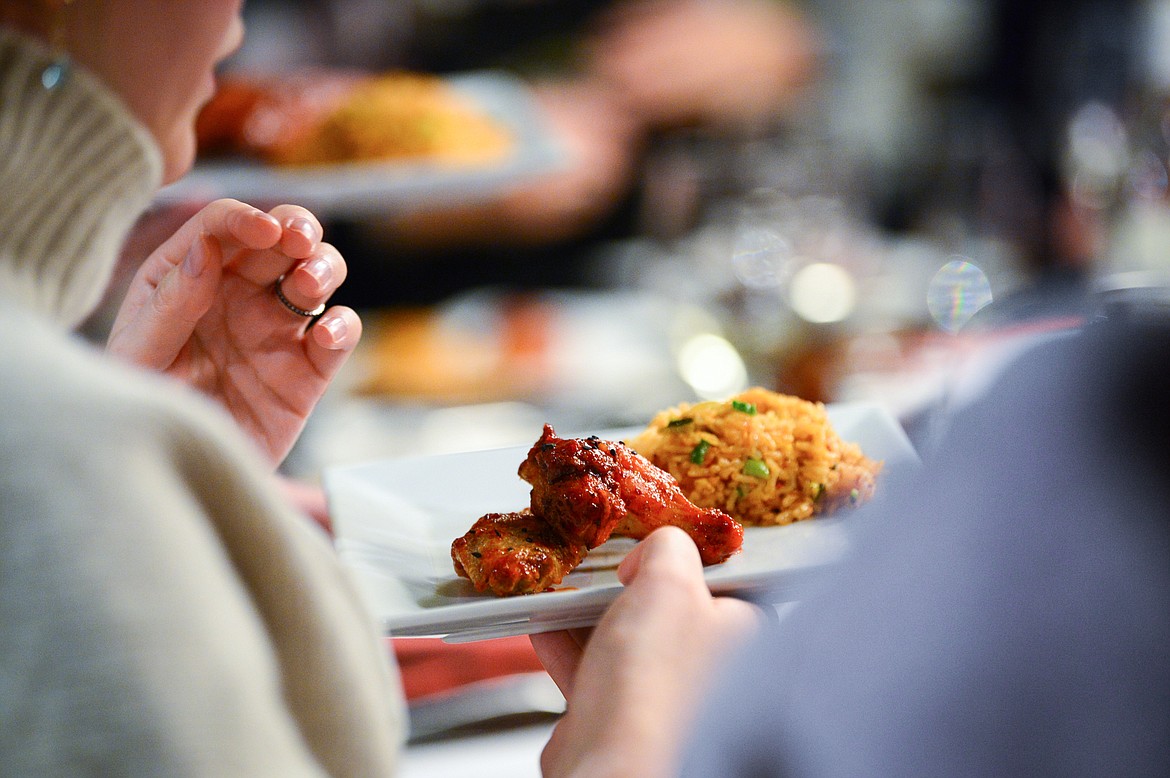 Attendees pass around plates of Kimchi Fried Rice & Korean Chicken Wings during a hands-on cooking class with chef John Evenhuis at Trovare in Whitefish on Tuesday, Jan. 18. (Casey Kreider/Daily Inter Lake)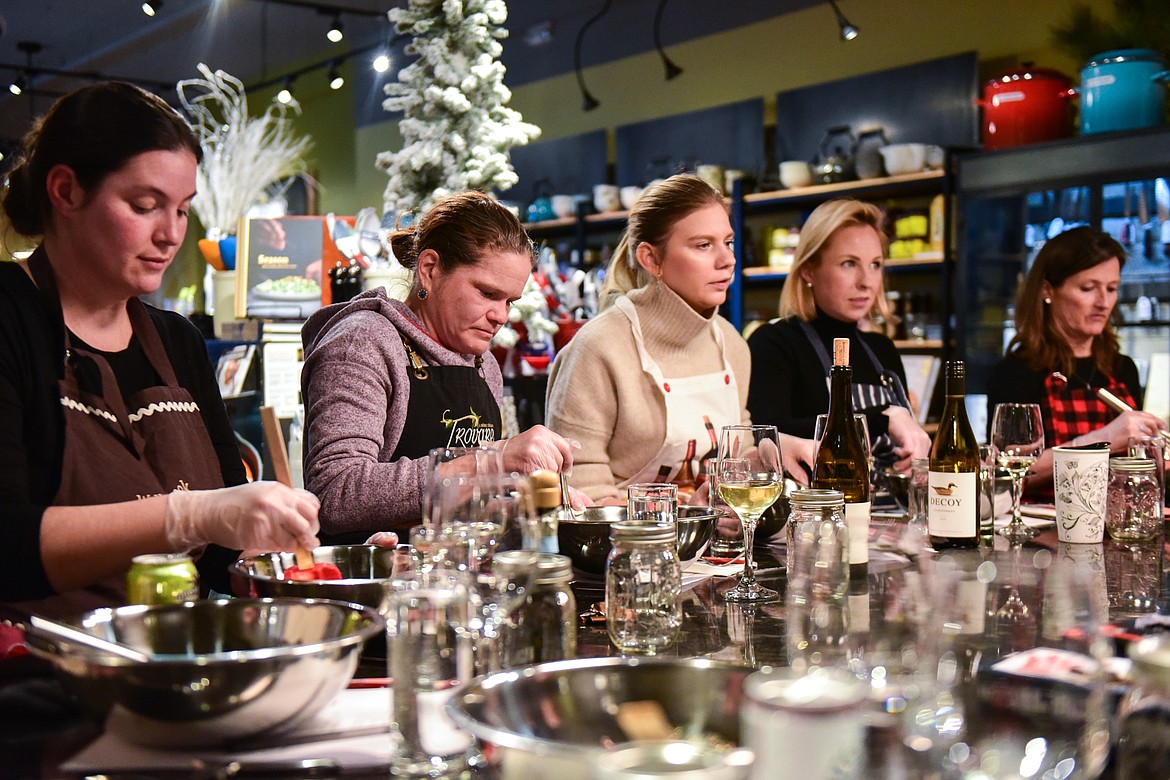 Attendees mix ingredients for kimchi during a hands-on cooking class with chef John Evenhuis at Trovare in Whitefish on Tuesday, Jan. 18. (Casey Kreider/Daily Inter Lake)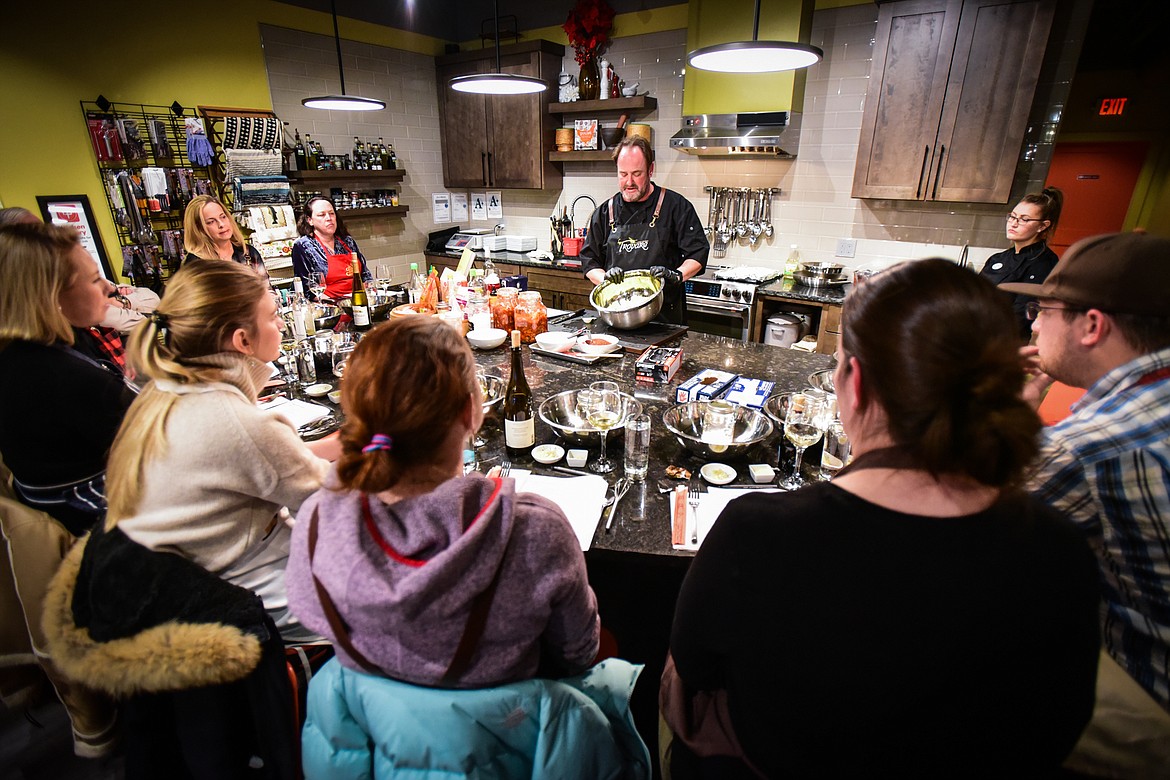 Chef John Evenhuis mixes ingredients for kimchi during a hands-on cooking class at Trovare in Whitefish on Tuesday, Jan. 18. (Casey Kreider/Daily Inter Lake)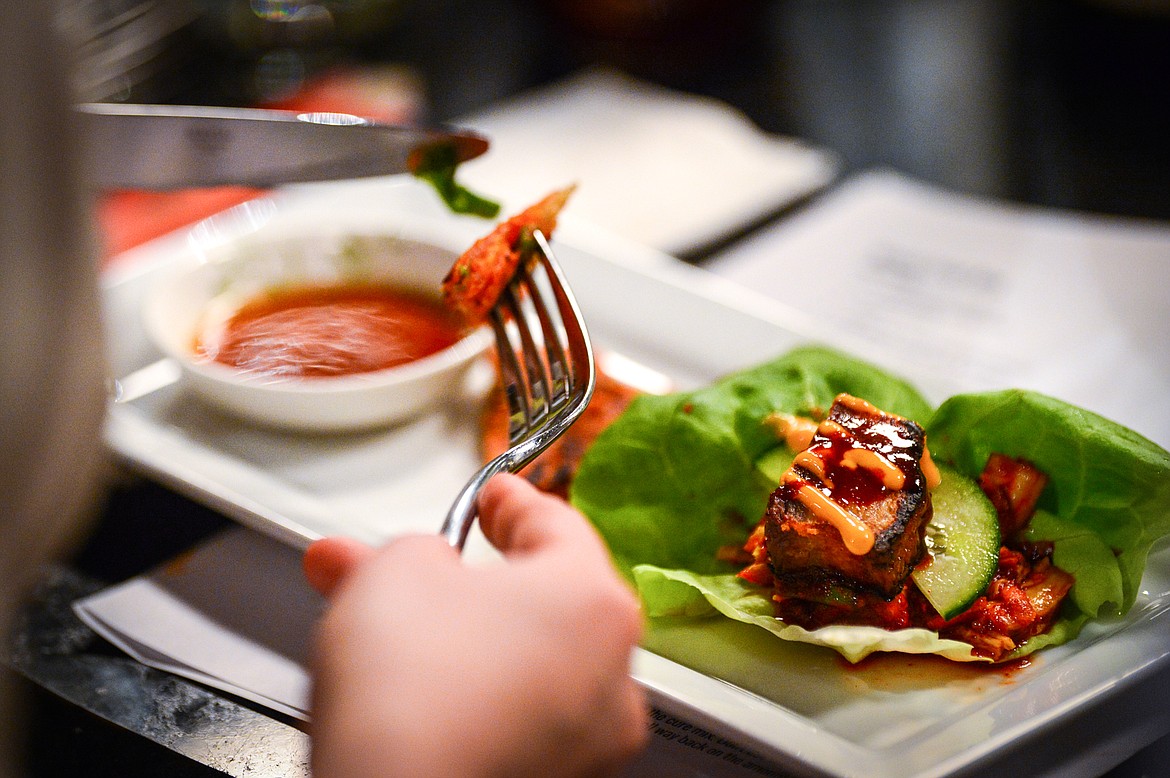 Attendees dig in to their Kimchi Pancake & Braised Pork Belly Lettuce Wraps during a hands-on cooking class with chef John Evenhuis at Trovare in Whitefish on Tuesday, Jan. 18. (Casey Kreider/Daily Inter Lake)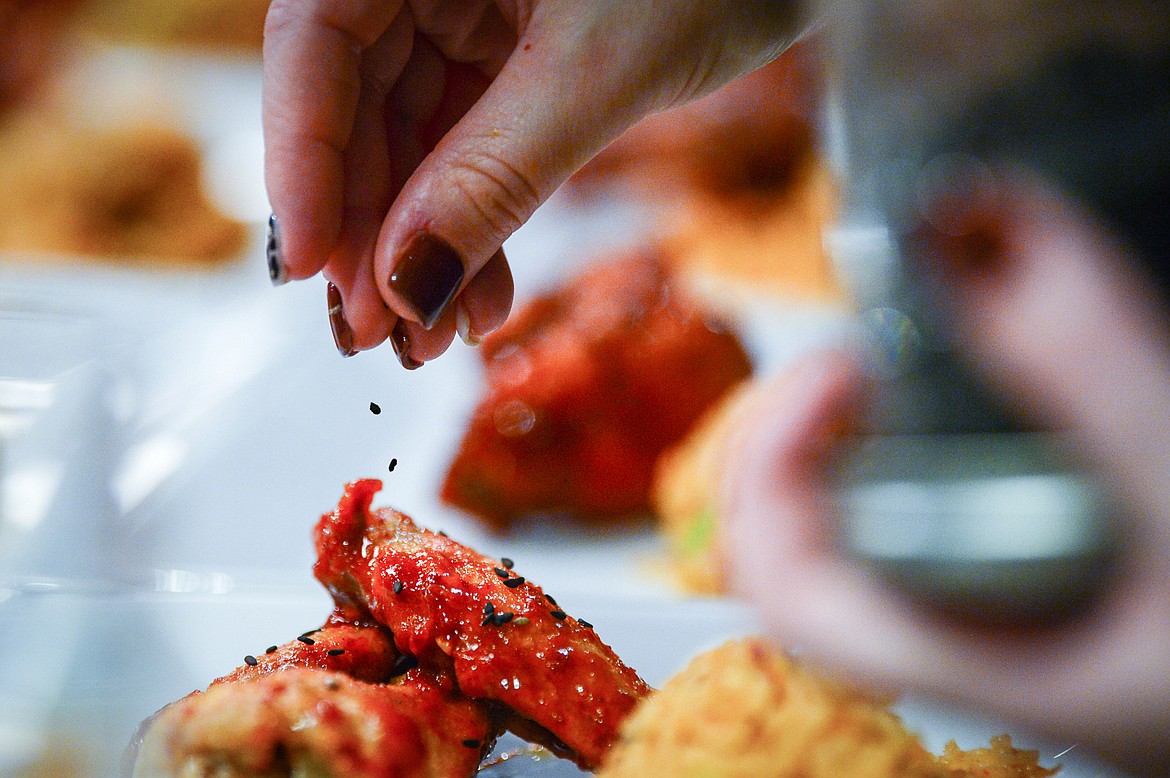 Trovare co-owner Mallory Hickethier sprinkles black sesame seeds on chicken wings for a Kimchi Fried Rice & Korean Chicken Wings dish for attendees of a hands-on cooking class with chef John Evenhuis at Trovare in Whitefish on Tuesday, Jan. 18. (Casey Kreider/Daily Inter Lake)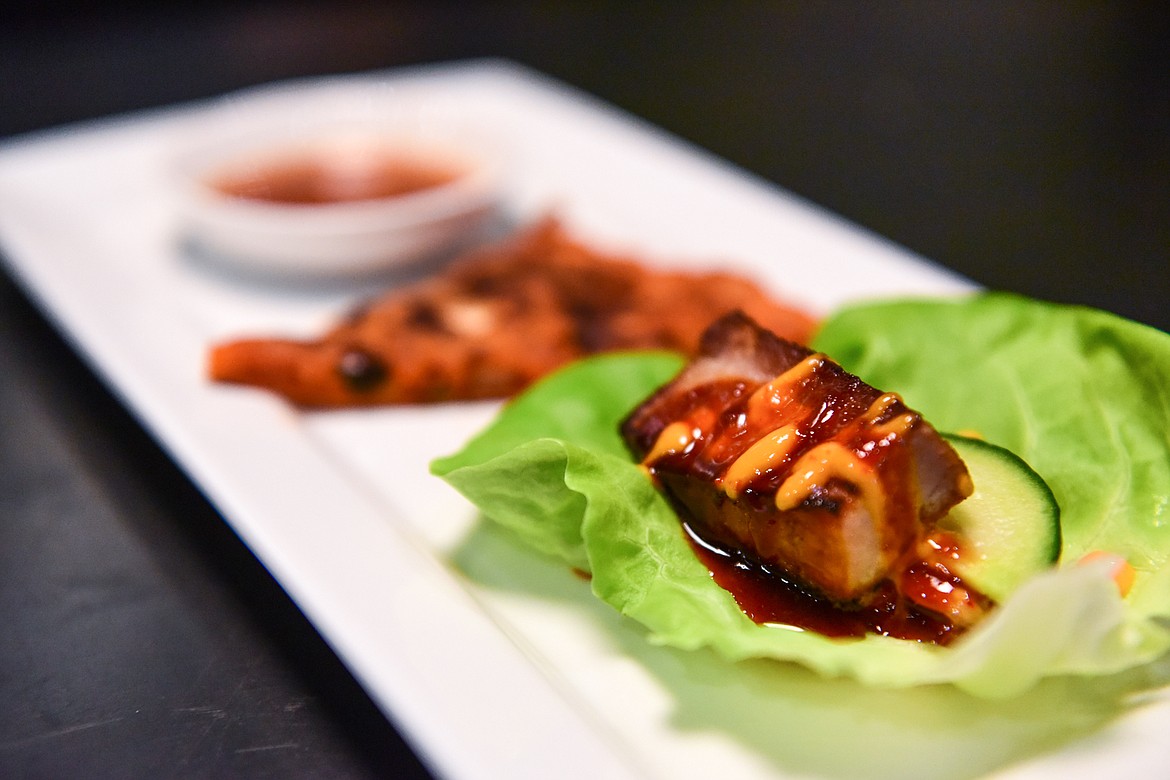 Kimchi Pancake & Braised Pork Belly Lettuce Wrap during a hands-on cooking class by chef John Evenhuis at Trovare in Whitefish on Tuesday, Jan. 18. (Casey Kreider/Daily Inter Lake)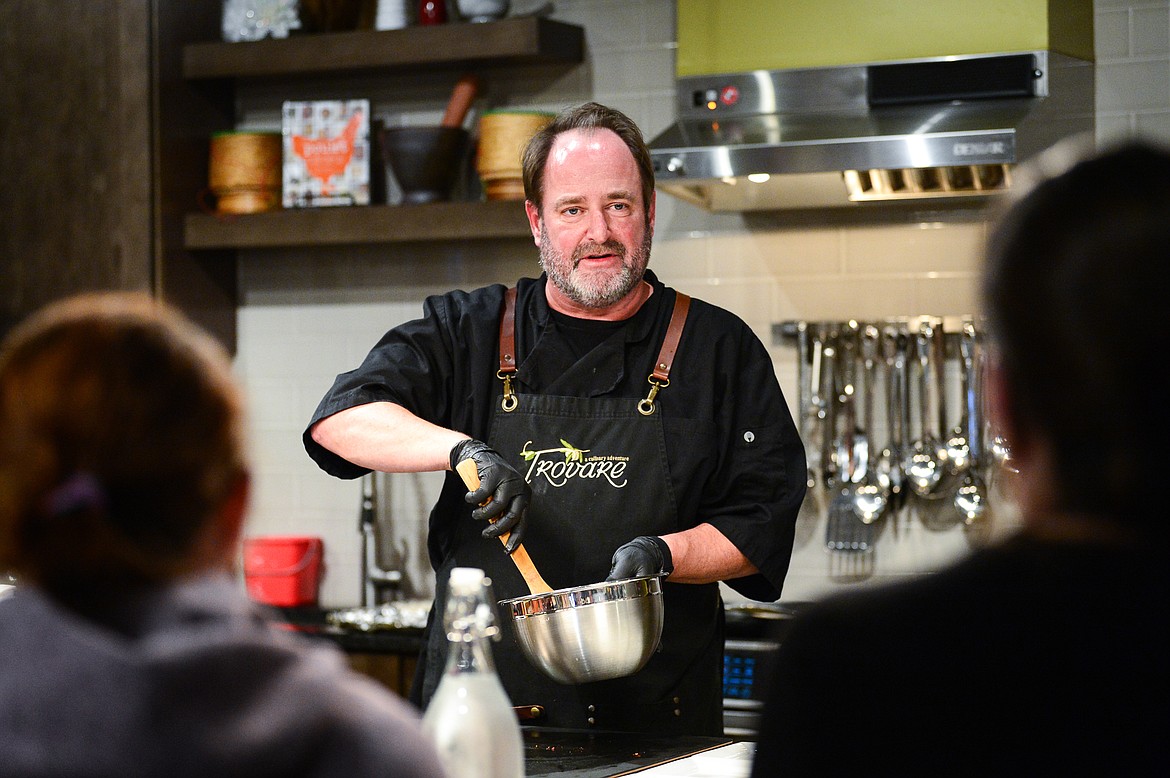 Chef John Evenhuis mixes ingredients for kimchi during a hands-on cooking class at Trovare in Whitefish on Tuesday, Jan. 18. (Casey Kreider/Daily Inter Lake)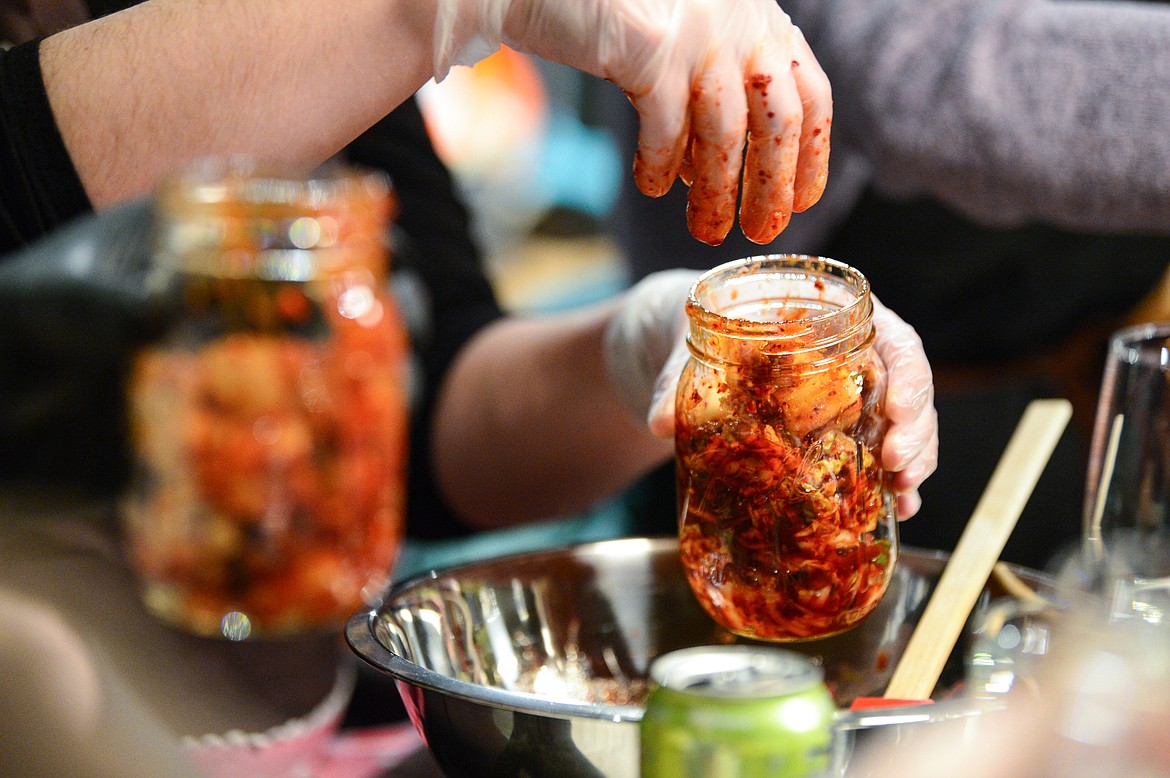 Participants put their kimchi into jars for fermentation during a hands-on cooking class with chef John Evenhuis at Trovare in Whitefish on Tuesday, Jan. 18. (Casey Kreider/Daily Inter Lake)
Previous
Next
by
BRET ANNE SERBIN
Daily Inter Lake
|
February 6, 2022 3:00 AM
Chef John Evenhuis strives to make complex recipes approachable in his classes along with providing instruction for making dishes that aren't easily found here.
"We're trying to get new tastes in the valley," said Evenhuis, the instructor for culinary education courses at Trovare in Whitefish.
During a recent class, the focus was on helping students learn to make kimchi, a Korean dish made with fermented vegetables known for its bright red color. Among its devotees, kimchi is also known for being hard to find in the Flathead Valley and the team at Trovare is endeavoring to remedy that dilemma with their cooking classes.
Julie and Mallory Hickethier, the mother-daughter duo behind Trovare the gourmet culinary shop, started offering cooking classes in the back of their store shortly after opening in 2019. Covid-19 put the courses on pause, but the first hands-on classes picked back up at the start of 2022, and they got off to an immediately popular start. The handful of classes offered in January were booked quickly after the schedule was released.
One class in February focuses on an evening of authentic Italian home cooking, while another themed for Valentine's Day revolves around making the perfect steak while finishing the meal with a romantic chocolate dessert.
PARTICIPANTS ARE capped at 12 per class, and they say they are drawn to Trovare's clinics for a variety of reasons. But one of the most consistent among those reasons is the chef himself.
Manda Warren, a student at a recent class, said she came back to Trovare after taking one of the classes in the fall because she was so enamored with Evenhuis' instruction.
"He's awesome," Warren said. "His personality, his presentation, everything."
"It's awesome Trovare offers these classes," she added.
Evenhuis himself is a bit of an unlikely fit to be leading the course at Trovare, which bills itself as "a culinary adventure." Even though Evenhuis has taken on the role of teaching others the ins and outs of the kitchen, the chef himself never received a formal culinary education. Evenhuis is a self-taught chef from California.
There, Evenhuis was immersed in Silicon Valley from an early age. First, his father worked in the technology sector, and then Evenhuis followed in his footsteps as a technology salesman. When he isn't in the Trovare kitchen, Evenhuis still works remotely for IBM.
But the importance of cooking was something impressed upon Evenhuis through the generations, particularly from the influence of his grandmother, "Billie Joe."
"She was my inspiration," Evenhuis told the recently assembled class. "Cooking to her was family. It was what made civilizations."
Although Evenhuis eventually branched out from his grandmother's traditional Southern cooking style, he still carries her memory with him whenever he stands over the stove. It was her urging that led Evenhuis to start cooking as a way to impress girls when he was a teenager, a decision that helped Evenhuis woo his first girlfriend. The success of that endeavor inspired him to continue honing his craft until he felt qualified not only to cook for himself but to pass his knowledge on to others.
EVENHUIS HAS a few tenets that he maintains no matter what he's cooking. One of his principles is to use his own intuition to tailor the recipe, instead of following strict instructions. He encourages participants in the Trovare classes to take liberty with their approach and free themselves from specific guidelines.
"Use your imagination and your own taste," he urged.
Evenhuis' other guiding doctrine is a simple one: "are you having fun?" he repeatedly asks.
Despite his lighthearted approach, Evenhuis has a masterful grasp of complicated and unfamiliar foods.
He knows which soy sauce is best for which dish, out of 83 different options, and he has the capacity to expertly incorporate intimidating ingredients like salted freshwater krill into his kimchi.
"You want a balance between sweet, savory, hot and funky," said Evenhuis as he prepared kimchi in an array of dishes, including pancakes, pork belly cups and fried rice.
Evenhuis also likes to take on the challenge of teaching unusual meals using ingredients that can be found within the Flathead Valley. He relies upon vendors like 406 Chop Shop and World Spice Merchants for many of his ingredients.
"I'm using everything you can get in the valley," he insisted.
That effort paid off for students at a recent class, like Paul and Elise Val Valkenburg. The couple attempted to make their own kimchi without instruction because Paul had tasted the dish in Korea, but they couldn't figure out the exact ingredients to use or the correct proportions to mix. They were excited by the opportunity to perfect their technique under Evenhuis.
But cooking expertise is just one part of the allure of the class for many participants. Julie Hickethier pointed out bringing wine to enjoy with the class can be a big part of the fun, and the full multi-course meal served throughout the evening is a draw for many.
"It's fun," said Evenhuis. "I love to see the people who take the class try something new."
For a schedule of Trovare classes, go to https://www.trovaremt.com.
Reporter Bret Anne Serbin may be reached at 406-758-4459 or bserbin@dailyinterlake.com.
Recent Headlines
---