International duo bring innovative music to the O'Shaughnessy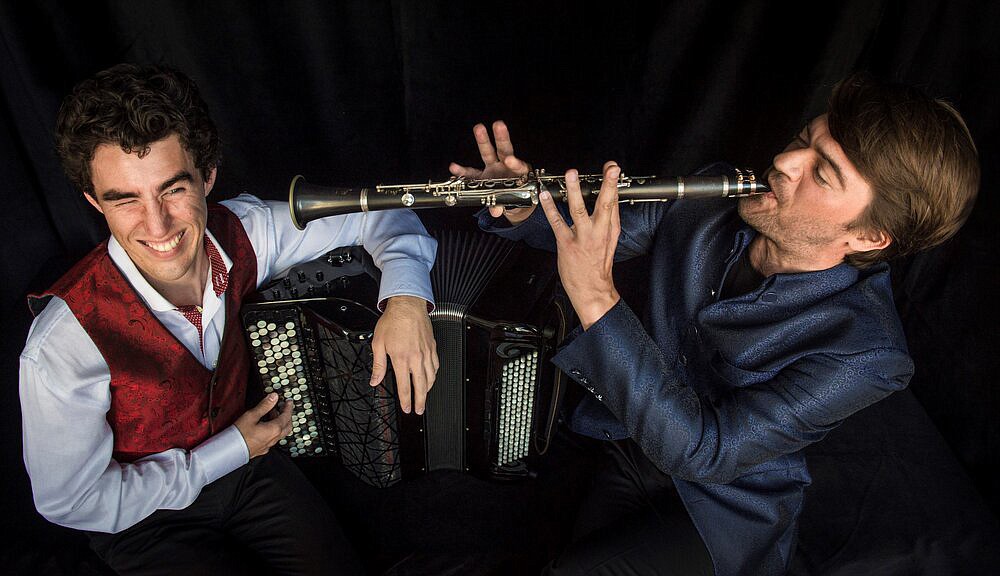 Internationally acclaimed music and comedy duo Bridge & Wolak perform Jan. 21 at the O'Shaughnessy Center in Whitefish.
|
January 13, 2022 12:00 AM
The Whitefish Theatre Company presents a one-night only performance by Bridge & Wolak, an innovative music duo who will challenge everything you know about classical music. A family-friendly concert, Bridge & Wolak will perform their "imaginative musical mastery" at 7:30 p.m. Friday, Jan. 21, at the O'Shaughnessy Center in Whitefish. Each member of Bridge & Wolak is a "double threat" on two instruments: Michael Bridge plays accordion and piano, while Kornel Wolak plays clarinet and piano. Together, they have become an internationally acclaimed music and comedy duo, integrating traditional acoustic instruments with modern digital technology and performing their own uniquely re-imagined repertoire of classical, world and jazz fusion. Bridge & Wolak have been called "the best of new, young 'classical' musicians … bringing their intellect, expertise and talent to a 21st century audience."
With seven degrees in music between them, these classically trained musicians bring inventive, exceptional entertainment to the stage. Bridge, "a wizard of the accordion," is internationally renowned for his warm stage personality, versatility and virtuosity. He made his solo orchestral debut with the Boston Pops at age 17 and now gives over 100 concerts per year in Asia, Europe and North America. Equally adept performing with orchestras, playing an outdoor festival, or giving a "TED Talk," Bridge is a recipient of the Lieutenant Governor of Alberta's Emerging Artist Medal and numerous other accolades. He is pursuing doctoral studies in accordion performance at the University of Toronto.
Wolak, highly praised for his glorious tone, technical control and musical imagination, is a versatile, dynamic clarinet soloist, teacher and clinician. Born in Poland, Wolak teaches clarinet as a faculty member at Queen's University in Kingston, Ontario. He is the winner of the Debut Atlantic Tour and many other prestigious awards, and regularly appears as a chamber musician and soloist with American and European orchestras. A "Fryderyk" nominee (Poland's highest recording award), he is a regular fixture on the Canadian Broadcasting Corporation, Public Radio International and National Public Radio.
Tickets are $30 for adults and $20 for students with reserved seating. Tickets can be purchased at the box office, 1 Central Ave., Whitefish, or by calling 862-5371. Box office hours are from 11 a.m. to 3 p.m. Monday through Friday, and one hour before a performance. Tickets can also be purchased online at www.whitefishtheatreco.org.
---