Omicron resistance prompts Logan Health to halt antibody program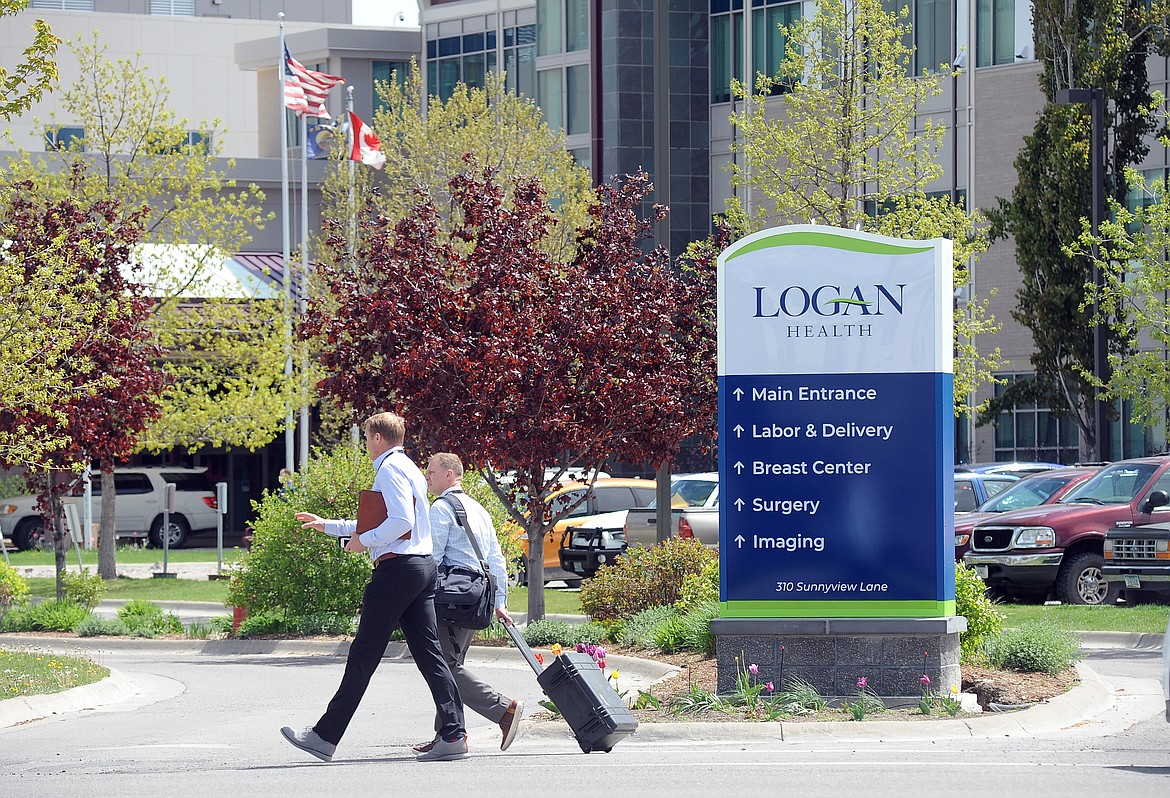 People walk past a new sign for Logan Health at the entrance to the hospital in Kalispell on Tuesday, May 19, 2021. (Matt Baldwin/Daily Inter Lake)
by
MATT BALDWIN
Daily Inter Lake
|
January 20, 2022 12:00 PM
Logan Health's monoclonal antibody program that has successfully treated thousands of Covid-19 patients ended last week after emerging guidelines indicate that available treatments are not effective against the highly contagious omicron variant.
According to Jesse Arneson, the infusion supervisor at Logan Health, hospital leadership made the decision to pull the plug on the program as omicron became the dominant variant in the region — accounting for up to 90% of all positive cases. The program stopped taking orders Jan. 13.
Monoclonal antibodies provide passive immunity by giving the body antibodies to protect itself. Treatment can help limit the amount of virus in the body, which then helps symptoms to remain milder and improve sooner. The treatments were credited for helping keep hospitalizations in check during the Covid surge last fall.
Arneson estimates that well over 2,000 people were treated at the Logan Health antibody program.
"For the time of the delta wave, we felt really fortunate to have that option," Arneson said.
Most recently, the Logan Health program was administering Regeneron using subcutaneous injections. While the shots worked well on the delta variant, the federal medical research agency National Institutes of Health said Wednesday that omicron is predicted to have "markedly reduced susceptibility" and the treatment is no longer recommended.
Meanwhile, the one antibody treatment that has proven to be effective against omicron, Sotrovimab, is in short supply across the U.S.
In fact, Logan Health has just eight vials of the treatment on hand, and there is no clear timeframe on when more might become available.
"The supply is very, very limited," said Dr. Cory Short, Logan Health hospitalist and physician executive of acute care services.
Short also noted that Sotrovimab will have to be administered through intravenous infusions, as opposed to simple injections.
"Even if we had a supply, it's a challenge [to administer]," he said.
Remdesivir is another tool available at Logan Health to treat omicron patients, and Short said the hospital is actively looking at setting up an outpatient program using that treatment.
Short said there could be logistical challenges with administering Remdesivir because it requires three days of intravenous infusions for the omicron variant.
SHORT CONTINUES to recommend Covid vaccines as an important line of defense against the virus, but notes that they aren't as effective against omicron.
On Wednesday, nearly half of the Covid patients at Logan Health were vaccinated. However, of those in the ICU, nine were unvaccinated compared to one who was vaccinated.
"We're still seeing less severe disease," Short said of vaccinated patients. "That seems to be the pattern."
He said that people who recently had the booster shot are less likely to get sick.
"The closer to when someone had the booster, the better the response," he said.
Overall, Short said omicron appears to be less severe than the delta variant. As of Wednesday, just three Covid patients at Logan Health were on ventilators.
"At the height of delta peak, we were using a lot of ventilators," he said. "At the present moment, the majority are requiring less oxygen than what we saw with delta. I'm cautiously optimistic two weeks into this wave."
He estimates that the Flathead Valley has about three or four more weeks of the omicron wave before cases start trending down.
Short emphasized that prevention tactics, like hand-washing, staying home when sick and using rapid home tests, remain the best way to stay healthy.
"In this sea of constant change, the one constant is prevention," he said.
The Logan Health clinical staffing situation is holding up for now, Short said, but he acknowledged there have been challenges with Covid cases and quarantines putting providers on the sideline. Logan Health workers who contract Covid are required to quarantine for five days and follow CDC recommendations on returning to work.
"It's a similar trend to other industries and other hospital systems," he said about staffing struggles amid the swell of omicron cases.
It remains to be seen if the federal vaccine mandate for health care workers will exacerbate the staffing situation at Logan Health. The company is requiring all employees to get their first shot by Feb. 15 if they don't qualify for exemption status.
"That's a concern everywhere," Short said about the potential impact.
Recent Headlines
---