Book challenger tapped to fill library board seat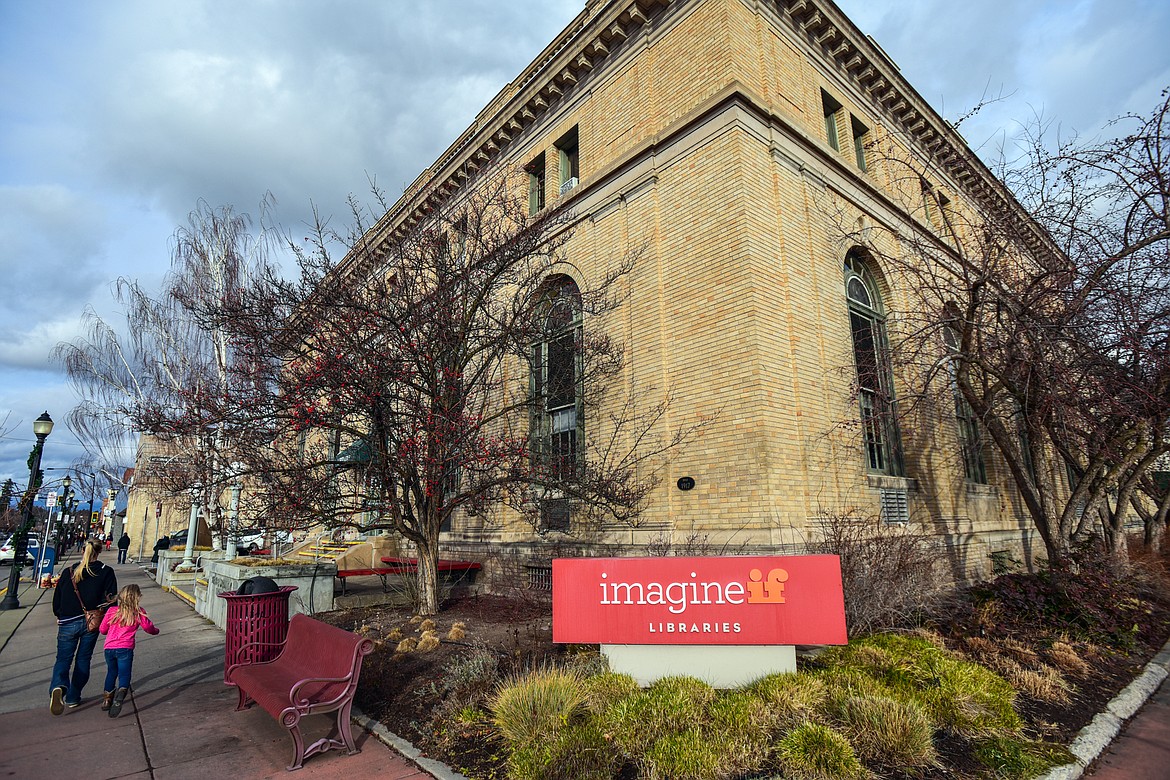 ImagineIF Library in Kalispell on Thursday, Dec. 2. (Casey Kreider/Daily Inter Lake)
by
TAYLOR INMAN
Daily Inter Lake
|
July 1, 2022 1:00 AM
Flathead County Commissioners voted for Carmen Cuthbertson, who gained notoriety after seeking the removal of a now controversial book from library shelves, to fill the vacant seat on the ImagineIF Board of Trustees on Thursday.
Commissioner Randy Brodehl made the motion to appoint Cuthbertson to the panel. It earned a second from Commissioner Brad Abell and passed unanimously. Following the decision, trustee Marsha Sultz resigned from the board out of "disappointment."
"I think she's a very divisive influence to the community and I just don't think the board is going to be heading in the right direction after this and I didn't want to be a part of that," Sultz said.
Cuthbertson was the first in the county to challenge the book "Gender Queer," which set off a roiling debate over what materials should be allowed in the library and left its board mired in controversy.
The leadup to the decision to fill the seat, previously held by Connie Leistiko, has proven contentious and Cuthbertson has emerged as a local lightning rod. Many attendees at Thursday's meeting groaned and complained as they emptied the chamber after the decision.
Abell said he believes people should wait and see Cuthbertson in action before they pass judgment.
"I have confidence that it's going to work out, that it's going to be less contentious than it has been," he said. "I do believe it was the best choice and I do feel the libraries are for the children and I think I've made a good decision for the children today."
Abell said he thinks the library should be "more of a place for children" and that his pick for Cuthbertson aligns with that view. He believes the controversy surrounding the library board has been blown out of proportion.
He framed it as a safety issue for children.
"You know, I don't think this board wants to promote an alternate lifestyle," Abell said. "I feel some of the other picks were really strong on promoting an alternative lifestyle, and I'm not against it, I just don't want to promote it, personally."
Abell said he doesn't understand why the book "Gender Queer" was placed into the library's catalog to begin with.
"If it were placed there because of an agenda, or the people that have been in charge of the library, they'd like to say that they're nonpartisan or non biased, but I believe they have a political agenda," Abell said. "You know, there might be a political agenda on the other side, too. There may be a political agenda on both sides."
Sultz worried Cuthbertson's appointment would end what back-and-forth the trustees once enjoyed.
"I think she'll go along with the rest of the group and there won't be any talk from the other side on the issue, that's mainly my concern — because they're pretty much in lockstep," Sultz said. "I just didn't think I could contribute anything to the board anymore."
COMMISSIONERS SAID they disagreed with the sentiment that Cuthbertson was trying to "ban books." Rather, she employed a review process available to all patrons to challenge books they don't believe belong in the library, they said.
Those critical of Cuthbertson, like the Flathead County Library Alliance, say otherwise. Ahead of her appointment to the board, they sent out a call-to-action, urging their supporters to voice opposition. The FCLA said in a statement on Thursday that they are "deeply troubled" by the commissioner's decision to appoint Cuthbertson to the board "despite the community's pleas to appoint a less divisive and non-partisan candidate."
"Such a move highlights county commissioners' unwavering dedication to politicizing what should be a non-partisan board," the statement read. "These actions continue to endanger our community's right to access an uncensored collection of materials, library donor confidence and the future excellence of our library. Over the past year we've seen the damage that politically motivated trustee appointments can do, from staff turnover to reduced open hours to loss of state funding."
The statement continued on to say the group believes commissioners care little about calming the chaos surrounding the library board "even when many excellent, non-partisan candidates are willing to serve as a trustee."
Commissioners agreed that people would have been angry regardless of who filled the position. Abell said he's voted on issues in the past that angered people on both sides of the political aisle, but doesn't base his decisions on "if people are upset with him."
This issue garnered him a lot of angry emails, but Abell said he prefers when people meet with him and engage in a conversation.
Brodehl said he wanted to pick a trustee who would "do what's right."
"In this process I looked at where they are with the Constitution," he said. "I asked them about different issues that the library goes through as far as the Constitution goes. One of those of course, is always going to be the First Amendment and their understanding of the First Amendment. Often the First Amendment is understood differently than it's actually written and that's important to me that they really understand that."
Brodehl said Cuthbertson has "a real passion for the library" and given her background serving on a school board and her master's degrees in English and Russian literature, he said she is qualified for the position. He believes the library is moving in a positive direction, citing conversations with applicants and community members.
"The library is moving ahead with some great programs," Brohdel said. "The community is becoming reengaged … and I think the library's doing very well."
Cuthbertson's presence on the board would continue that momentum, he said.
"I think that by adding trustee Cuthbertson into this, the library board will continue to be engaged," he said. "I'm hearing feedback from the employees that this is going well, that relationships are building, and that's certainly exciting for me."
COMMISSIONER PAM Holmquist also expressed high hopes for the library. She believes the library system "is going to be just fine in the future." She said she spoke with all of the candidates and believes Cuthbertson will be good in the position.
"I think there's some changes going on," she said. "I think a lot of people said, 'Oh, my gosh, they're gonna ban books, they're gonna burn books, they're gonna get rid of the books,' whatever. Nothing had been banned, burned or got hurt."
Holmquist framed it as an ongoing policy discussion within the library and one that is involving the community.
"... They're working through policies and working through all this stuff that they're looking at," she said. "But the library board is involved … So that's a little different for the community, for the Foundation, for the staff — you know, it's a little different and I think they're all adjusting."
The Daily Inter Lake reported in February that the library board voted to indefinitely postpone their review of "Gender Queer" until the library can change its policies in a way that would likely allow for removal of the book.
Referencing another recent controversy, the appointment of new Library Director Ashley Cummins, Holmquist said she wants to see people give Cuthbertson a chance.
"[Cummins] persevered," Holmquist said. "I have great respect for that lady, because she came into the firestorm and she has done a great job. I hope that the community will not take us back to where we were, because Ashley is doing good things and I think the library's doing great."
The commissioners thanked everyone who applied for the open position. Holmquist said she wants to stress that they had a lot of great candidates, which "makes their job a little more difficult, but it's good to see that passion."
Jake Fulkerson and Jane Wheeler rounded out the trio of candidates the library board presented to county commissioners. Fulkerson has years of experience serving on boards and as a county commissioner in Wyoming. He has been part of the Capital Campaign Committee for the Bigfork Library under the ImagineIF Foundation.
Wheeler's career centered around books. She served as a librarian for public libraries, school and university libraries and specialized (science) libraries. Wheeler also had years of experience serving on the board for the West Valley School District.
Cuthbertson soon begins her five year term on the board.
Correction: A previous version of this article incorrectly stated that Cutherbertson's term would end on May 31, 2025. She will have a complete five year term on the board.
Recent Headlines
---