Eileen McDowell, 67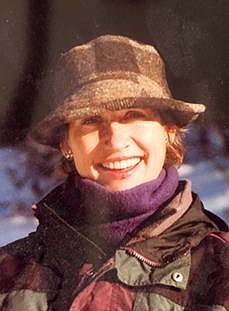 Eileen McDowell, 67, died at her home in Eureka on June 28, 2022.
She was born in Spokane, the fourth of five children.
Eileen moved to the Flathead Valley in 1983 and established herself as an expert in native plant restoration and ornamental garden design. She was self-taught and constantly expanded her knowledge of horticulture. She spent countless hours working in her gardens, making outdoor spaces places to find peace and inspiration. When she wasn't gardening or spending time with family and friends, you could find her in her favorite huckleberry spot, fishing hole, reading, cooking and camping. She could appreciate the little things in life, like having morning coffee out in her garden and long conversations with family and friends. Family get-togethers were guaranteed to include delicious dishes, laughter, singing and, notably, her mean tambourine playing skills.
She made friends everywhere she went with her bright, welcoming and accepting personality. She had a special knack for allowing people to be themselves, inviting them to feel at home, both in her home and her heart. Above all, she taught her daughters they could do anything in this world. People who crossed her path found a person of resiliency who showed great courage despite challenging circumstances. She blessed the lives of us who knew and loved her, and she will be missed by many, especially her family and her devoted friends, Rita Meester, Nancy Tigue, Shelly Gysler and Bonnie Nester.
She was preceded in death by her ex-husband Tom Sagen.
She is survived by her daughters, Rachel (Cliff) Linster of Billings, Janice Sagen (Matt Schellinger) of Great Falls, and Claire (Mykal) Carel of Rexford. She was a loving grandmother and is survived by five grandchildren who were each so dear to her, Sophie, Amelia, Sam, Elsie and Thorben; her dad, Bob Thompson; her two brothers, and her two sisters.
In place of flowers, please make donations in her name to the Abbie Shelter in Kalispell. https://www.abbieshelter.org/donate.
Arrangements are by Schnackenberg Funeral Home in Eureka. Online condolences and memories may be shared at www.schnackenbergfh.com.
Recent Headlines
---