New owners take over at Evergreen Liquor Store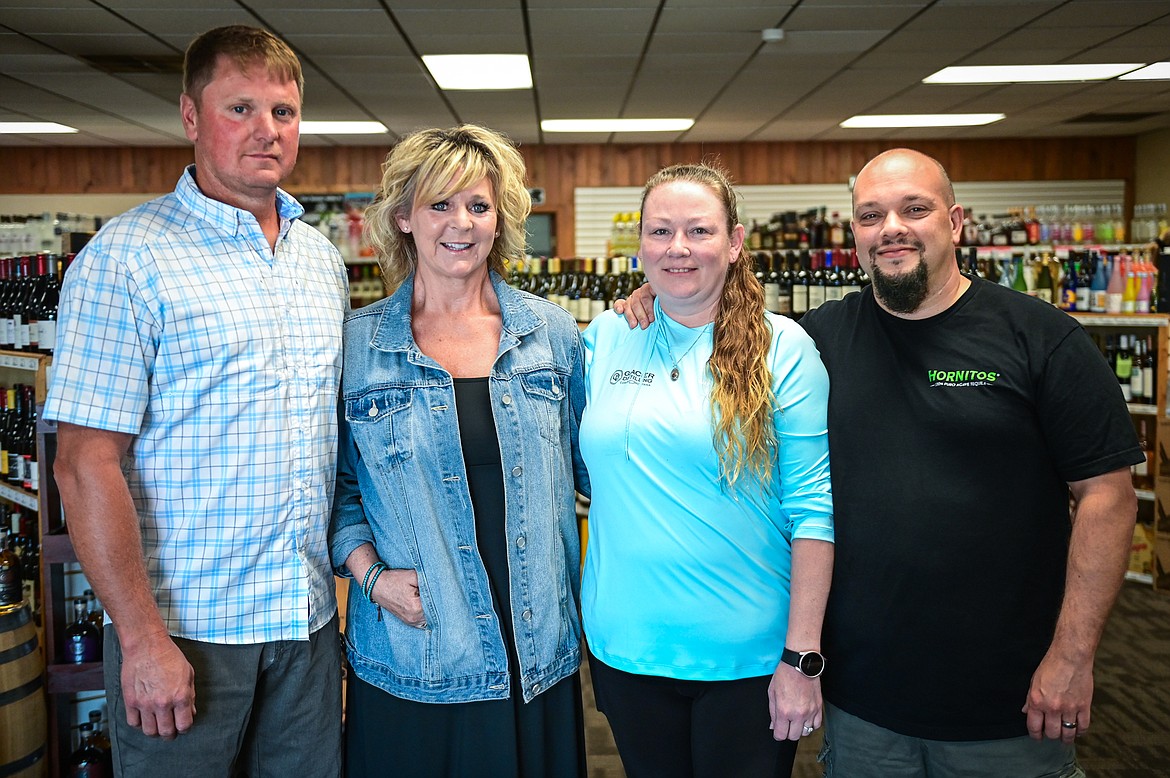 Scott and Michelle Moore, Darcy Larson and Jared Buck at Evergreen Liquor Store on Saturday, July 9. (Casey Kreider/Daily Inter Lake)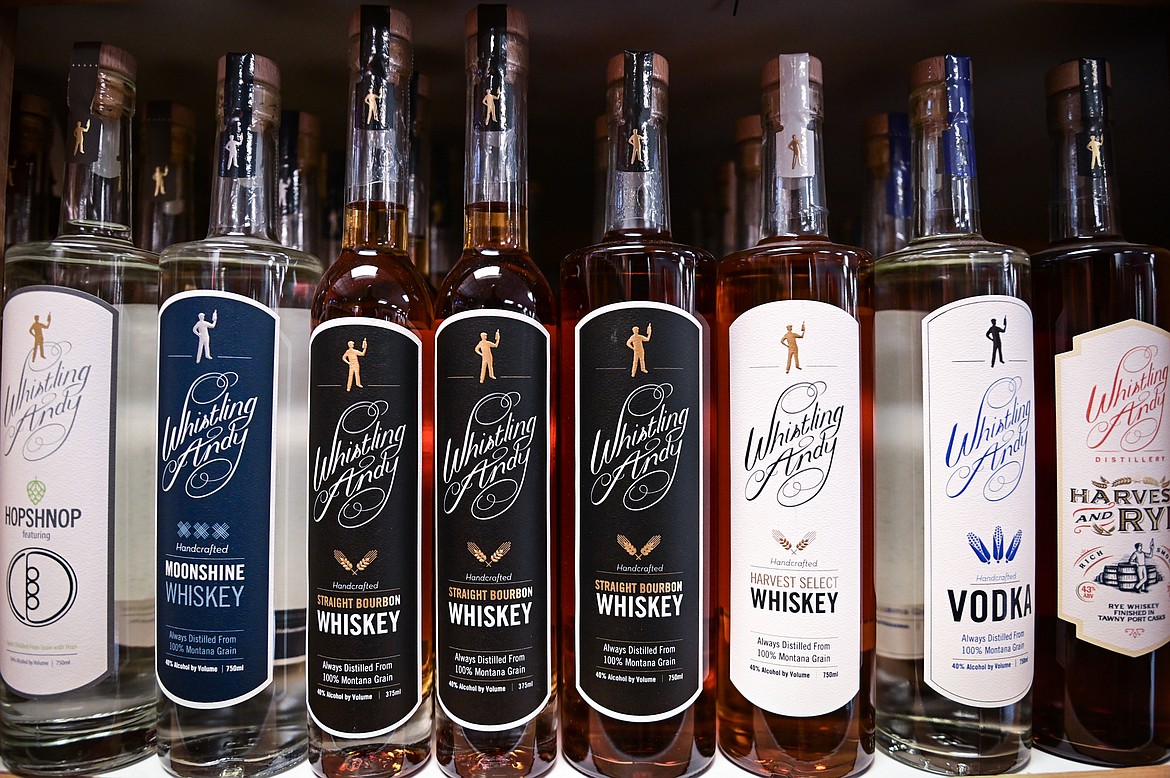 Whistling Andy brand liquors at Evergreen Liquor Store on Saturday, July 9. (Casey Kreider/Daily Inter Lake)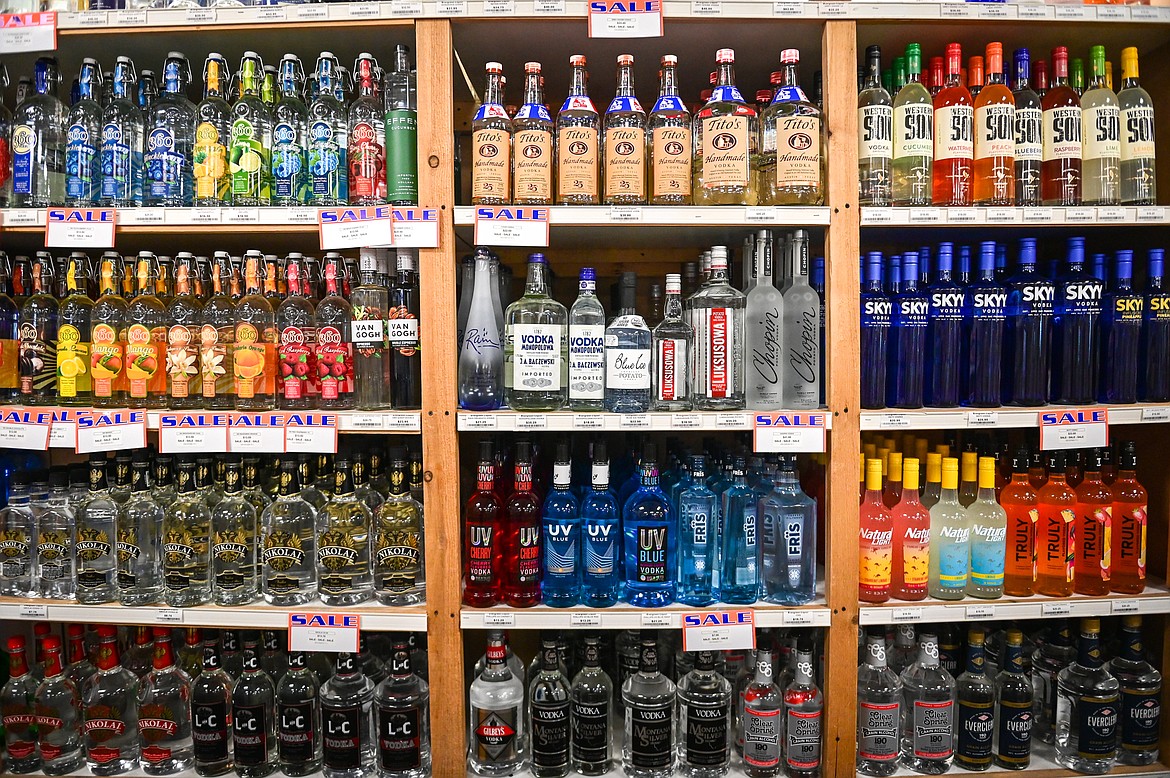 A selection of liquor at Evergreen Liquor Store on Saturday, July 9. (Casey Kreider/Daily Inter Lake)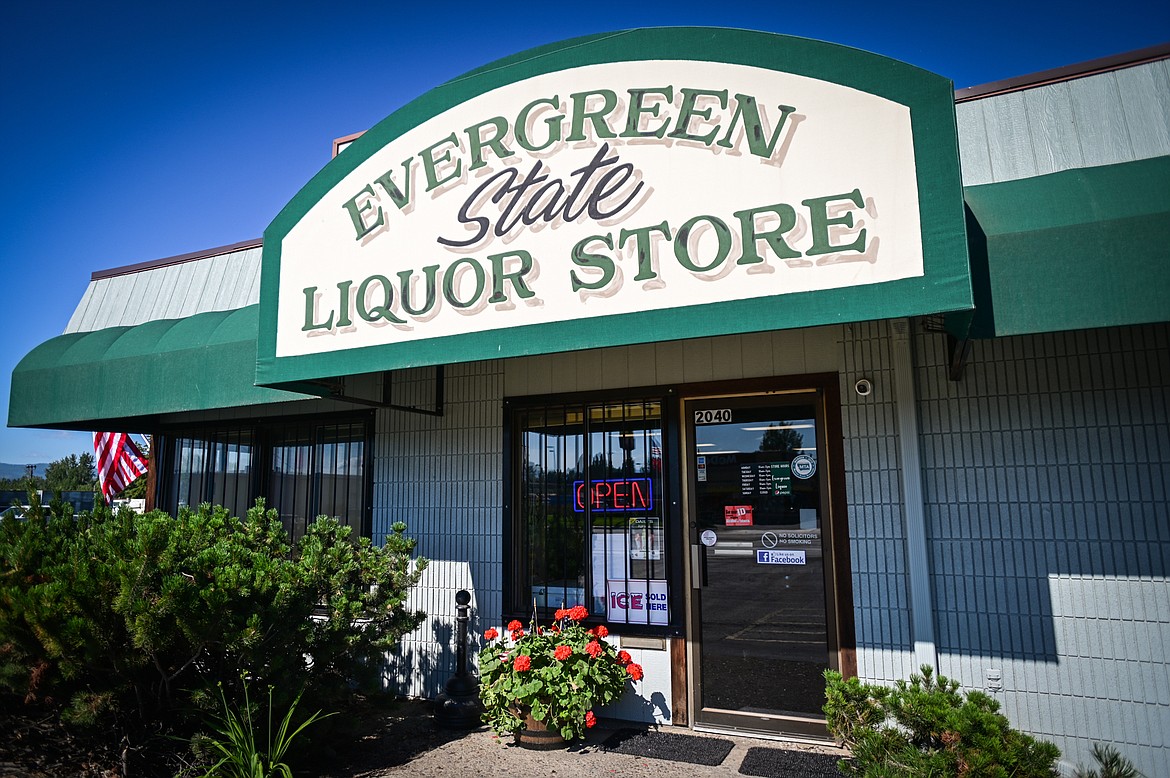 The Evergreen Liquor Store in Evergreen on Saturday, July 9. (Casey Kreider/Daily Inter Lake)
A selection of Montana-made liquor at Evergreen Liquor Store on Saturday, July 9. (Casey Kreider/Daily Inter Lake)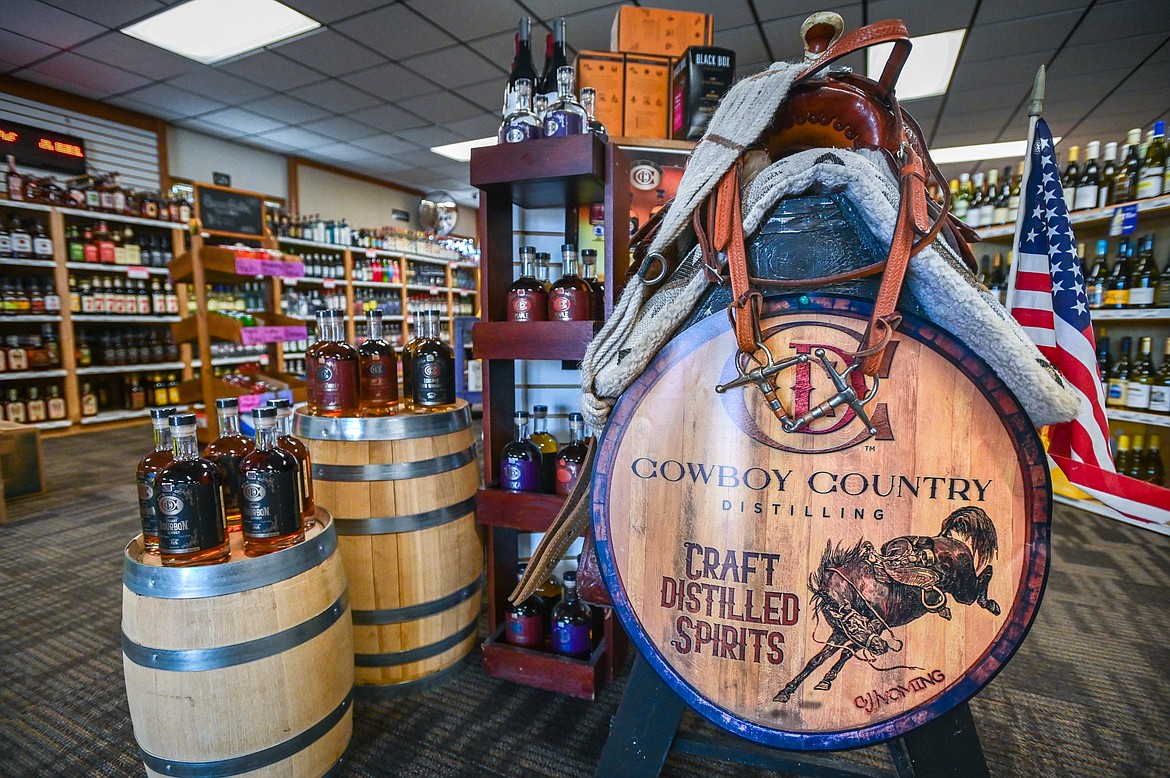 A selection of liquor at Evergreen Liquor Store on Saturday, July 9. (Casey Kreider/Daily Inter Lake)
Previous
Next
by
Summer Zalesky Daily Inter Lake
|
July 31, 2022 12:00 AM
From the freshly-turned 21-year-olds to mom-and-pop farmers, people come from all over the valley to patron the Evergreen Liquor Store.
The store's new owners, Michelle and Scott Moore, are gently easing their way into the company's culture by learning from the veteran staff.
"We're crawling into this, not just jumping in because it's a whole other animal than other businesses we've had. We're here to learn," Scott said.
The couple previously owned Portal Spirits for five years, a distillery that specialized in making rum, but sold the company to assume ownership of Evergreen Liquor. Their endeavors with Portal Spirits had them visiting several liquor stores around the state and their interest was piqued.
"We'd always talked about how owning a liquor store would be neat," Michelle said.
After seeing an opportunity in Evergreen Liquor, the couple officially took over ownership in June 2022.
The store manager, Jared Buck, was a key player in the couple's decision to embrace the new business adventure. After 22 years at Evergreen Liquor, Buck knows everything from the front end to the back.
"Jared is a very good and genuine person with a lot of heart and spirit and what he has put into place is working well," Michelle said. "We want to continue that and support our staff. They've got some great visions and ideas and we want to be on board with them to make those little changes here and there."
The late Greg Phillips was the previous owner of the Evergreen Liquor Store. In addition to owning the liquor store, he also owned the Evergreen pharmacy and post office.
"Greg was the poster child of Evergreen," said Buck. "He was a member of the Lion's Club and worked with the ABS softball fields. Anything to do with the community, Greg was always first. He was a terrific community leader."
Michelle and Scott are taking a learn-by-example approach to the store. "Greg carried some big shoes and I don't want to change anything because it has been very successful," Scott said.
"The store definitely has a following and that's because of Jared and the staff and what Greg brought to the community," Michelle added. "The staff know customers by name and they have a special connection."
As Montana has a government monopoly on all liquor stores in the state, the couple is adhering to the many rules and regulations that follow. For now, the state of Montana has determined that based on Evergreen's population, only one liquor store is needed.
"The state gave up ownership of stores over 28 years ago but it still controls every aspect. They set a base price and everything is regulated," said Buck.
"It's just another adventure," Michelle smiled. "Each journey is always a learning experience."
The selection of almost 5,000 brands of liquor and the experienced staff make Evergreen Liquor unique. The store offers veteran discounts and helps with ordering cases for special events. Staff can also place special orders on liquor as long as it is maintained by the state.
Michelle said that Evergreen Liquor has remained busy due to the huge influx of new residents. "People come from all over the valley to this store and we appreciate everyone who's supported it for that many years," she said.
As previous distillery owners, Michelle and Scott have a special interest in promoting and creating displays for local spirits.
"We want to create an environment where we're really helping out local spirits to grow more which is a key thing for me," Michelle said.
The couple aspires to bring energy and excitement to the store while maintaining community involvement and ultimately, supporting the staff and growing alongside them.
Michelle and Scott concurred, "We just want to get our feet wet. We don't want to come in like a whirlwind and change everything. Our role is just to help the business grow and be the best we can be."
Evergreen Liquor is located at 2040 US Highway 2 E, Ste A and can be contacted at 406-755-1408 or evergreenliquorstore@yahoo.com.
Recent Headlines
---