Hundreds of hands create tile mural at Kalispell Middle School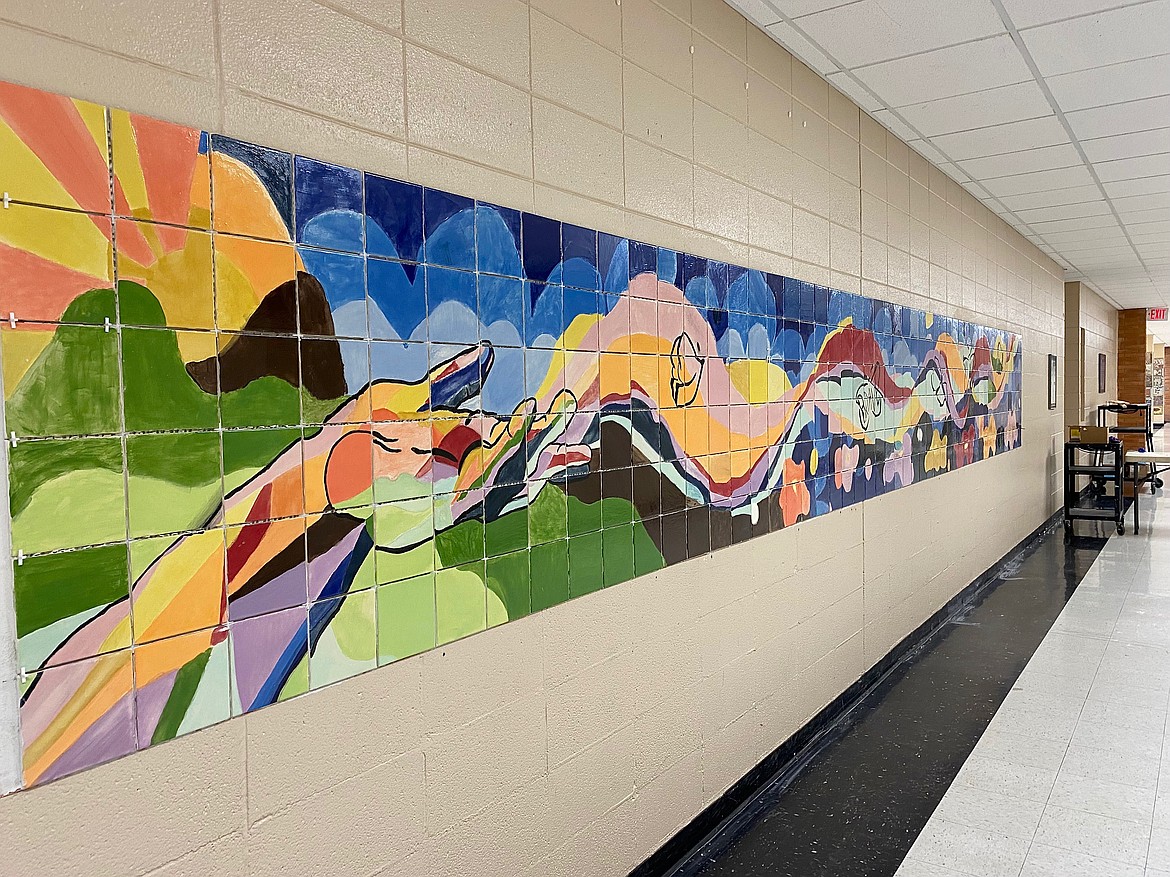 A tile mural was recently installed at Kalispell Middle School. The mural is made up of 300 ceramic tiles created by sixth- through eighth-graders in collaboration with KALICO Art Center to foster inclusivity of student of different abilities. (Photo courtesy of Liz Cummings)
by
HILARY MATHESON
Daily Inter Lake
|
June 12, 2022 12:00 AM
Created by the hands of hundreds of sixth- through eighth-graders of different abilities, a new colorful mural made up of 300 ceramic tiles is now a part of Kalispell Middle School.
The intention of the project was to foster inclusion within the middle school.
Depicted in the mural, which is down the hallway leading to the Life Skills classroom, is a multicolored hand reaching out, palm open, appearing to release waves of yellow, orange, blue, red, pink and purple that flow across the length of the piece. The colorful waves, set against a backdrop of blue sky and clouds, an orange and yellow sun, green grass, a field of flowers and dark mountains are interspersed with the black outline of butterflies where the words, "brave" and "kind" are written.
To come up with a design, students with special needs in teacher Liz Cumming's Life Skills class learned about murals and with a few peer partners (student helpers) taking trips to KALICO to learn about the art center and talk about the concept of inclusion and illustrate it through art.
"We explored the idea of inclusion at Kalispell Middle School. Then, we drew what inclusion looked like and felt like," Cummings said.
The resulting student artwork then served as the inspiration for local artist Jessy Hanson, who interpreted all the images into one cohesive design for the mural.
"My hope in designing this mural for these students is that they will pass by it and be encouraged and joyful," Hanson said. "I hope that they all feel a sense of pride, accomplishment, and camaraderie with their fellow students when they look at it. I am honored to be a part of this project."
FROM THERE, students in Buck Measure's and Christy O'Neil's art classes rolled up their sleeves and picked up pencils and paintbrushes to begin the work of drawing the design onto the tiles and glazing them so they could be fired in the kiln.
The final design was printed out on paper, divided into a grid, cut up and then distributed to students using a numbered system. Students would sometimes sit by each other in the numbered order of the tiles, but that wasn't always the case.
"One wasn't always sitting with two," Measure said. "But it was pretty impressive how well they did interpreting their grid piece. We didn't have a whole lot of correcting to do after the fact. They were pretty darn close."
Then at the beginning of June the last tile was put in place by Big River Tile Company staff, who volunteered to install the tiles.
"I heard all the students comment about their contribution, what part they had done," Cummings said, commending the time and talent the art teachers and students poured into the huge undertaking.
"It was exciting for our students to see something really change — something so colorful and beautiful and alive right outside our classroom," she said.
The art collaboration was funded through a grant from the University of Montana Rural Institute Community Investment Fund. The fund supports projects that "help Montanans with disabilities live, learn, work and play alongside people without disabilities," according to http://ruralinstitute.umt.edu.
Reporter Hilary Matheson may be reached at 406-758-4431 or by email at hmatheson@dailyinterlake.com.
Recent Headlines
---