Inge Salmonsen, 96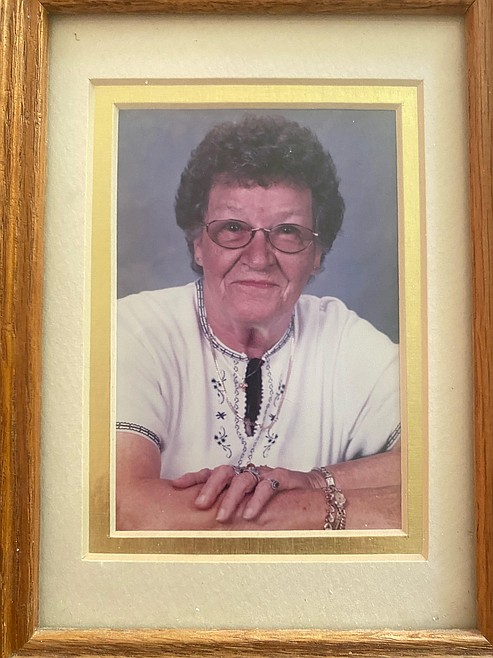 Inge Salmonsen passed away Nov. 25, 2021.
She was born Sept. 25, 1925, in Denmark, the daughter of Aksel and Ingeborg Christensen. She lived in Thisted and was very close to family there and still communicated with them until the end of her life.
For such a small lady you knew her presence. Inge was always smiling and ready for a new adventure. She could be very stubborn; that was the Dane in her.
She lived to see the Germans invade her country and had a German SS officer live at her home.
She met Carl at a dance in Thisted, Denmark, and three weeks later they were married. Six months later she took a boat to America and they settled in Oklahoma. Later they moved to Hamilton, Montana, and Carl farmed with his brother Sam.
Inge got homesick and took the kids to Denmark where they lived for six months. When she got back Carl had bought a home in Evergreen and they lived there raising their children. Later they moved to Kalispell so she could walk or ride her bike to wherever she wanted. She rode her bike into her 80s.
Inge was a seamstress for many people in the community and made many wedding and bridesmaid dresses, quilts and other things. She knitted beautiful sweaters and was still knitting until the end. During her last years she knit hats for schools and hospitals. If she wasn't knitting she was reading. Inge was very active in the Eagles, always working for different charities, taking great pride in this.
The family moved her to Oregon to live with her son Pete and his wife Lori. She loved living there as they had family gatherings all the time and she was a big part of the family. After a year she fractured her back and ended up in a care center and passed away peacefully.
She is survived by Pete Salmonsen and wife Lori, LeeRoy Salmonsen and wife Susan, and Halie Locke and husband John; grandchildren, Jason, Nathan, Billy, Michelle, Denise, Lisa, Wayne, Megan, Shelby and JC; great- grandchildren, Jacob, Dylan, Tanner, Tucker, Tori, Justin, Tanner, Gwen, Colin, Atticus, Lee, Kenlee and Edison, Violet, Maddie, Kendra, Alexandra, Brantly and Conner; and great-great-grandchildren, Jaxson and Noah.
Burial services will be private with family only.
A celebration of life with friends and family will be held July 9 at the Kalispell Eagles, main ballroom, from 2 to 4 p.m. with finger foods and desserts.
Recent Headlines
---