Riders in the Storm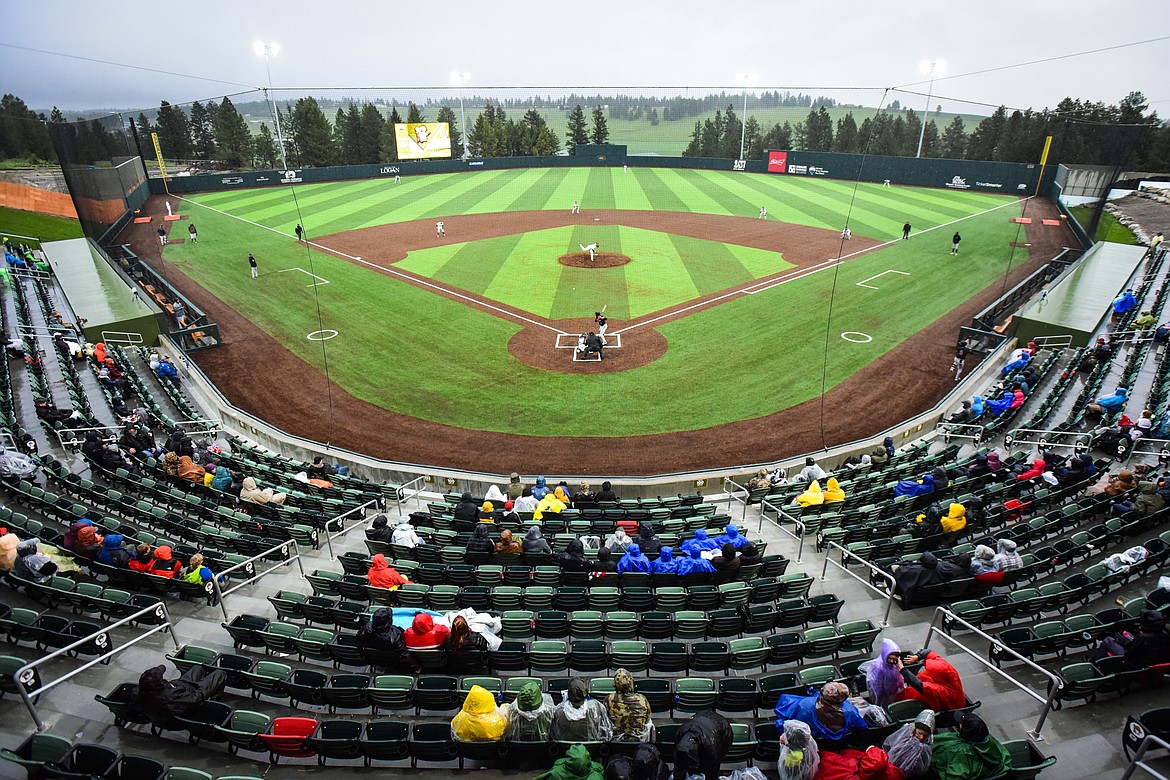 The Glacier Range Riders face the Billings Mustangs in their home opener at Flathead Field on Tuesday, June 14. Many fans chose to watch from under the concourse as a steady rain fell throughout the game. (Casey Kreider/Daily Inter Lake)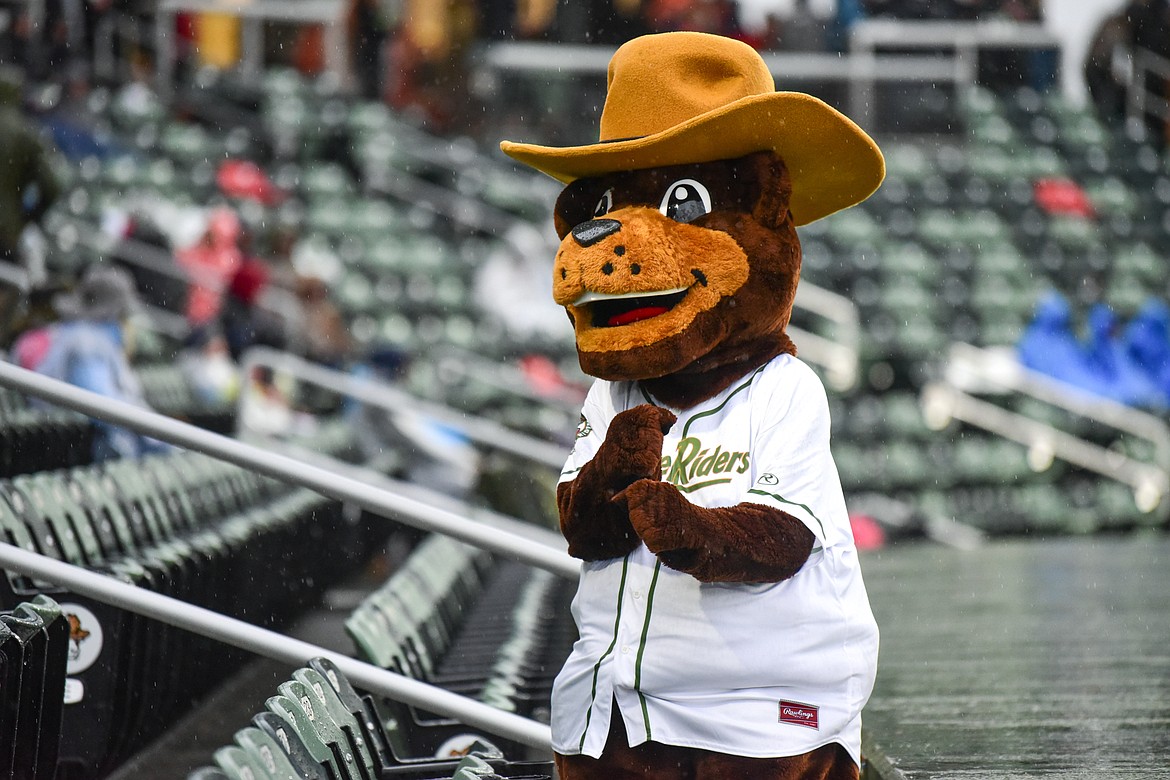 Huck, one of two Glacier Range Riders mascots, dances for fans during the team's home opener against the Billings Mustangs at Flathead Field on Tuesday, June 14. (Casey Kreider/Daily Inter Lake)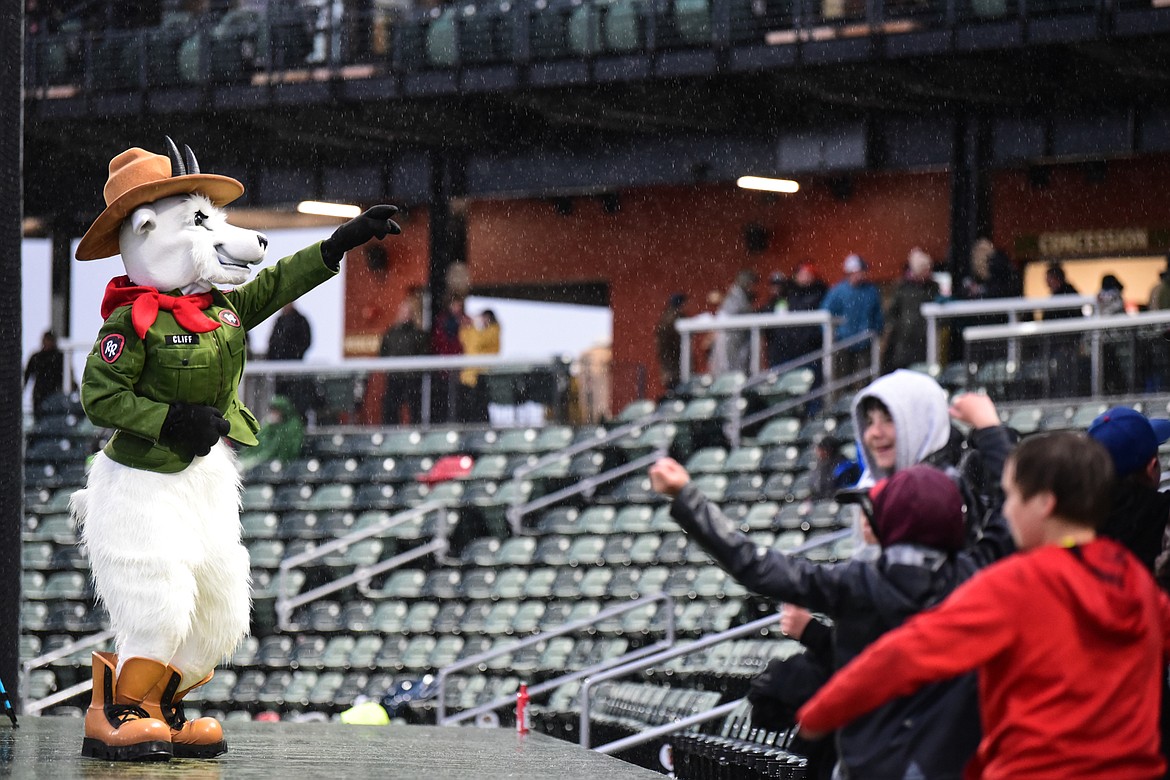 Cliff, one of two Glacier Range Riders mascots, dances to the song "YMCA" during the team's home opener against the Billings Mustangs at Flathead Field on Tuesday, June 14. (Casey Kreider/Daily Inter Lake)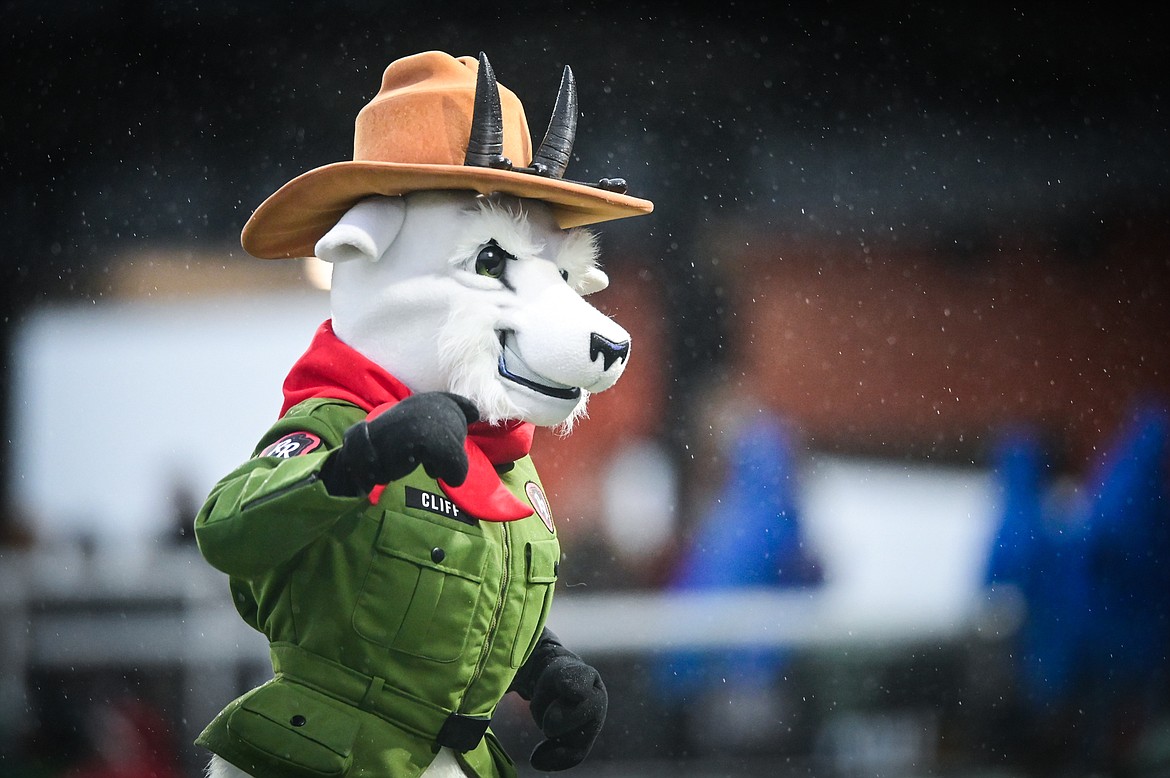 Cliff, one of two Glacier Range Riders mascots, dances to the song "YMCA" during the team's home opener against the Billings Mustangs at Flathead Field on Tuesday, June 14. (Casey Kreider/Daily Inter Lake)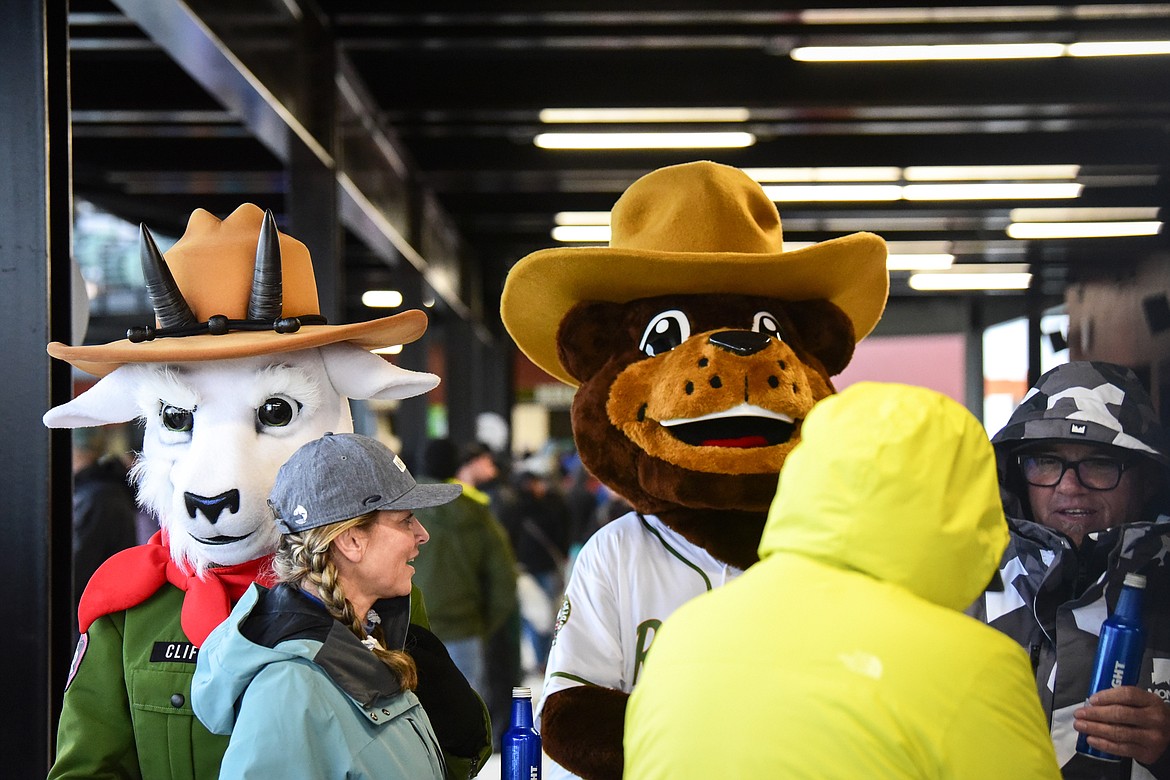 Glacier Range Riders mascots Cliff and Huck greet fans in the concourse before the start of the team's home opener against the Billings Mustangs at Flathead Field on Tuesday, June 14. (Casey Kreider/Daily Inter Lake)
Previous
Next
by
FRITZ NEIGHBOR
Daily Inter Lake
|
June 19, 2022 12:00 AM
If you are a baseball player born and raised in the Pelican State, you've seen some weather.
Not like this.
"Not that temperature," said Brandt Broussard of Baton Rouge. "We don't even get that cold in the winter, in Louisiana."
The Glacier Range Riders opened Flathead Field on a drizzly Tuesday, with a temperature staying at 43 degrees. There were 14 walks — Broussard, Glacier's utility man, drew one — plus one balk, a half-dozen flying bats and two hit batters.
Weather, pitching and final score aside — Billings won 9-4 — things went swimmingly.
"It was awesome," Range Riders manager Nick Hogan said. "The fans came out, they were great.
"My wife was impressed that everybody came prepared. The fans had rain boots and raincoats. I was surprised at how many people were in the chair backs, just wearing it. I guess they're used to it."
A sizable fraction of the several hundred fans that braved the elements stuck it out to the end, which in this case was the top of the seventh inning. The umpiring crew then called a rain delay, oddly, since it had rained the entire game, before deciding it was over.
Standing on the landing behind home plate, retirees Kendal and Shelly Bortisser wanted to be nowhere else. The former San Diego Padres season ticket holders moved to the Flathead Valley three-and-a-half years ago, never dreaming there'd be professional baseball just off U.S. 93, midway between Whitefish and Kalispell.
It was not quite a year ago that word got out that the Kelly family wanted to bring a Pioneer League team to the Flathead.
"And then we started getting excited," Kendal Bortisser said. "Holy cow, we've got a ball team coming. We're die hard baseball fans, so having this gave us an opportunity to get involved and be a host family."
The Bortissers are empty nesters — OK, were. Now they have two more "boys," in outfielder Dean Miller and pitcher Kevin Kyle.
"We have a home out in West Valley that we thought would actually work out well," Bortisser said. "We have three kids that are grown, back in San Diego.Our kids played baseball growing up and we've had friends of our boys who'd gone on to play ball and so we started calling them, asking, 'Hey, what do you think of us being a host family?'
"They said, 'Hey, you guys would be a good fit for that.' "
"Two rooms and two bathrooms upstairs that weren't getting used," Shelly Bortisser said. "We just decided we could help, you know? This is a great organization, It's something new. I think we were maybe one of the first five to sign up."
Hogan has said finding living spaces for his players cost him the most sleep. He's dazzled by the community's embrace of minor league baseball. Players and fans alike should be dazzled by the ballpark. It's quite the yard.
"These guys have been working really, really hard to make this work," Kendal Bortisser said. "It's just impressive to see (general manager) Erik Moore and Nick and everybody have done to get us to this point."
"I was impressed with how many people still showed up," Broussard said. "Forty degrees, and the first inning was electric."
"I'm disappointed we couldn't put on a better performance for them," Hogan said. "But I think we'll start to turn that around."
Fritz Neighbor can be reached at 758-4463 or at fneighbor@dailyinterlake.com.
Recent Headlines
---