Columbia Falls outdoor company aids areas affected by Yellowstone flooding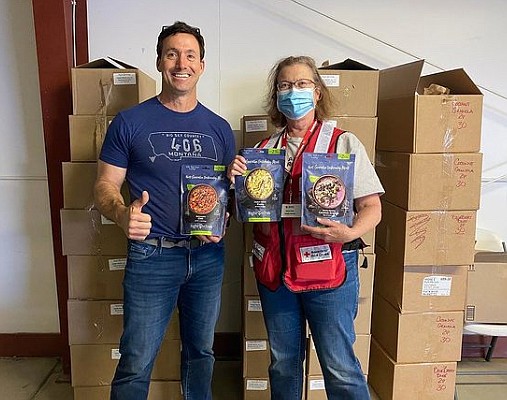 David Diehl, left, poses with a Red Cross aid worker in Red Lodge following the devastating Yellowstone flooding last week. Diehl, head of gear operations at Columbia Falls-based RightOnTrek, delivered packaged meals to aid in the relief effort. (Photo courtesy RightOnTrek)
by
SUMMER ZALESKY Daily Inter Lake
|
June 23, 2022 12:00 AM
RightOnTrek, a Columbia Falls-based outdoor company, joined with government agencies and nonprofit disaster relief groups last week to aid evacuees caught in flood zones in and around Yellowstone National Park.
Nick Sramek, a RightOnTrek employee based in Bozeman, keyed the company into the developing situation. With roads washing away, the displacement of locals and tourists, and the destruction of property, the RightOnTrek team developed a plan to get supplies to the area.
David Diehl, head of gear operations, said as a meal and gear rental company, they are well situated to provide disaster relief. A U.S. Air Force veteran with 28 years in uniform, Diehl knows how to systematically provide disaster relief services. He said he knew it was important to wait for the situation to unfold before acting.
"You don't want to bring stuff that's not needed," he said. "We had to figure out what was needed and then identify how to distribute it."
After getting in contact with the Red Cross in Red Lodge, one of the centers for evacuation operations, a clear need for RightOnTrek's prepackaged meals and water purification drops emerged. Initially, the Red Cross said they could coordinate a driver to bring the supplies down in a few days, but RightOnTrek decided to get it to Red Lodge as fast as possible. The team went to work fitting as much as they could in a company vehicle.
"We delivered 30 boxes of Aquamira, which are water purification drops," Diehl said. "That was a big need because a lot of folks couldn't get ahold of water that was drinkable."
RightOnTrek donated about $7,000 worth of foodstuffs – the equivalent of 1,000 meals.
"Obviously it felt fantastic to be able to contribute and help," Diehl said. "We love that we were able to help fellow Montanans as a Montana company, too,"
The distributed meals are good for 18 months and catered to different diets, including vegan, vegetarian, and gluten-free, said Diehl, who noted that the prepackaged food is nutritious.
"When I was there, the Montana National Guard had just flown folks out of the East Rosebud campground," Diehl said. "The evacuees would come here and get a hot meal, access to a phone, a bed and blankets. A lot of evacuees were tourists who got helped to the airport or their next destination."
A combination of continued rain and the accumulation of snow have kept concerns about additional flooding high.
"When I was there, almost 100 people had already gone through the Red Cross, but we're not out of the woods yet," Diehl said.
But with more than 1,000 meals and water purification drops delivered by RightOnTrek, Andrew Harper, the Red Cross disaster manager in Red Lodge, indicated that aid workers are now prepared for more potential flooding and that the supplies meet an immediate need.
The joint operation center at Red Lodge consisted of the Red Cross, Montana National Guard, area fire rescue, local volunteers and RightOnTrek. Diehl emphasized the advantageous partnership between private, local and federal agencies and said as a private for-profit company, they were happy to have the opportunity to contribute.
"As an outdoor industry company based in Montana, ensuring the safety of our local Montana community, park visitors, and National Parks employees are top priorities for us. RightOnTrek stands with all the first responders and those affected by these catastrophic events," the company posted on its Instagram page.
To support Red Cross disaster relief, visit montanaredcross.org and click on the donate button, call 800-HELP-NOW, text Redcross to 90999 and $10 will go toward disaster relief, or send a check to Montana Red Cross, c/o Diane Wright, 1300 28th St. S., Great Falls, 59405. Please write Montana Disaster Relief on the subject line.
Recent Headlines
---