Parce stresses community involvement in bid for commissioner seat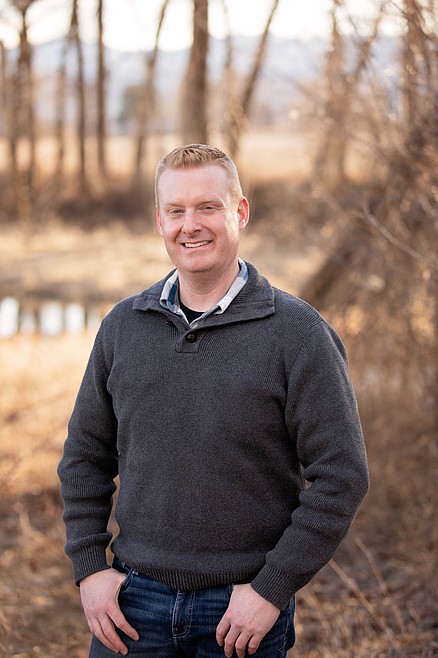 Flathead County Commissioner candidate Jason Parce. (Photo courtesy Jason Parce)
by
DERRICK PERKINS
Daily Inter Lake
|
May 13, 2022 12:00 AM
EDITOR'S NOTE: This is the final article in a series running this week previewing the candidates for the Flathead County Commission.
After years in uniform, Jason Parce looks at potentially joining the Flathead County Commission as the natural extension of his career, particularly given his on-the-ground view of the region's rapid change.
"I feel like being a county commissioner would allow me the opportunity to become more involved in my community — at a broader level," he said.
Parce, who until recently served as a K-9 officer for the Kalispell Police Department, said his work in recent years let him get a feel for the region while keeping him up on the social ills plaguing the county, including homelessness, addiction, mental health and crime. Working in law enforcement left him with a unique perspective, he said.
Parce has departed the police department and is under review by the state Public Safety Officer Standards and Training Bureau, which oversees law enforcement certification. A hearing is scheduled for May 24.

Parce is one of three challengers facing incumbent County Commissioner Pam Holmquist in the Republican primary election on June 7. Jack Fallon and Brian Friess also are running in the election.
No Democrats filed for the position.
From Parce's vantage, the county's growth began long ago. Keeping pace with infrastructure improvements remains a priority, but he emphasized the importance of giving residents a say in the region's future.
"We obviously have to keep up with the growth, but we have to keep our community needs and wants in mind as well," he said. "You have to balance that and be incredibly transparent."
A common refrain on the campaign trail is that local government is unresponsive to resident desires, he said. While occasionally inaccurate, Parce said the sentiment speaks to the importance of proper planning and infrastructure development.
One piece of infrastructure the county should have begun planning for a lot sooner is a new detention center. Talk of replacing the county jail has been around as long as Parce has lived in the area, nearly 15 years. He predicts that public safety will remain a priority for residents. Planning for a new facility should begin immediately, he said.
"If we don't do it now, we should be envisioning having that [facility] in the future. That's just a reality of growth," he said. "On the other hand, you have to weigh public safety and the cost of these improvements with being fiscally responsible."
One way to do that is to take a hard look at the detention center's purpose, he said. Does the community see it as a repository for the region's violent offenders or a holding facility for low level offenders? His sense is the majority of taxpayers would prefer to see their dollars fund a lockup for those accused of violent crimes.
"We incarcerated a lot of people for low level infractions that they don't appear in court for … and I don't think there is a lot of people who understand that," Parce said.
As for the county budget in general, Parce believes residents should expect quality public services without tax bumps. Reallocating resources to the areas where the need is most severe is one way to do that, he said.
"Look at the areas in the budget that are pretty fat and then look at what is happening in our community and decide how are we going to attack that at a ground level," Parce said.
Infrastructure, growth and public safety are all tied together, he said. And from his perspective, the best way to bolster public safety is by putting more boots on the ground.
"Medics, firefighters, police officers, deputies — the people on the front lines — you have to bolster that," he said.
Touching upon the region's special law enforcement units — think SWAT — Parce said they are responding to the changes in criminality in the valley. He would prefer to see resources shifted to addressing the root causes of those problems, and for him that means putting more people out on the street. Community policing is a popular phrase these days, he said, but when done right it can head off more severe outcomes.
"A lot of these problems that we see, that we need to address with special units, can be resolved if we have more deputies and officers on the streets," he said, "and that's where the focus needs to be, on that day-to-day activity."
He also believes the county could be more innovative in approaching the region's housing crunch. Flathead County is not alone in undergoing a population boom and it's not the first place to see rapid growth.
"This isn't anything new," he said. "We should be looking at other places, but also being transparent with our own citizens, saying these are some ideas we have and how does this affect people?"
One idea he has is leasing public property for use as residential housing. Doing so would let the county hold developers accountable while also providing much needed rental space. Money generated by the deal would flow into public coffers while letting the local government hold onto the property.
As for the commissioners' relationships with other resident panels, particularly the health and library boards, Parce said leaders needed to recognize that those bodies are made up of citizens — and often experts in their field. But a passionate exchange of ideas and viewpoints is a good thing, he said.
"I think it's healthy to have conflict," he said. "There is always going to be that middle ground. People are going to share their ideas and you may find there is more common ground than what you originally expected."
As for plans to build a new library and donate it to the county, Parce said he was hesitant to weigh in before taking a look at the financials. But he thought the opportunity was right to run the proposal past residents. He advocated soliciting community input.
"That would be a great example of putting it out to say, Bigfork. You would just reach out to your community, hold some advisory boards and what do people think about it?" he said. "If the county can be of assistance, what do the people in the community want? What do they expect of their commissioners?"
News Editor Derrick Perkins can be reached at 758-4430 or dperkins@dailyinterlake.com.
Age: 40
Occupation: Self employed, wildlife resources
Family: Single
Background/community involvement: More than 15 years in local law enforcement, Special Olympics Montana, Flathead Warming Shelter, Flathead CARE
Website/email: https://parceforcommissioner.com/
---