Louis Obradovich, 94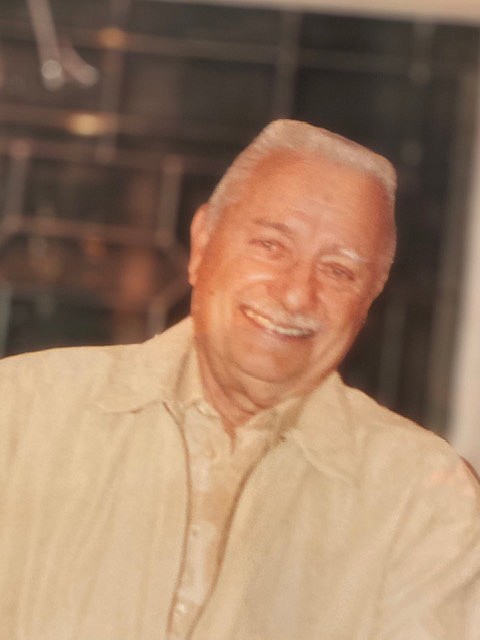 Louis Obradovich entered this world on Dec. 11, 1927, born to Croatian immigrants, Luka and Alice Obradovich. He left this world on Friday, April 29, 2022, cradled in the arms of his loving wife, Janet, and arrived at his eternal home in heaven.
Lou's young life was spent in Englewood, California, where he enjoyed riding bikes in the orange groves, playing on the beach and swimming in the ocean. He also enjoyed many memorable festivities at the St. Anthony's Croatian Church he attended with his parents and brothers, Steve and Bob.
He attended Horace Mann Junior High and Manual Arts High School where he excelled in workshop typesetting class which would pave the path to a very successful career and business ownership.
Immediately after high school, he was drafted into the military as World War II was in its last stages. He joined the U.S. Coast Guard (then part of the Navy). He thought he would see a bit of the world but instead, because of his skills, he was placed in charge of the Coast Guard printing office at Los Alamos. When that shop closed, he was sent to Pensacola, Florida, to serve on a buoy tender. He finished his tour out of Wilmington, Delaware, as a lead seaman on the ship.
Upon discharge, he returned to the printing industry with Pacific Press as a typesetting apprentice working on large publications such as Time, Newsweek and Petersen Publishing among others. At that time, he was the youngest journeyman typesetter in the United States at the age of 23.
In 1959, he started his own business — the first computerized typesetting service In the United States. It grew into one of the largest typesetting companies in the nation, doing work for publications such as Business Week, Los Angeles magazine, Architectural Digest, Airline inplane magazines, Petersen Publishing, many car publications, as well as college textbooks. At the age of 54 he made the decision to sell, which he did — to U.S. News & World Report. That decision enabled him to enter the commercial real estate business and he still owns an office building in Burbank, California.
Lou loved life and people! He was an avid golfer, playing 10 times in the Bob Hope Classic, three times in the ProAm in Orlando (winning once), and winning in the LPGA ProAm with Nance Lopez as his partner. He was a member of four golf clubs: Indian Wells Country Club, Eagle Bend Golf Club in Bigfork, and Rancho Santa Fe and Oakmont Country Club in Glendale, California, where he served on the board.
In 1988 he married the love of his life, Janet Jacobs VanNote. They were blessed with 34 years of a loving and fun partnership. They enjoyed traveling abroad as well as touring Canada and the United States in their motorhome before settling in a summer home in Bigfork. There they entertained on their boat or in their home and enjoyed the cool summer golf.
This marriage included becoming part of Lou's most cherished accomplishment — his family of four very successful children, Micheal (Karen), John (Betty), Sally Hazen (Michael) and Michele O'Brien (Michael).
As a young father, his time was spent coaching baseball and football and spending endless days water skiing on Canyon Lake. There are also nine grandchildren, Jason (Wendy), Tina Obradovich, John (Vanessa), Jennifer Anderson (Kyle), Daniel (Jane); Ryan Jones (Heather); Trevor Jones (Jeannine); Chris Hazen (Charlene); and Michele Peschelt (John). There are also 19 great-grandchildren and many nieces and nephews. As a proud grandpa he loved hearing about his grandchildren's plans and their accomplishments, as well as coaching them about life.
The above have all survived his death. He was preceded in death by his brothers, Steve and Robert, and a great-grandbaby boy, Wyatt.
Lou and his wife attended Southwest Church regularly, which was part of his life, and enjoying Sunday breakfast at Louise's with friends. He also supported several valley charities — Salvation Army, Mama's House, Boys and Girls Club of Coachella Valley and the Coachella Valley Rescue Mission.
We cannot measure how much he will be missed nor how thankful we are to know he is with his Lord and Savior.
Recent Headlines
---