MSU engineering students help Billings business with manufacturing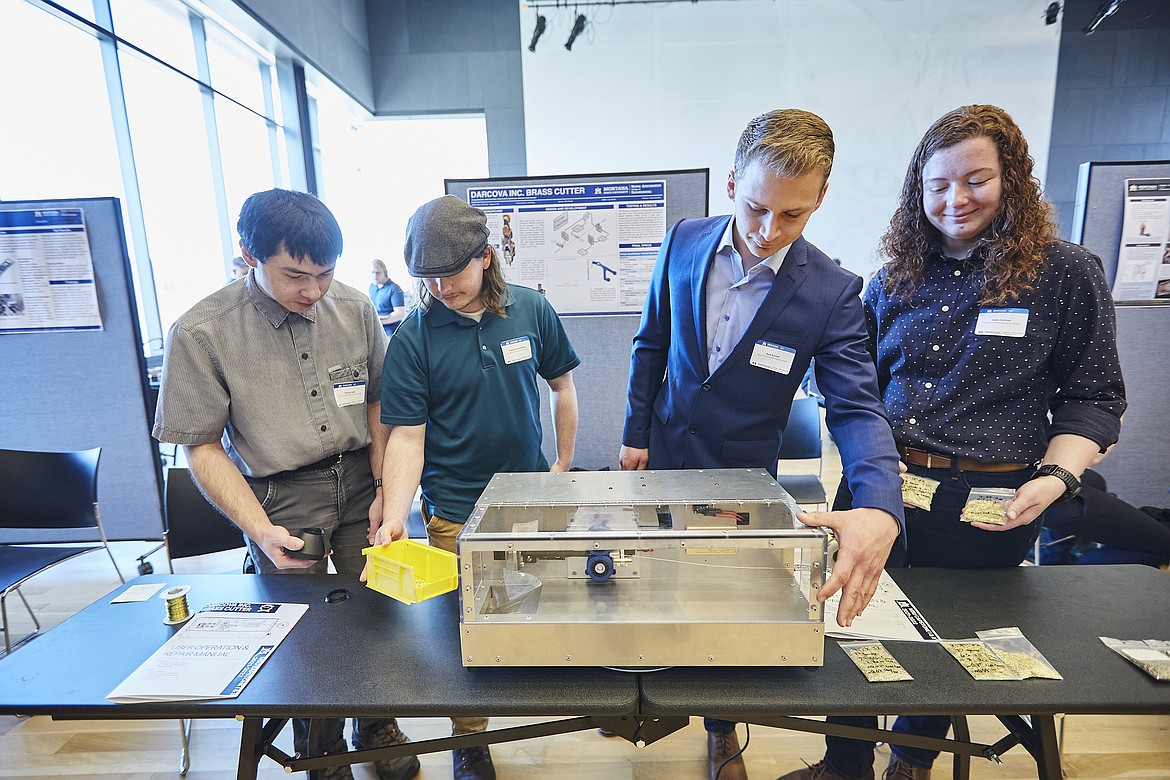 MSU engineering students, from left, Patrick Galt, Dawson Lewis Randall, Kyle Kramer and Kelly Farnham, showcase their capstone project, a manufacturing device for Billings-based company Darcova, during the biannual Design Fair on May 5. (MSU Photo by Adrian Sanchez-Gonzalez)
by
By Marshall Swearingen MSU News Service
|
May 22, 2022 12:00 AM
BOZEMAN — As a team of engineering students wraps up an intensive two-semester class, in addition to receiving a grade they'll get the satisfaction of helping a Montana business and knowing they can perform at a level comparable in many ways to professional engineers.
For their capstone project, which all seniors in MSU's Norm Asbjornson College of Engineering complete in order to graduate, the four teammates worked with Billings-based Darcova, a manufacturer of specialized sealing components for the oil industry, to improve the company's production process.
"At this point we've gone through the whole process, from an idea to a computer model and then building it and having a complete product that works," said mechanical engineering major Kelly Farnham last Thursday, when the team joined dozens of others showing their creations during the biannual Design Fair on the MSU campus.
Last August, Darcova gave the team a simple-sounding yet complex challenge: make a device that could cut brass wire into small, precise lengths that could be mixed into rubber to improve the durability of a part that contains oil at the wellhead above the ground's surface. The company, which sells its parts all over the globe, previously used brass shavings from machine shops, but the supply was undependable and the shavings had to be cleaned before mixing with the rubber. "I'd heard about the capstone program and thought this could be a good opportunity," said Mike Baugh, the company's president.
Fast forward eight months, and Baugh now has a machine that can churn out hundreds of pieces of brass wire per minute. The self-contained unit feeds a spool of wire into a rapidly moving cutting arm. It can be adjusted to precisely control the length of the brass pieces and is designed to meet all safety requirements.
"This is production-ready and will meet our needs for some time," Baugh said. "We're going to drop it into the production line, plug it in and put it to good use."
For the students, the experience tested them in an environment in many ways more like an engineering workplace than a university course. In addition to drawing upon all their engineering knowledge, they had to use teamwork, time management and communication skills.
"You're given an open-ended problem that doesn't necessarily have a clear solution," said Patrick Galt, a mechanical engineering technology major from the Seattle area. The team worked through lots of different design ideas before settling on one by January.
Then, using state-of-the-art tools in the engineering college's machine shops, the students turned their design into reality. "We each did a bit of everything," Farnham said. "We made the entire frame by cutting tubing and welding it together." They estimate they made 80% of the parts in the device themselves.
Throughout it all they kept Baugh and their capstone adviser apprised of their progress. "The thing I got out of the project the most was being able to communicate our ideas effectively and make sure we were all on the same page," said mechanical engineering major Kyle Kramer from Bozeman. "It was actually pretty fun to put all the work into it."
Dawson Lewis Randall, a Wenatchee, Washington, native who's heading to a job as a manufacturing engineer with Boeing after he graduates in May, said it gave the teammates confidence to see the project through from start to finish. "We haven't had a project this in-depth before, so a lot of what we learned was all that goes into it."
For Craig Shankwitz, a capstone instructor in the Department of Mechanical and Industrial Engineering, the team's experience exemplified the purpose of capstone projects: challenge the students while solving a real-world problem. "This project is as good as it gets," he said. "It's a win-win." There's always a need for capstone sponsors, he added. Businesses, organizations, even faculty members at MSU who need research equipment, can benefit from sponsoring a project that involves students majoring in a variety of disciplines in the engineering college, including computer science.
Lane Gobbs, manufacturing business adviser for the Montana Manufacturing Extension Center at MSU, initially helped connect Darcova with the capstone opportunity and participated in design reviews to help the students fine-tune their design to best serve the company's needs. MMEC has referred several companies to the capstone program after seeing how it can help Montana manufacturers, Gobbs said.
"It's been a great experience," Baugh said. "I highly recommend this to other companies."
Galt, the mechanical engineering technology major, said it was fulfilling to work on a project with a real purpose. "It's not busy work," he said. "This machine will get used and hopefully save the company a lot of time and effort. That's a satisfying end result."
Recent Headlines
---