Candidates push for voter turnout as midterms near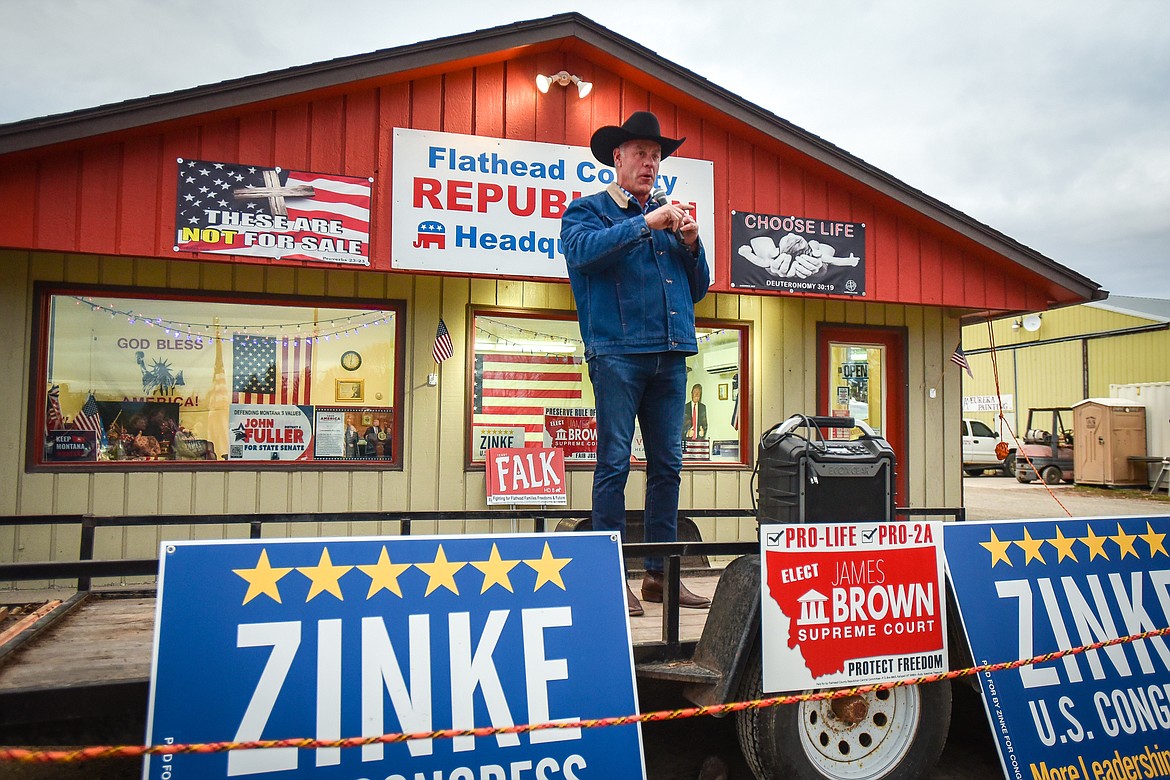 Ryan Zinke, Republican candidate for Montana's western district congressional seat, speaks during a grassroots rally at the Flathead County Republican Headquarters on West Reserve Drive in Kalispell on Friday, Oct. 28. (Casey Kreider/Daily Inter Lake)
by
MATT BALDWIN
Daily Inter Lake
|
November 5, 2022 1:00 AM
As the campaign season draws to a close, local and statewide candidates have turned their focus to voter turnout — encouraging residents to get their absentee ballots in the mail or to show up at the polls Tuesday, Nov. 8.
While midterms notoriously draw fewer voters than a presidential election, recent polls show high interest in the upcoming general election.
Nationally, a Pew Research Center report shows that 72% of registered voters are "extremely" or "very" motivated to vote. Likewise, a Montana State University Billings poll from October shows nearly 82% of Montana respondents planned to vote in the midterms.
Republican Ryan Zinke, candidate for Montana's western district U.S. House seat, hoped to capture that enthusiasm at an Oct. 28 rally at the Flathead Republican headquarters in Kalispell.
"The red wave starts today," Zinke said, standing atop a flatbed trailer alongside fellow Republicans U.S. Sen. Steve Daines and Gov. Greg Gianforte.
Zinke, who narrowly won his party's primary election in June, told the crowd that Republicans have to translate their anger "into action."
"I've been in a lot of battles in my life, and I can tell you it's the front line that wins battles," he said. "Politics is no different."
Local Democrats are also seeing widespread enthusiasm, said Flathead Democrats chair Lynn Stanley.
"We've had an outpouring of people coming out to knock doors and work the phone banks," Stanley told the Inter Lake in a recent interview.
"It is the midterms, but on the other hand there is high interest in this election," she continued. "There are real consequences in the outcome of it."
Stanley said she wouldn't be surprised to see a record turnout on Tuesday.
As of Nov. 4, more than half of absentee ballots mailed to Montana voters had been returned. In Flathead County, 24,728 absentee ballots had been returned out of 48,433 mailed out.
THE MSU Billings poll indicates Zinke has the edge in the U.S. House race heading into Election Day. About 34% of respondents said they preferred Zinke. The poll showed Democrat Monica Tranel with 25% support, and Libertarian John Lamb with 17%. Nearly 20% remained undecided.
For Montana's eastern district House seat, the poll showed incumbent Republican Rep. Matt Rosendale with a strong advantage. About 35% of respondents said they would support his re-election. Independent Gary Buchanan was supported by about 21% of respondents, while Democrat Penny Ronning had 17%.
The poll indicated that most disapproved of President Joe Biden's performance and of Congress in general.
Zinke touched on those sentiments at his Kalispell rally, saying the country is "failing" under its current leadership. While he mentioned so-called kitchen-table topics such as the economy, inflation and energy costs, he also played up cultural divisions as a reason to vote.
"Culture is probably the most difficult to change, but when boys can play girl sports, when there's puberty blocking therapy being advocated in junior high, when our founding fathers are now racist and Teddy Roosevelt and John Muir are excused from the classroom — it's time to stand," Zinke said.
That resonated with some supporters who attended the rally.
Harry Neumann, of Kila, said that while the economy was a top concern, "really not that far behind is protecting our children from being mutilated," he said in reference to transgender issues.
Neumann called Zinke a strong leader who excelled as secretary of Interior "under exceedingly strong backlash."
Neumann said he is optimistic for the future of the country, but called the current state of the nation "completely out of control," pointing to the immigration crisis on the southern border, among other challenges facing the nation.
"I can't believe anyone would vote Democrat after seeing what's going on," he said.
Kalispell resident Morrie Shechtman also said that political and cultural issues are driving him to vote more than economic worries.
"We're the worst I've seen it," he said about the current state of the country.
Lynn Stanley of the Flathead Democrats expressed that she believes Republicans are pushing fear to motivate their base.
"Fear that the election isn't safe; fears about your Social Security; fears about you name it," she said.
"We're just out there listening to people and talking about the challenges they face in their lives, and pointing out that ours is the party that works for solutions, rather than raising people's fears."
Stanley said local voters have talked with her frequently about election security, and that she assures them the process is secure.
"I think we have a great election department," she said. "I think they are meticulous and that our elections are safe here. I think that's true across the state."
Zinke encouraged his voters to avoid mailing in ballots and to turn them in at polling places in person.
FLATHEAD COUNTY Election Office Manager Monica Eisenzimer on Friday said her office isn't expecting any delays in the vote tally on Tuesday night.
She said write-in votes do take more time to verify, but added that election workers were ready for the extra work if required.
"They verify it and double check it," she said of counting write-in votes. "These guys are pretty fast."
The Flathead Republican Party recently put out a call for volunteer "poll watchers." Eisenzimer said that while people are welcome to observe the elections, they "can't get in the way and impede the process of voting."
Those eligible to vote, but not yet registered must fill out a voter registration form, available digitally at flathead.mt.gov/department-directory/election/voter-information, and visit the Election Department. The office is open between 8 a.m. and 5 p.m., Monday through Friday. Owing to a court injunction, Montana residents can register up to 8 p.m. on Election Day this year.
Voters planning on heading to the polls in person on Nov. 8 must show one of several acceptable forms of identification. These include a Montana driver's license, school ID, military ID, Tribal Photo identification card, U.S. Passport or state-issued concealed carry permit. Voters also have the option of bringing in a utility bill, bank statement, paycheck, government check or another type of government document establishing the individual's name and residency along with a form of photo identification also bearing their name.
Recent Headlines
---