Plains mayor elected to Sanders County commission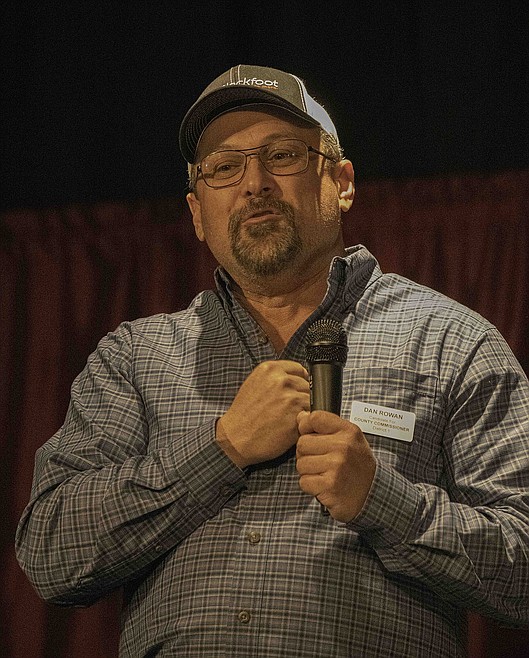 Plains Mayor Dan Rowan has been elected to the Sanders County commissioner seat in district 1. (Tracy Scott/Valley Press)
by
Daily Inter Lake
|
November 9, 2022 8:00 AM
Plains Mayor Dan Rowan scored a decisive victory Tuesday night in his campaign for the Sanders County Commission seat in District 1, while John Holland secured the county commission's District 2 seat.
With all precincts reporting in Sanders County, Rowan had tallied 3,659 votes (59%) to defeat Adam Bache, who had 2,487 votes (40%). Holland, meanwhile, earned 3,338 votes to top Mahlon Lee's 2,809 tally in district 2. The commissioner elections are non-partisan.
In the race for Sanders County sheriff, retired deputy Shawn Fielders easily defeated Roy Scott. Fielders had 3,614 votes (57%) to Scott's 2,367 (37%). Write-in candidates earned 385 votes.
Scott, a police officer in Thompson Falls, conceded in a Facebook post Wednesday morning.
"We lost the hard fight," he wrote. "It has been a long, hard, dirty and disappointing race. Myself and my family are extremely grateful for all the support that we have received throughout this campaign. However, we are glad for this race to be over and we are ready to get back to our lives. Congrats to everyone and good luck."
Sanders County voters easily approved a local option tax on recreational marijuana sales, with 71% in favor of the ballot measure. However, voters turned down a local tax on medical marijuana by the narrowest of margins: 3,207 against and 3,205 for. That vote is within the margin for a recount, according to the Secretary of State Office.
Republican Rep. Paul Fielder won his re-election bid for his state House seat in District 13, topping Democrat challenger Colleen Hinds.
In Mineral County, Republican Ryan Funke was elected sheriff after earning 1,219 votes (57%), to defeat independent candidate Gretchen Webb. Funk, 43, currently works as deputy sheriff in the county. He lives in St. Regis.
Mineral County voters OK'd a local tax on recreational and medical marijuana sales.
Sanders County results
US Representative 1st Congressional District
JOHN LAMB 453
MONICA TRANEL 1595
RYAN K ZINKE 4499
SUPREME COURT JUSTICE 1
BILL D'ALTON 1118
JIM RICE 4669
SUPREME COURT JUSTICE 2
JAMES BROWN. 3928
INGRID GUSTAFSON 2300
STATE REPRESENTATIVE DST 13
PAUL C FIELDER 2972
COLLEEN HINDS 1015
STATE REPRESENTATIVE DST 14
DENLEY M LOGE 1991
COMMISSIONER DISTRICT 2
JOHN HOLLAND 3338
MAHLON LEE 2809
COMMISSIONER DISTRICT 1 - 2 YR
ADAM BACHE 2487
DAN ROWAN 3659
CLERK RECORDER/TREASURER/SUPERINTENDENT OF SCHOOLS
KATHLEEN C. FRENCH 1602
NICHOL SCRIBNER 4569
SHERIFF
SHAWN FIELDERS 3614
ROY SCOTT 2367
WRITE-IN 385
CORONER
PAT BARBER 4238
MARTIN SPRING 1594
ATTORNEY/PUB ADMIN
NAOMI R. LEISZ 3559
WRITE-IN 1965
JUSTICE OF THE PEACE
DOUG DRYDEN 4430
CARL E MARQUARDT 1500
GREEN MOUNTAIN SOIL AND CONSERVATION DISTRICT 4 YR
MELINDA FERRELL 1084
NANCY S. MEHAFFIE 1344
SEAN MORAN 1100
WILLIAM D NAEGELI 1786
KEREN C RASH 1156
MARY REED 1621
GREEN MOUNTAIN SOIL AND CONSERVATION DISTRICT 2 YR
EDWARD "BUD" SCULLY 1434
KRISTEN WING 1751
C-48 (Protect electronic data and communications from unreasonable search and seizure)
YES 5095
NO 1113
REFERENDUM-131 (Adopting the born-alive infant protection act)
YES 3953
NO 2344
NON-MEDICAL MARIJUANA EXCISE TAX
FOR 4596
AGAINST 1840
MEDICAL MARIJUANA EXCISE TAX
FOR 3205
AGAINST 3207
ARLEE SCHOOL DISTRICT-GENERAL BOND OBLIGATION
YES 6
NO 2
ARLEE SCHOOL DISTRICT-IMPACT AND REVENUE BOND
YES 6
NO 2
Mineral County results
US Representative 1st Congressional District
JOHN LAMB 146
MONICA TRANEL 579
RYAN K ZINKE 1456
SUPREME COURT JUSTICE 1
BILL D'ALTON 476
JIM RICE 1331
SUPREME COURT JUSTICE 2
JAMES BROWN 1204
INGRID GUSTAFSON 846
JASON MARKS OF DISTRICT 4, DEPT 4
Yes 1480
No 381
SD14
Denley Loge (R) 1,854
COUNTY COMMISSIONER EAST END DISTRICT
Roman Zylawy (R) 1,707
COUNTY CLERK AND RECORDER/ASSESSOR
Kelann Mclees (R) 1,877
COUNTY SHERIFF/CORONER/PUBLIC ADMINISTRATOR
Ryan Funke (R) 1,219
Gretchen Webb (I) 925
COUNTY ATTORNEY
Debra Jackson (R) 1,598
COUNTY TREASURER/ SUPERINTENDENT OF SCHOOLS
Merry Mueller (R) 1,784
JUSTICE OF THE PEACE
Kim Taron 1,718
CONSTITUTIONAL AMENDMENT NO. 48
Yes 1,727
No 363
LEGISLATIVE REFERENDUM NO. 131
For 1,160
Against 975
MARIJUANA TAX MEDICAL
For 1,160
Against 975
MARIJUANA TAX NON-MEDICAL
For 1,555
Against 594
Recent Headlines
---