'The Cowboys' rides into Museum Movie Night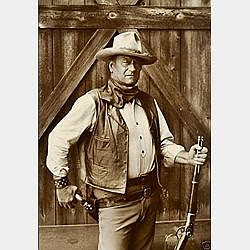 John Wayne plays over-the-hill rancher Wil Andersen in a coming of age tale as the Duke takes on teaching "The Cowboys."
|
November 24, 2022 12:00 AM
This month's selection for Movie Night at the Museum is "The Cowboys" starring John Wayne. The film shows 7 p.m. Tuesday, Nov. 29, at the Northwest Montana History Museum.
Based on the book by the same name, this 1972 film tells the story of rancher Wil Andersen; just as he prepares to take his cattle to market, all of his hired hands take off for the gold fields. After turning down a crew of unsavory characters led by actor Bruce Dern, Anderson hires the only hands available — a group of schoolboys.
Along with the cook, Jebediah Nightlinger (Roscoe Lee Browne), the group heads out, unaware that they are being trailed by Dern and his crew. Life on the trail helps turn the boys to men as they take on the villains and drive the cattle to market, despite tragedy along the way.
The film was one of Wayne's own favorites, which brought him critical acclaim and box office success late in his career.

Movie night admission and popcorn are free but donations help defray costs. Soda pop, water, beer and wine are available for purchase; seating is provided but viewers can bring their own cushions or seating if they like.
The NWMT History Museum brings the past alive through exhibits, artifacts, educational programs and events. Regular museum hours are 10 a.m. to 5 p.m. weekdays at 124 Second Ave. E, Kalispell. Call 406-756-8381 for more information.
Recent Headlines
---