NW History Museum hosts holiday open house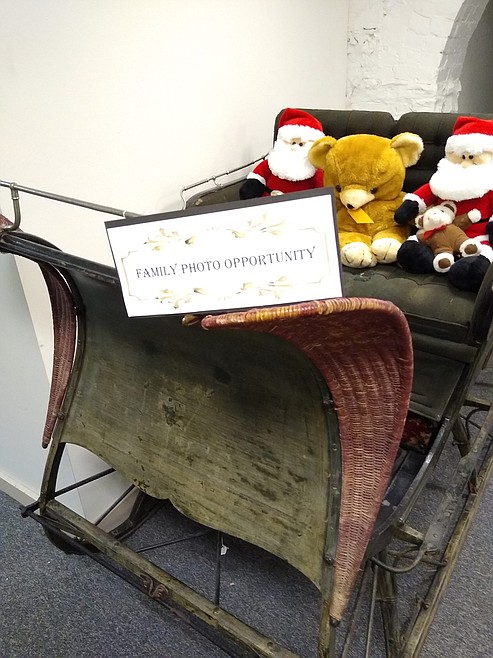 Visitors to the Northwest Montana History Museum's open house Thursday, Dec. 1, can sit and have their photo taken in the 1890 rumble seat sleigh in the museum lobby.
|
November 24, 2022 12:00 AM
The Northwest Montana History Museum will open its doors to the community for the museum's annual holiday open house from 5 to 7 p.m. Thursday, Dec. 1, and admission is free. 

For the first time, visitors can sit in the 1890 rumble seat sleigh in the museum lobby — a great photo opportunity in a vintage ride.


"This event is the perfect way for everyone to start the holiday season," museum executive director Margaret Davis said. "We've got a lot of fun planned for the evening, and we expect a great turnout."

Highlights of the evening include a kids' reading, shortly after the doors open, of Jo Parry's "'Twas the Night Before Christmas in Montana,"; followed by a presentation at 6:15 p.m. by Ferndale author Leslie Budewitz, who has written more than a dozen books, including the Spice Shop and Food Lovers' Village mysteries. This will be the first Kalispell book signing for her latest title, "Blind Faith." 

In addition, Flathead Valley favorite John Fraley returns to the museum's book and gift shop to sign copies of his books, including his newly published "My Wilderness Life." A history writer and wildlife biologist, this is Fraley's first account of his personal experiences in the wild.


The open house is an opportunity for guests to explore the main event: the museum exhibits themselves, which cover many aspects of Kalispell and Northwest Montana history and life in the Flathead Valley and beyond.


"Our open house is a wonderful example of community collaboration and our ongoing commitment to education and preserving history," Davis said. "We will have new holiday displays for which nearly a hundred kids from Scouting groups, Bigfork ACES after-school program, and Kalispell Middle School are creating ornaments and other decorative elements, many based on their own class research.


"It is exciting to see this all come together," Davis said. "I can't wait to see the community response to the great work these kids, their leaders, and our volunteers are doing together." 
Refreshments will be served, including fun treats drawn from the recipes in Budewitz's holiday mysteries "Peppermint Barked" and "As the Christmas Cookie Crumbles."
The Northwest Montana History Museum is located at 124 Second Ave. E., in Kalispell.
Recent Headlines
---