Big Sky Notes: Grizzlies, especially the special teams, are on NDSU's radar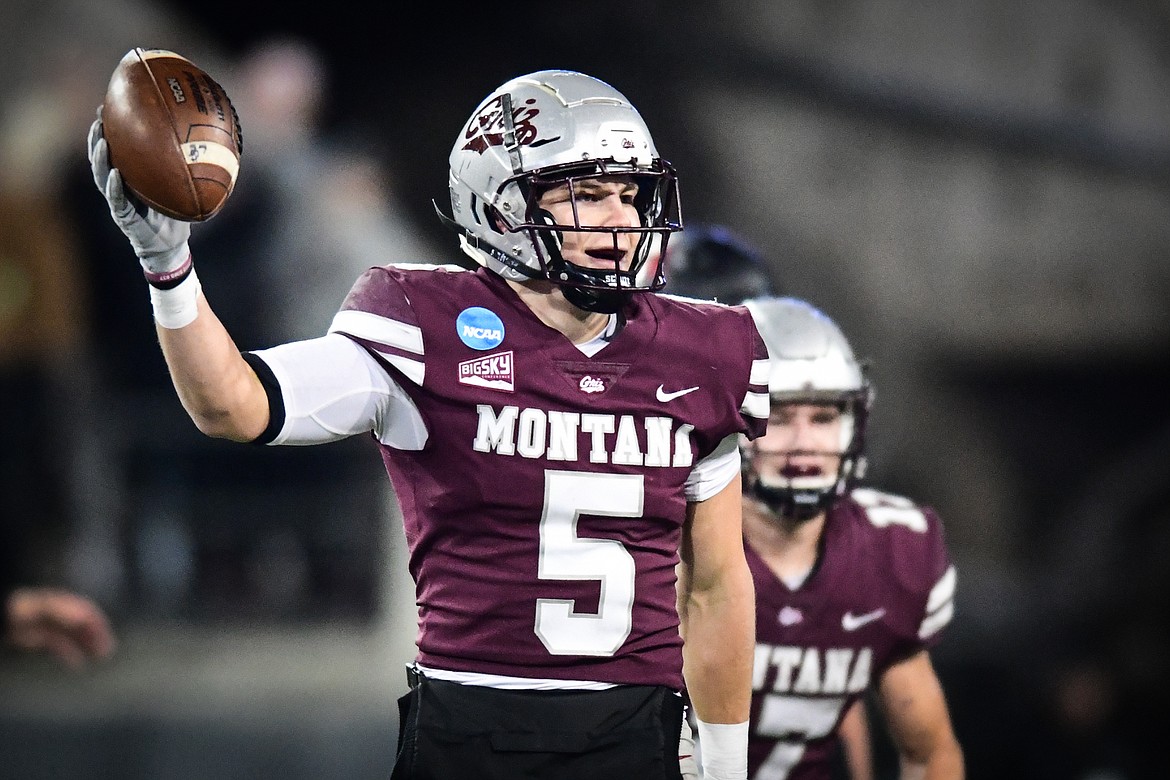 Grizzlies safety Garrett Graves (5) holds up the football after intercepting a pass in the fourth quarter of an FCS playoff game against Southeast Missouri State at Washington-Grizzly Stadium on Saturday, Nov. 26. (Casey Kreider/Daily Inter Lake)
The North Dakota State Bison didn't roll up nine Football Championship Subdivision football titles in 10 years by taking anyone lightly, and the Montana Grizzlies have their attention.
Especially on special teams. So says Matt Entz, whose Bison have rolled up a 46-6 record in this, his fourth season.
"The major concern with their offense is the number of explosive plays they've had over the course of the season," Entz said of the 8-4 Grizzlies, who take on his 9-2 Bison at 1:30 p.m. Mountain on Saturday, in Fargo. "I think it's easily more than 100.
"Then you tie in the explosive plays on special teams, it makes you nervous."
Two special teams touchdowns sparked the Grizzlies back from a 24-3 third-quarter deficit to beat Southeast Missouri State Saturday in Missoula; Entz stayed up into Sunday morning (Central time) to watch the affair.
"It was late, but it was a good team to watch," he said. "Having a kick return (Malik Flowers) and a punt return (Junior Bergen) within about a three- or four-minute span of the clock was critical as far as turning the tide."
The Redhawks rode the legs of running back Geno Hess (123 yards) and hands of Ryan Flourney (161 receiving yards) to that 24-3 lead. Then the Griz quickly undid what SEMO's offense and defense had accomplished.
"There's a third phase of that game, and that phase caught up to them," Entz said of the Redhawks. "And allowed Montana to get back in the game quickly."
Admiration
Entz appeared happy to have drawn Montana to the 18,700-seat FargoDome, where the Bison are 17-3 all-time against Big Sky Conference opponents.
That includes a 22-10 regular-season win over the Griz in 2014 and a 37-6 playoff victory in 2015 (after the Grizzlies knocked off NDSU 38-35 to open the 2015 season).
"One of the positives this year is we had a chance to play two teams that haven't been on our schedule for many years," Entz said. The Bison have never played SEMO.
As the No. 3 seed, the defending champions had a bye last week.
"We're going to start with another program that has had a ton of history and great success," he said. "I have a ton of respect for Coach (Bobby) Hauck and his program. I got to know him, oh, eight, nine, maybe 10 years ago and I've stayed in touch with him. You watch film, and you see the tempo with which they play and the high level of execution not only offensively and defensively but you can tell they put a lot of time into their special teams as well."
Hauck noted Monday that he figured this matchup might happen sooner.
"I thought we were going to be there last year and we kind of ran out of gas and healthy bodies to win at (James) Madison," he said. "You want to test yourself against the best and they've been the best."
Revolving Doors
While Griz running back Marcus Knight made it official on Instagram that he was transferring out of the program, Entz talked briefly of losing cornerback Marques Sigle, receiver DJ Hart and running back Dominic Gonnella to the transfer portal last week.
All three were contributing for Bison, though not starting.
"What I'm excited about now is we get to bring in three other young men that want to be here," Entz said.
The coach also noted fullback Hunter Luepke, the leading rusher on the squad and an NFL prospect, will not play for a third straight game because of a shoulder injury.
Entz still has two capable rushers in Kobe Johnson and TaMerik Williams; they've combined to run for 7.0 yards a carry and 10 TDs. Luepke has 621 yards (6.3 a carry) and nine scores.
"Johnson has played a lot of football while he's been here," he said of the 188-pound senior. "Outstanding return specialist, but he's played a lot of football. We need to lean on his experience, and there's going to be more reps for him."
Speaking of Returns
The rematch of Weber State at Montana State Saturday at 1 p.m. in Bozeman comes six weeks after the fourth-seeded Bobcats survived a scare from the Wildcats, prevailing 43-38.
The game was notable in that Weber had bad punt snaps resulting in four safeties, and for the Wildcats taking a kickoff (100 yards by Abraham Williams) and punt (91 yards by Hudson Schenck) for TDs in the first quarter.
"We had a pick on our first play, and fortunately held them to a field goal," MSU coach Brent Vigen remembered. "But we spotted them 17 points in the first quarter.
"I think we're much more settled in on both sides of the ball, and special teams for that matter."
It was a struggle on defense, with Weber mounting a late drive that included two fourth-down conversions, quarterback Bronson Barron overthrowing Hayden Meacham on what would have been a TD; and standout Ty PcPherson dropping a fourth-down pass at the Bobcats' 13-yard line — all in the final 1:17.
The Bobcats have since played well in all three phases. Tom Stuber of SkylinesportsMT has the numbers: 21 points allowed total in last two games against the first-team defense (versus 76 in the two previous); an offense that has scored on 22 of its last 25 possessions; and no kickoff returns past the 40 since the first half of that Weber game.
You're Welcome
Brody Grebe is first-team all-Big Sky at defensive end and Sebastian Valdez (7.5 sacks) is as well at D-tackle. Nose tackle Blake Schmidt was asked how the ends — Grebe, who's been banged up, and Ben Seymour — have been able to be effective while not having the greatest numbers (five combined sacks).
(The quarterback) falls off to Kenny (Eiden IV) and Sebastian," said Schmidt, a 288-pound sophomore. " 'You're first team all-conference; you're welcome.'"
QUICK KICKS: Abraham had what would have been his fifth kickoff return touchdown called back in Weber's 38-31 playoff win over North Dakota Saturday. … Isaiah Ifanse is running back No. 1 on MSU's depth chart this week; it will be his first action of the season. … Weber State's two losses this season came by five points to MSU and 33-30 against unbeaten No. 2 seed Sacramento State. … Northern Arizona QB RJ Martinez entered the transfer portal Tuesday.
Recent Headlines
---