Delano 'Laney' Anthony Hanzel, 87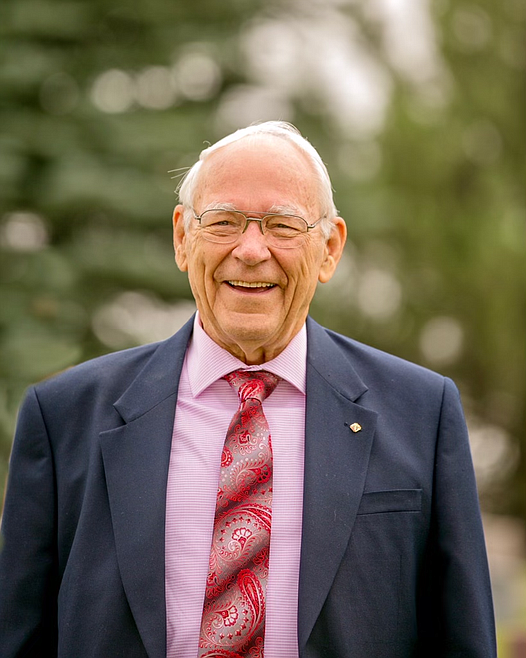 |
October 6, 2022 12:00 AM
Delano "Laney" Anthony Hanzel, 87, died of natural causes Oct. 1, 2022, at Buffalo Hill Terrace.
He was born March 20, 1935, at his family home in Belt, Montana, the son of William and Margaret (Pejko) Hanzel. Laney graduated from Belt Valley High School, Class of 1953. He attended Montana State College in Bozeman, from where he graduated with a Bachelor of Science degree, followed by a Master of Science in Fish and Wildlife Management degree (Go Cats Go!).
Laney met the love of his life, Betty Hill, when he was around 12 years old on the farms near Belt. They married on Dec. 27, 1958, shortly before he obtained his master's degree.
Laney was a Flathead Lake fisheries biologist from 1960 to 1993. He was born and raised a farm boy in Belt and got interested in fisheries in 1950 when he saw a man rowing around in a pond taking water samples. Laney was hooked, so to speak, and as a high school senior began working as a summer tech. He started college at Montana State College in 1953. During his time as an undergraduate he was part of one of the most ambitious projects of its time; the rehabilitation (fish removal) of the Marias River drainage upstream of what was going to be Tiber Dam. He remembered that he and fellow college students hauled hundreds of 50 pound sacks of pure rotenone from the trucks to planes and other vehicles and sleeping on them when they got tired. He was also an excellent photographer and chronicled that project. In fact, those that remember Laney knew that for his entire life, one photo was just never enough.
In 1959 he completed his thesis titled "Distribution of the Cutthroat Trout in Montana." He decided to work for the then Montana Fish and Game and became the first fisheries management biologist for Flathead Lake. Imagine that - a kid that grew up on Belt Creek working on the largest natural freshwater lake west of the Great Lakes. He embraced the science of fisheries management and brought in a 32-foot wooden research vessel from the Pacific Coast which he named The Dolly Varden. He was certainly the father of hydroacoustics use in fisheries management in Montana and was well known and respected in the Pacific Northwest for his work at Flathead Lake. Laney and The Dolly Varden were pretty conspicuous when they were out on the lake and anglers constantly radioed to find out where to fish for the kokanee. He took his work quite seriously, but made time to humor the Flathead Monster crowd by chronicling all the reported sightings back to 1889. In the office, he always had time for others, especially to help with computer issues.
Laney was a lifelong member of the Catholic church in Belt (altar boy), and in Kalispell at St. Matthew's for many, many years where he served in several facets, including lector and eucharistic minister. He was a member of the Boy Scouts of America (Eagle Scout), the Montana Army National Guard, the Knights of Columbus, the Flathead Lakers (board of directors), the Kalispell Elks Club, Toastmasters, and the North Flathead Yacht Club.
Out of all of Laney's accomplishments, his and Betty's greatest joy was raising four exceptional and loving children, Gwenn (Mike) Hensler, Duane (Margaret) Hanzel, Gregg (Debora) Hanzel, amd Beth (Mark) Pirrie; who in turn raised seven wonderful and loving grandchildren, Lane (MyKenzie) Hanzel, Gavin (Alysha) Pirrie, Olivia (Christian) Toscano, Ellie Hanzel, Grace Pirrie, Hanna Hanzel and Ganten Pirrie.
Laney's hobbies included sailing, hunting, fishing, hiking, skiing, golfing, computers, photography, 5000, and cribbage (How did he always have an ace!)
Most of our memories include Papa Laney taking pictures of everything and everyone. If you needed a picture, Laney had it and was the Photoshop king! He was super tech savvy his whole life. He loved sailing and racing on the Yowza, and playing baseball in the backyard when the kids were little. Most Fridays you could find him at Norm's enjoying clam chowder and a root beer shake. He created "The Laney Special" … "And six" and loved calling his grandchildren "Cookie" when they were grilling at Norm's. He was a great role model and a fantastic hunting camp cook! Laney taught his grandkids (and everyone else) almost everything there is to know about Flathead Lake, which made them grow to love and appreciate it more. It was one of Papa's favorite subjects to talk about. He was the world renowned Flathead Lake Monster expert sought out by many to be interviewed and can be found in many published articles and books. He proudly gathered and documented data for the best Halloween spreadsheet ever (spanning 34 years of data!). Laney loved dancing to polka songs and you had better be ready to dance or learn to polka if one was playing! He was a family favorite go-to for hot cocoa, lime jello, chocolate popcorn balls, his noodle soup, breakfast cinnamon rolls and cinnamon toast during grandchildren's visits. He would light up a room with his smile, caring eyes and facial expressions. Papa loved telling the story of how he met Nana and their love story was strong! He possessed a great sense of humor, and a contagious smile and laugh. He was proud of being from Belt and Papa never met a stranger. He always wanted everyone to feel loved and included and to walk away with a laugh. He loved his family selflessly.
Laney has been reunited through death with the love of his life, Betty Hanzel; and his treasured daughter, Gwenn Hensler; his mother, father, and brother Don Hanzel.
A rosary service will be held at 11:30 a.m., followed by a funeral Mass at 12:30 p.m. and a reception to follow in the church hall on Friday, Oct. 7, at St. Matthew's Catholic Church, 601 S. Main St., Kalispell, MT. The burial service will follow at 3:30 p.m. at the C.E. Conrad Memorial Cemetery.
The family suggests memorials be made to the Flathead Lakers, St. Matthew's Catholic Church, or the Glacier Symphony.
Recent Headlines
---