Donation to foundation translates to safety equipment for sheriff's office K-9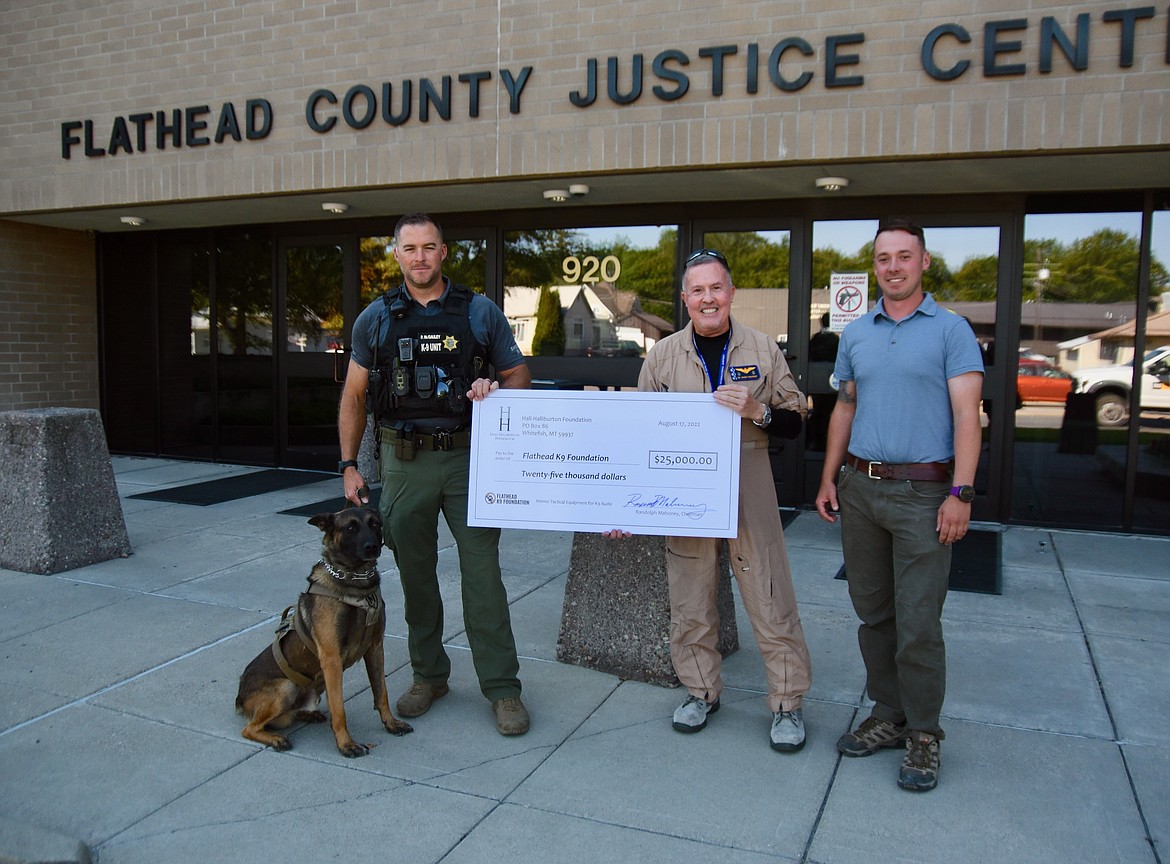 Randolph Mahoney, chairman of Hall-Halliburton Foundation, center, presents a donation to representatives of the Flathead K9 Foundation, Flathead County Sheriff's Office K-9 handler and Deputy Sheriff Patrick McGauley and his K-9 Audie, and Alex Moore, treasurer for the foundation, Wednesday outside the Flathead County Justice Center. (Heidi Desch/Daily Inter Lake)
by
HEIDI DESCH
Daily Inter Lake
|
September 4, 2022 12:00 AM
Greeting a group of strangers, Audie wags his tail.
Like most dogs, he's keen to get a few scratches, but the Belgian Malinois is also what Flathead County Sheriff's Office K-9 handler and Deputy Sheriff Patrick McGauley refers to as a "force multiplier."
Audie was recently credited with playing a large role in capturing a wanted individual by forcing the person out of their hiding spot in water and thick vegetation. The patrol dog is trained in criminal apprehension and tracking, but others assist by locating illegal drugs, or searching for lost people or cadavers — making them an important asset to aid law enforcement.
"There's the safety value of getting drugs off the street," McGauley said. "When you're talking about someone that has fled from a home invasion and we're searching for them, there's the value of having their aid in capturing someone who might do harm to police officers or the community."
Training and equipment for both law enforcement dogs like Audie, and search and rescue dogs, can run in tens of thousands of dollars. It's a bill that volunteer handlers pick up themselves, and law enforcement budgets often don't cover effectively.
So two years ago, a group made up of dog handlers formed the nonprofit Flathead K9 Foundation bringing the Flathead County Sheriff's Office and Flathead County Search and Rescue K-9s under one umbrella. The groups train together to be a more efficient resource, but they also work to secure donations.
On Wednesday, the foundation got a boost with a $25,000 donation from the Hall-Halliburton Foundation, a private philanthropic organization that says it seeks to catalyze change through gifts to selected charities.
Randolph Mahoney, chairman of Hall-Halliburton Foundation, said he became interested in the work of the handlers after reading an article in the Whitefish Pilot mentioning McGauley and Audie. He sought out the foundation asking what items would be on their wish list.
"This is a great organization," Mahoney said. "We wanted to be able to provide them with funds to help provide the equipment that they need. To have a K-9 officer that's a critical element of taking an offender safely into custody — they play a pivotal role. Dogs can get hurt in that and we wanted to be able to help provide them with what they need."
THE DONATION has been earmarked to purchase a custom-fit ballistic vest for Audie, a helmet and a camera that mounts to the vest allowing McGauley to view what's happening when the K-9 is sent into an area or building ahead of human officers to look for a suspect.
"There are huge safety advantages to being able to send Audie in first," McGauley said. "With the video, we can monitor what's happening and see if he indicates in a certain area [that he's found the suspect]. Then based on what we see we can adjust our tactics."
Precautions are taken for Audie's safety, but McGauley points out that the K-9 is one of the tools officers can use to be sent into an unknown situation first thus prioritizing the lives of human officers.
"When Audie is safe, that keeps all the officers safe," McGauley said. "Without this donation, I don't know how long it would have taken to find the funds for this."
THE FOUNDATION works to secure financial support to assist both professional law enforcement and volunteer search and rescue handlers with the costs associated with the dogs.
Alex Moore, treasurer for the foundation, points out that Flathead County Sheriff Brian Heino who created the K-9 program in 2019 has continued to be supportive, but there are additional needs. Besides minimal administrative costs, all donations to the foundation go directly to the needs of handlers and dogs, he notes.
"There are budget constraints and we wanted to work to fill in the gaps," he said of the foundation's beginning.
A veterinarian, Moore has been a volunteer dog handler since 2017 saying the work provides a rewarding bond between handler and dog. As with his fellow Flathead County Search and Rescue K-9 handlers, Moore foots the bill for the equipment and training for his dog, but also the costs associated with traveling to a search.
"We're helping to provide a public service to make sure that people come home safe or in some cases provide closure for the family," he said. "We're happy to help with that."
While volunteers believe in the work, over time those costs have also increased as they respond to more calls.
"We've built up a reputation," he said. "We're getting a lot more calls — we're going to other counties and Glacier Park."
For more information on the Flathead K9 Foundation, visit https://flatheadk9.org/
Features Editor Heidi Desch may be reached at 758-4421 or hdesch@dailyinterlake.com.
Recent Headlines
---