Vals win thriller vs. Columbia Falls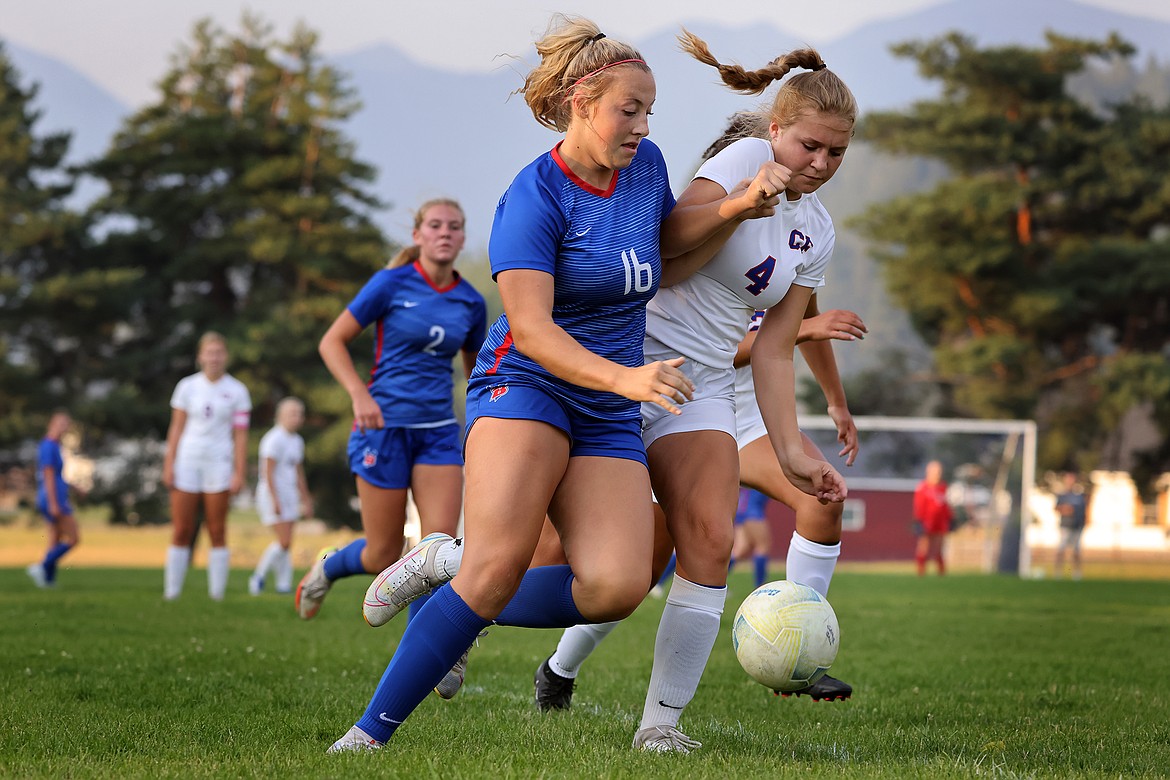 Bigfork midfielder Scout Nadeau fights for possession of the ball against Columbia Falls defender Brenna Ruggiero in the Valkyries 3-1 win at home Thursday, Sept. 8. (Jeremy Weber/Daily Inter Lake)
by
Daily Inter Lake
|
September 8, 2022 11:50 PM
BIGFORK – Bigfork's Scout Nadeau scored two late goals to lift the Valkyries to a 3-1 victory in a battle with Western A rival Columbia Falls on Thursday.
"Great game by both teams, Bigfork is a defensively strong, very physical team and they executed their game plan," Columbia Falls coach Thomas Clark said. "Zoey Byrd played a heck of a game, and continues to prove how much of an advantage she can give us as a goalkeeper."
Sydney Mann got the Wildkats (3-2-0) on the board with an early goal, and the 1-0 score held up until the second half, when Paeten Gunlock tied things up.
Nadeau struck late, scoring two goals in seven minutes, in the 71st and 78th minute, to secure the win for Bigfork (3-1-1).
Columbia Falls 1 0 – 1
Bigfork 0 3 – 3
CF - Sydney Mann 3:00
B - Paeten Gunlock 42:00
B - Scout Nadeau 71:00
B - Nadeau 78:00
Fouls - CF 15, Bigfork 21; Corner kicks - CF 2, Bigfork 3.
BOYS
Columbia Falls 7, Bigfork 0
BIGFORK – Nico Lang loosened things up with the first goal of the game for the Columbia Falls Wildcats, who beat the Bigfork Vikings 7-0 in Western A soccer on Thursday.
"We missed a couple chances in the first couple minutes of the game," coach O'Brien Byrd said.
"We were playing tight, needed to relax and open up. His (Lang) goal allowed us to do that."
The Wildcats are 5-0 and have allowed one goal through that span.
"We're looking pretty strong," Byrd noted.
Kai Golan, sidelined by injury for several months, scored a goal and added an assist. Byrd expects him to be back to regular duty next week.
Finley Sundberg and Adam Schrader each scored twice, and Walt Nichols had a goal and an assist. Dale Blickhan picked up two assists.
Columbia Falls 1 6 - 7
Bigfork 0 0 - 0
CF - Nico Lang (Dale Blickhan) 39:00
CF - Kai Golan (River Wolford) 45:00
CF - Finley Sundberg 46:00
CF - Adam Schrader (Blickhan) 54:00
CF - Schrader (Sundberg) 56:00
CF - Walt Nichols (Golan) 59:00
CF - Sundberg (Nichols) 74:00
Shots - CF 13, Bigfork 2; Goalie saves - CF 4, Bigfork 10; Corner kicks - CF 10, Bigfork 0; Fouls - CF 9, Bigfork 6.
Recent Headlines
---