Sheriff's Office facing challenging times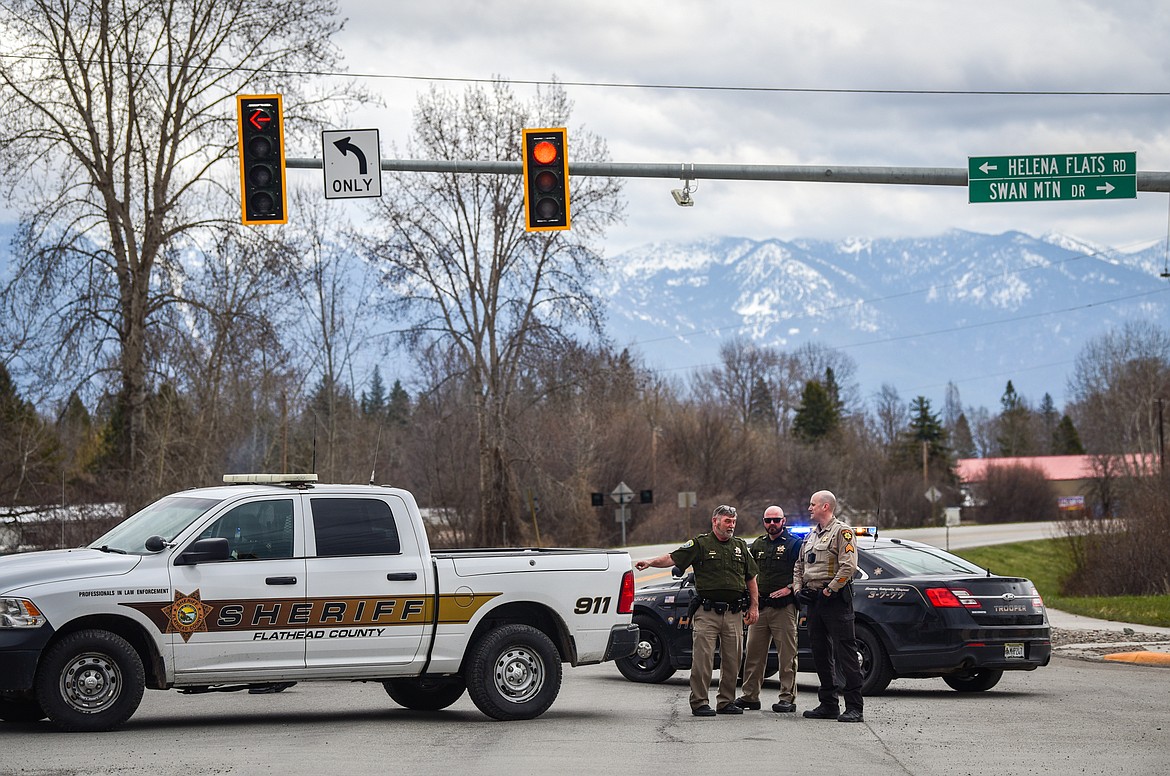 Deputies with the Flathead County Sheriff's Office and state troopers with Montana Highway Patrol block Highway 35 at Helena Flats Road and Swan Mountain Drive during an alleged incident involving SWAT near the bridge over the Flathead River on Tuesday, April 26. (Casey Kreider/Daily Inter Lake)
by
Brian Heino
|
September 18, 2022 1:00 AM
To my community,
Over the past several years we have seen a dramatic increase in population in our area. While growth is inevitable, we are now facing the challenge of providing the very minimum level of service due to the growth in the community, rise in calls, but not adequate increases to our staffing. Challenges have changed and success comes from the ability to adapt to change in these current times.
As your sheriff, I am extremely concerned about the real safety my office can provide our community, as well as the safety of our deputies who are working hard to keep our community safe 24 hours a day, seven days a week, 365 days a year. Despite this, we are still seeing exceptional men and women come to the Sheriff's Office to work for our community. Those individuals are here to serve and they do it knowing the risks are higher than ever before. They are also facing the pressure and idea law enforcement officers are perfect human beings who make no errors while often working extended hours with higher call volume.
I understand the solutions are not easy. A major issue is property tax increases, which often challenge a person's ability to afford their home. This is balanced with the need to increase staffing throughout county departments to meet the ever-growing community needs. This balance is not easy and the commission has a great responsibility in balancing those needs with the security of being able to have affordable services.
As the sheriff, I will continue to request and work toward adapting to change through requests for additional staffing. It is important to note we have exceptional professional volunteers through our reserve officers, posse, and search and rescue that are helping us each day cover every aspect humanly possible.
One way the Sheriff's Office has to adapt to change is by implementing an online reporting system for crimes that we want to record, but also does not require a law enforcement response in the beginning of 2023. We are focusing our efforts to put deputies directly on response to calls. We are working on getting better systems in place for the mental health of our staff and reviewing every aspect of the budget to try and come up with funds to best put your tax dollars directly into support of response to emergencies. We are focusing efforts to better staff our detention facility to get career individuals to come to the field of law enforcement and corrections.
Overall, I have one ask, please be patient while we get through these times. Our goal is to continue to provide services, but at times we have to prioritize calls by need and community safety.

I am still here because this is my home, and I am dedicated to serving the citizens of Flathead County. Nearly every day I hear how much our citizens support the man and women who serve you at the Flathead County Sheriff's Office, and that is greatly appreciated!

Brian Heino is Flathead County Sheriff.
Recent Headlines
---