Advocating for Alzheimer's prevention and a cure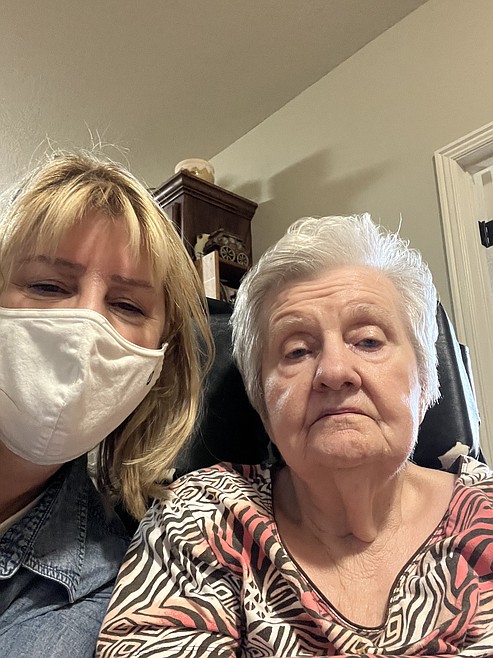 Kellie Danielson is pictured with her mother Carol Tackett in January while her mother was in assisted living, just prior to needing to move her into 24-hour long-term care.
by
CAROL MARINO
Daily Inter Lake
|
September 22, 2022 12:00 AM
One of the most heartbreaking emotional challenges Kellie Danielson had to face about her mother's severe stage Alzheimer's disease was the realization her mom could no longer recognize her family.
Danielson's mother, Carol Tackett, who is now 84, was first diagnosed with Alzheimer's in 2012 when she was in her mid-70s, due to metal poisoning. At the time she was living independently in her own home in Arkansas.
"My brother and I noticed she was beginning to repeat herself, which was not her normal behavior," Danielson said. "And she was having trouble remembering her bank account balance and paying bills."
Her mother was either paying bills twice or not paying them.
"I called her bank to get some assistance and they said, 'Kellie, your mom needs help. She can no longer manage her account.'"
At that point, Danielson and her mother discussed and agreed to give Kellie Power of Attorney.
Danielson made an appointment for her mother with a neurologist here in Kalispell. The doctor performed brain imaging and physical and mental tests to determine the diagnosis and her mother's level of dementia.
"My mother was frightened," Danielson said. "Most people diagnosed with dementia are frightened. They know there's something not quite clicking and they can't understand why."
Upon her mother's diagnosis, Danielson dove into a lot of resources, particularly the Alzheimer's website. She also called and spoke to Alzheimer's Association professionals, as well as the Agency on Aging, and attended workshops and presentations.
She and her brother began making plans for their mother's care.
In 2016, Danielson left her position with Montana West Economic Development in Kalispell to spend more time with her mother.
"I knew she was beginning to forget me," she said. "I just wanted that little extra time before she was completely lost."
While she was there, her mother forever lost her ability to remember who she or her other family members were.
"One time she told my brother he reminded her of someone she knew," Danielson said.
She visited her mother frequently and she and her brother saw their mother could no longer cook for herself or remember recipes. They would find moldy food and multiple cartons of milk in her refrigerator.
"Her reaction time while driving was impaired," Danielson said. "She was either going to cause harm to someone or herself. And she became lost on a familiar route."
She and her brother made the decision to remove her car.
"I find when I visit with people who have someone with dementia in their family that taking their driving privilege away is one of the hardest decisions for them," she said. "There are a lot of people who don't want conflict and avoid that decision."
"She was very angry," Danielson said, about losing her car and her independence.
In 2015, as their mother's dementia quickly progressed she and her brother realized they needed to move her into assisted living.
"It was very difficult for her to be on her own," she said. "She needed to be in an environment where there was socialization. Very few of her friends or family would stop in and see her any longer."
"My brother and sister-in-law who lived next door both had full-time jobs and were constantly helping her," she said. "And she was experiencing sundowners — she would get her days and nights mixed up. She would be up all hours and wasn't sleeping well. "It's really difficult for someone with moderate to severe stage dementia to live independently. We felt the safest place for her would be in assisted living."
Once they felt that they had good care in place, Danielson returned to Kalispell. Her good friend Kristen Heck — who founded Loyal Care In-Home Assistance in 2010 an in-home care business in Kalispell — knew of Danielson's passion for learning about dementia and helping others battle similar circumstances so she asked her to manage her business. Danielson has been Loyal Care's administrator for the last four years.
This past March she and her brother moved their mother into a long-term care facility.
Their mother is now wheelchair bound and can no longer walk on her own due to loss of muscle control, a common symptom of Alzheimer's.
"Victims develop a shuffle or a gait due to balance issues because the brain's motor skills are being impacted," Danielson said.
She also has aphasia — the inability to communicate effectively, although she can still respond and comprehend at times when someone talks to her.
She can still feed herself, but has lost control of almost everything else, she said.
"I feel like my mother was robbed of her quality of life for the last 10 years," Danielson said. "I understand how hard it is to manage and care for someone with dementia. I want people to know there are resources out there to educate them and, the sooner planning can be made, the better."
LEARN MORE
Kellie Danielson, who has volunteered for, and is this year's chair for the local Walk to End Alzeimer's, highly recommends the Alzheimer's website, alz.org, as a resource for those facing a dementia diagnosis. As the website states, one in three seniors dies with Alzheimer's or another dementia. More than 6 million Americans are living with Alzheimer's. Alzheimer's deaths have increased 16 percent during the Covid-19 pandemic. More than 11 million Americans provide an average of 35 hours per week of unpaid care for people with Alzheimer's or other dementias.
The Alzheimer's Association offers reliable support and information for all affected, including:
• Detailed information about how the scores from the neurology tests are calculated to diagnosis and determine the level of dementia
• 24-hour hotline (800-272-3900)
• Online networking community (ALZ.connected)
• Support groups and programs in all 50 states (alz.orgCRF)
WALK TO END ALZHEIMER'S
The Flathead's Alzheimer's Association's annual Walk to End Alzheimer's will take place Saturday, Oct. 1, at the Kalispell Center Mall between Sunrift Brewery and the Red Lion Hotel. The walk is held nationwide and is the main fundraiser for research, support and education to Alzheimer's and other dementia.
Registration begins at 10 a.m. and opening ceremonies get under way at 11 a.m.
The Alzheimer's Association Walk to End Alzheimer's is full of flowers — each carried by someone committed to raising funds and awareness to help end the disease. Visit alz.org/walk for more information about this year's event and to register.
If you would like to join Kellie Danielson's team, contact her at 406-752-0416 or kellie@loyalcaremt.com and she will assist you with sign up.
Recent Headlines
---