Leaning forward into new experiences valuable in life and on ski trail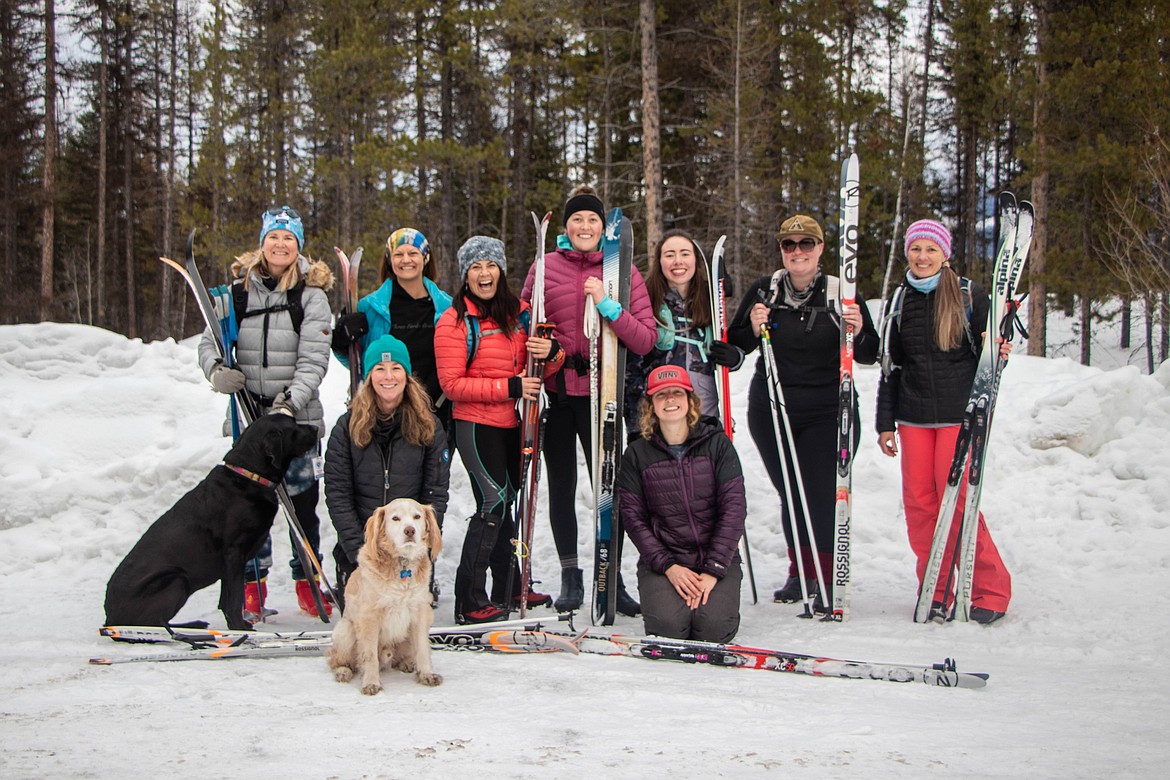 Women who cross country skied on Jan. 25, 2023 with Outsiety pose for a photo at the Round Meadow Trailhead. (Kate Heston/Daily Inter Lake)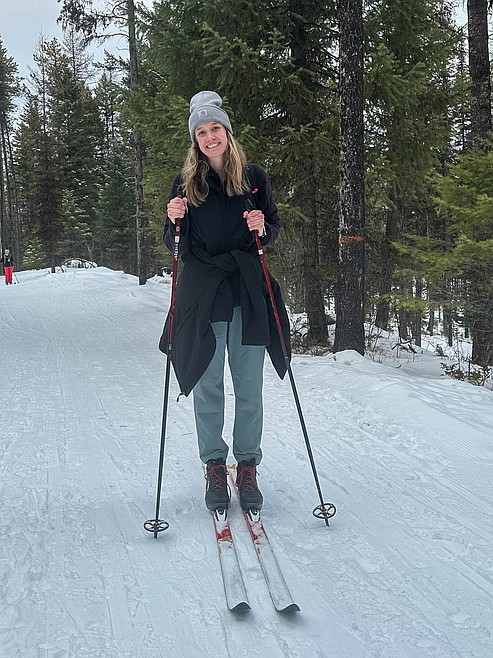 Reporter Kate Heston is seen cross country skiing on Jan. 25, 2023.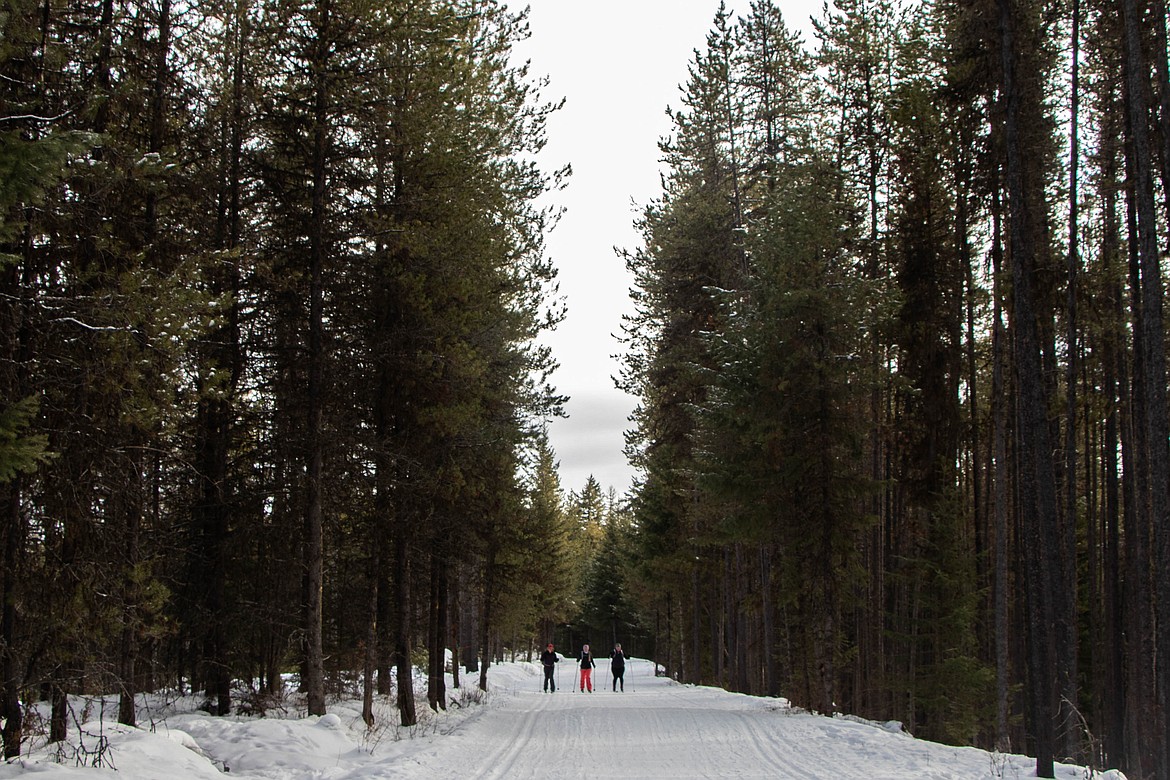 Three skiers are seen on Round Meadow Trail as they cross country ski on Jan. 25, 2023.(Kate Heston/Daily Inter Lake)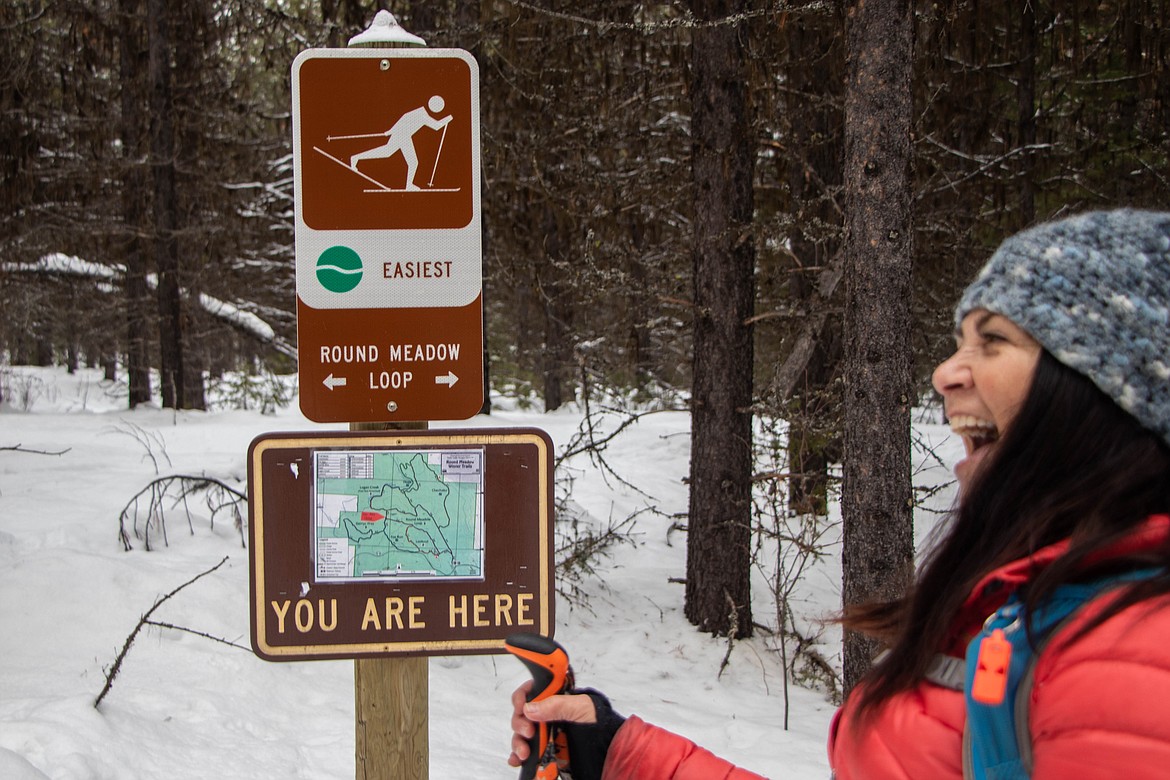 Laurie McCargar, the leader of Outsiety, laughs in front of a trail sign on Jan. 25, 2023 while cross country skiing at Round Meadow Trails. (Kate Heston/Daily Inter Lake)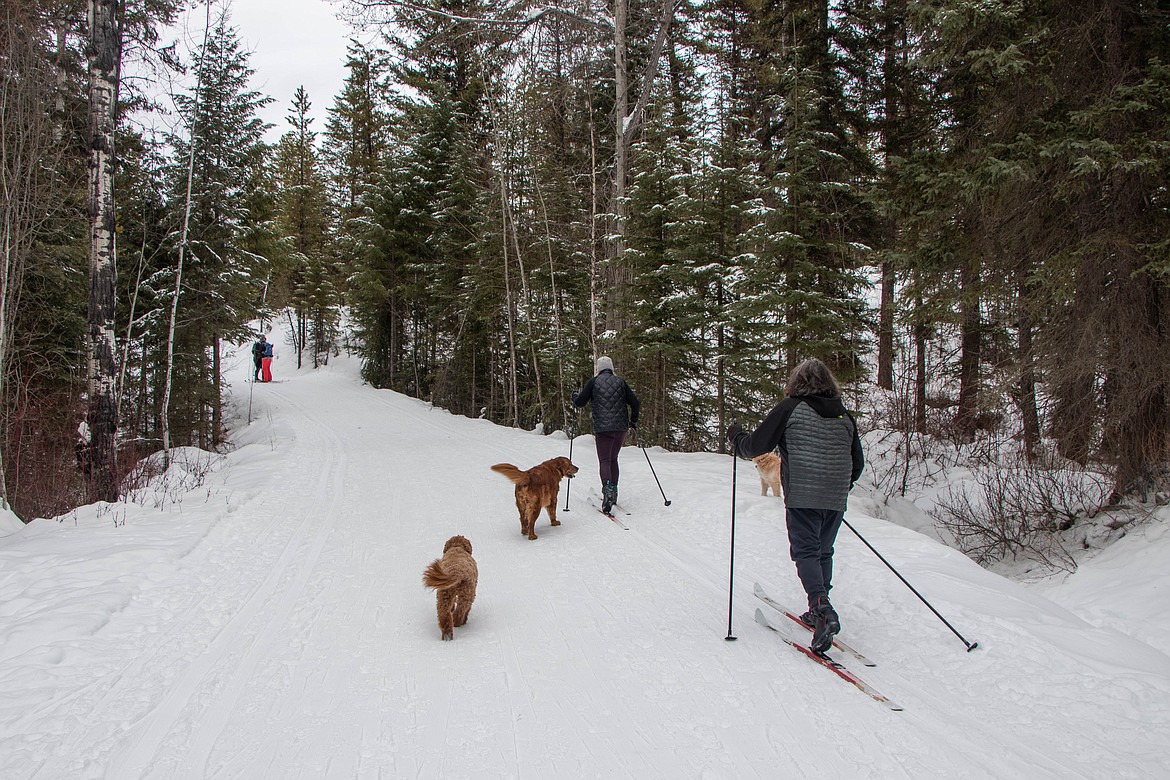 Cross country skiers and their dogs pass by an Outsiety skiing group at Round Meadow Trails on Jan. 25, 2023. (Kate Heston/Daily Inter Lake)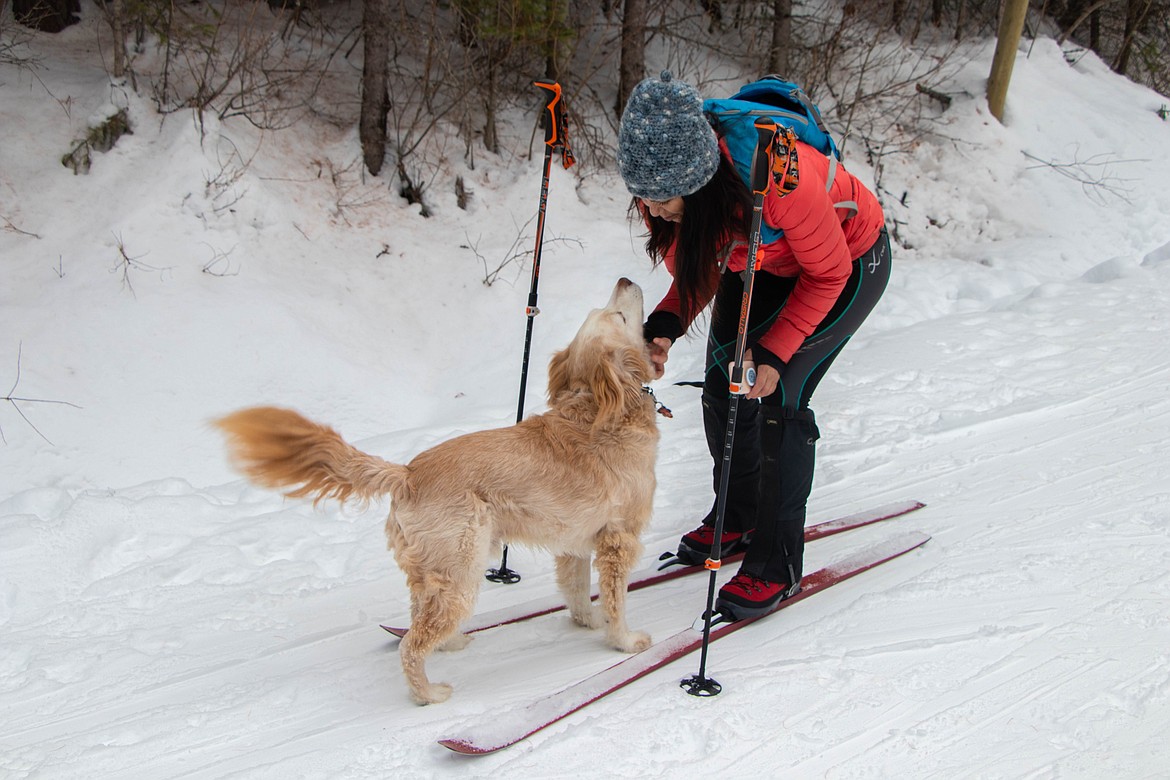 Laurie McCargar greets her dog Cody on Round Meadow Trails while cross country skiing on Jan. 25, 2023. (Kate Heston)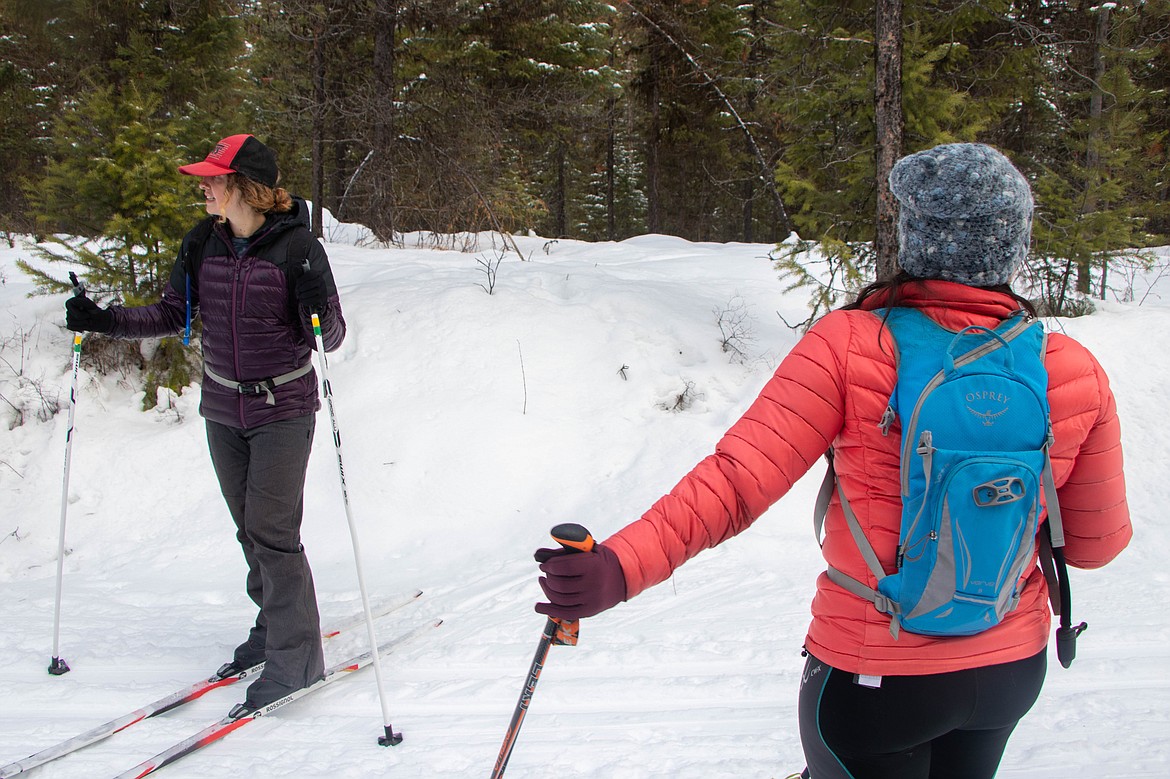 Lydia Kimball, left, and Laurie McCargar, right, are seen while cross country skiing with Outsiety on Jan. 25, 2023 at Round Meadow Trail. (Kate Heston/Daily Inter Lake)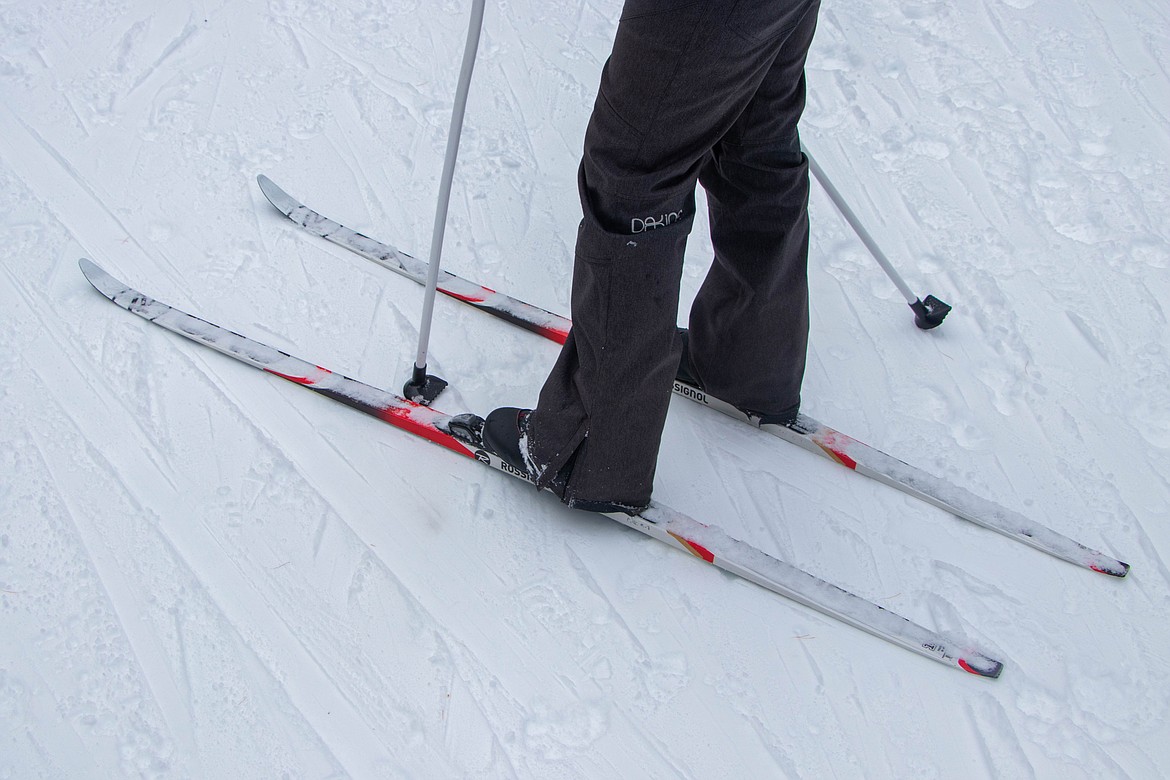 Cross country skis are seen on Jan. 25, 2023. (Kate Heston/Daily Inter Lake)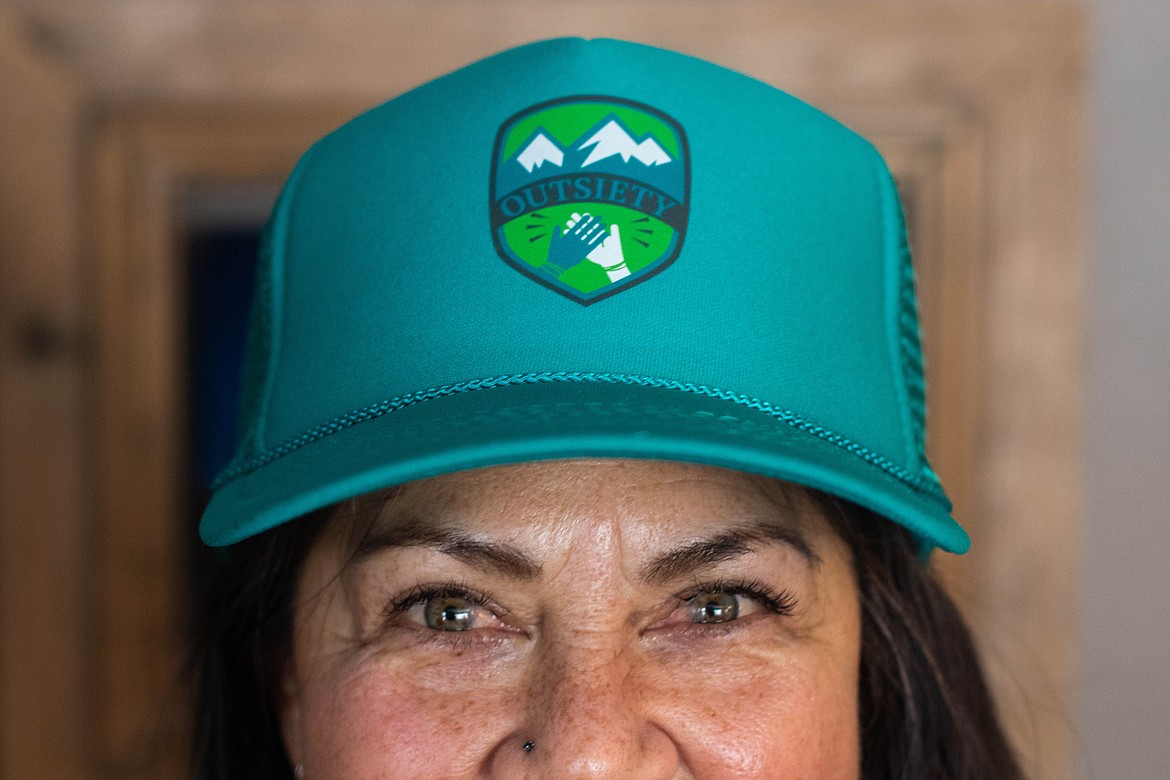 Laurie McCargar poses for a portrait at her home wearing an Outsiety hat on Jan. 27, 2023. (Kate Heston/Daily Inter Lake)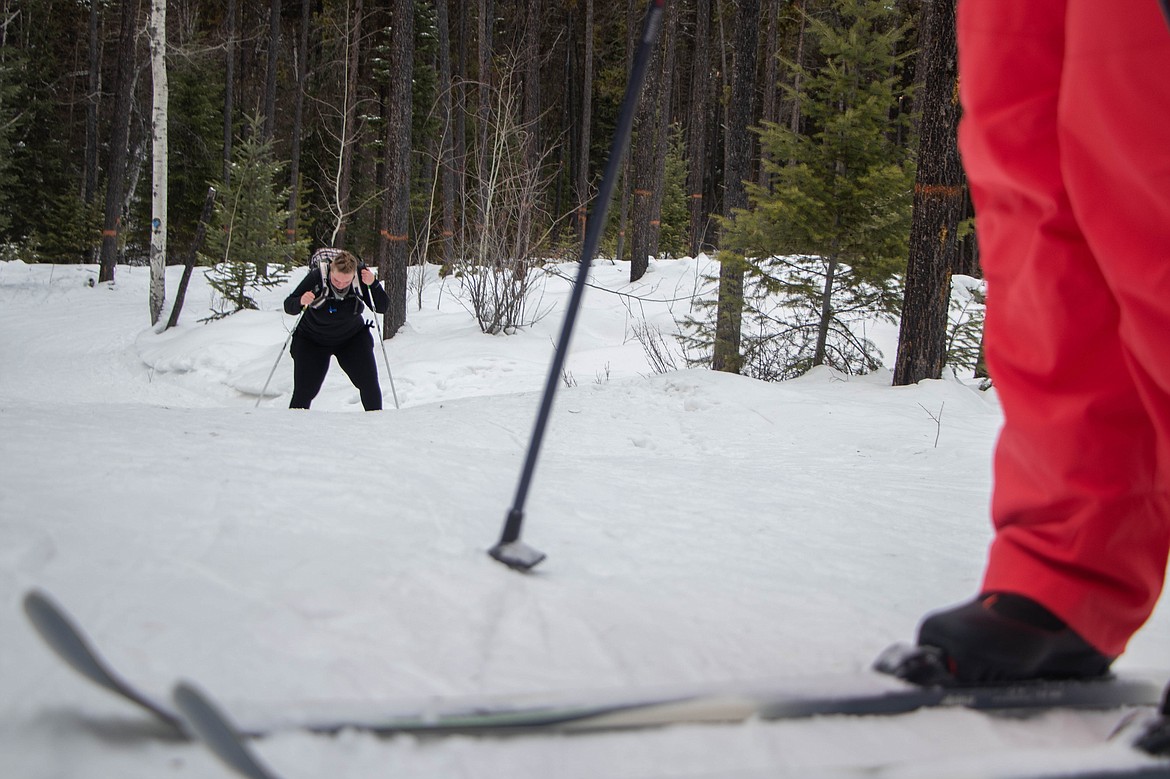 Julia Velky, in the background, skis up a hill at Round Meadow Trail in Whitefish on Jan. 25, 2023. (Kate Heston/Daily Inter Lake)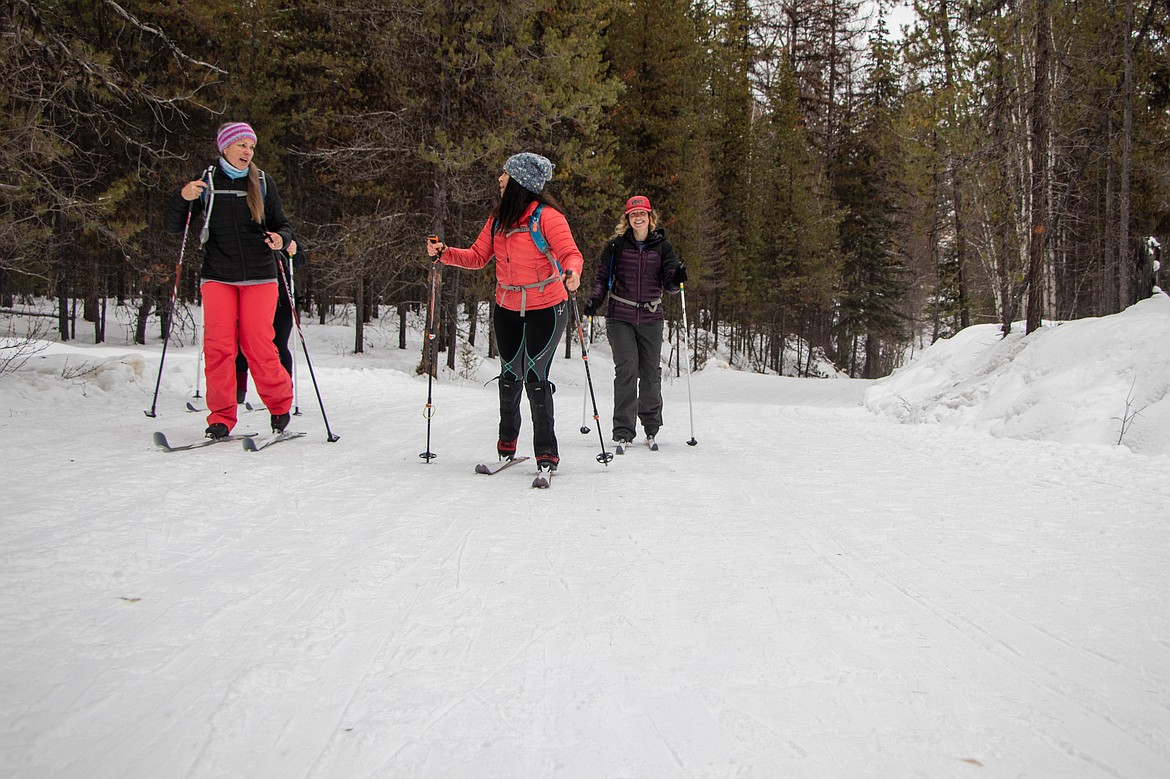 Coral Rogers, left, Laurie McCargar, middle, and Lydia Kimball, right, are seen skiing at Round Meadow Trail on Jan. 25, 2023. (Kate Heston/Daily Inter Lake)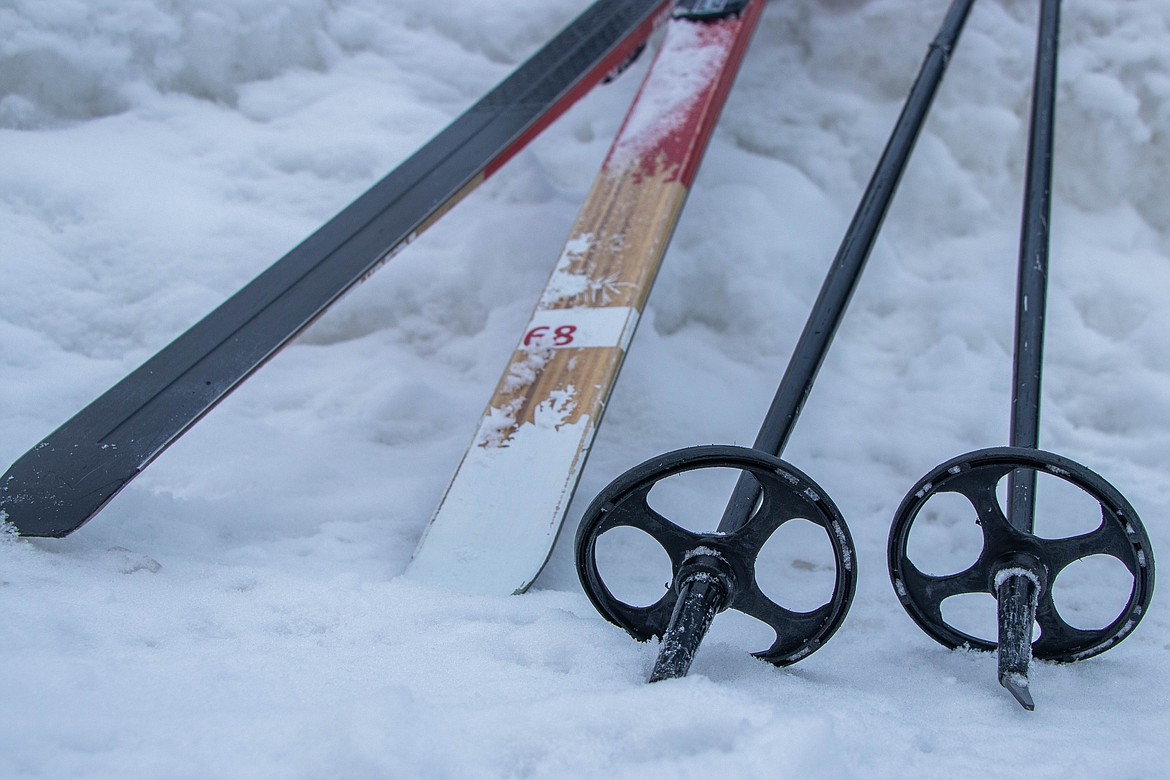 Cross country skis, from Sportsman, are seen on Jan. 25, 2023. (Kate Heston/Daily Inter Lake)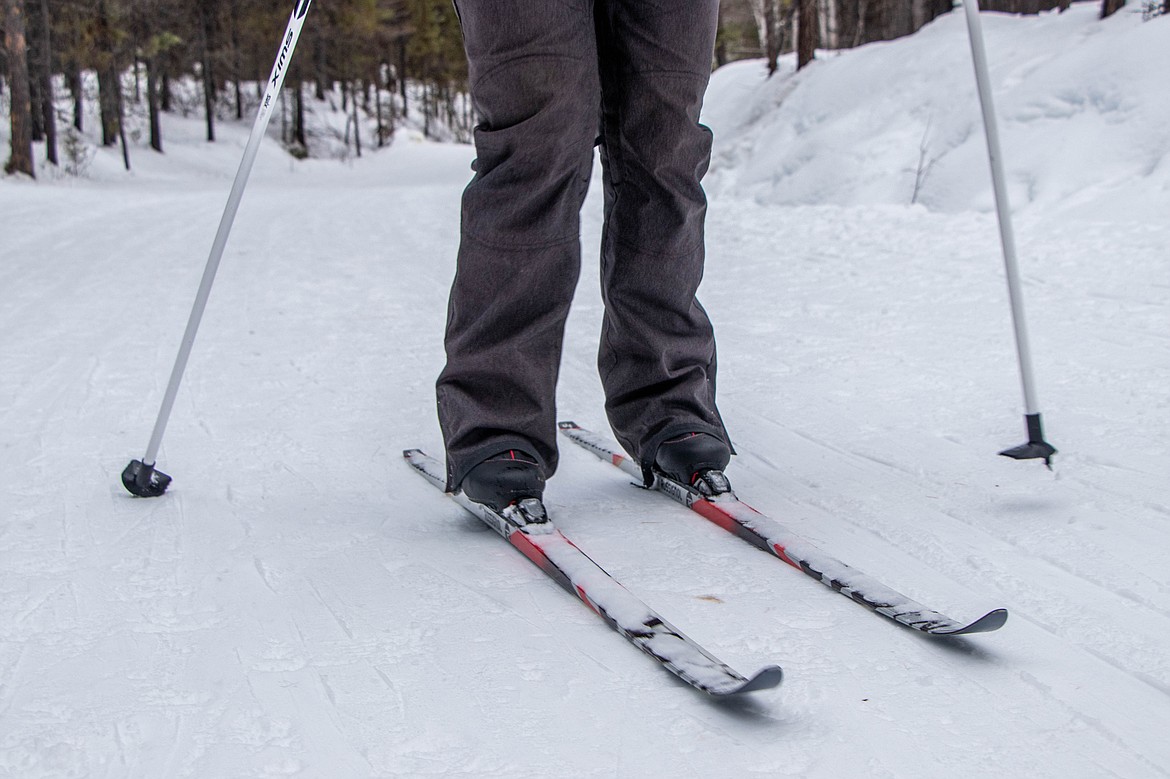 Cross country skis are seen at Round Meadow Trail on Jan. 25, 2023. (Kate Heston/Daily Inter Lake)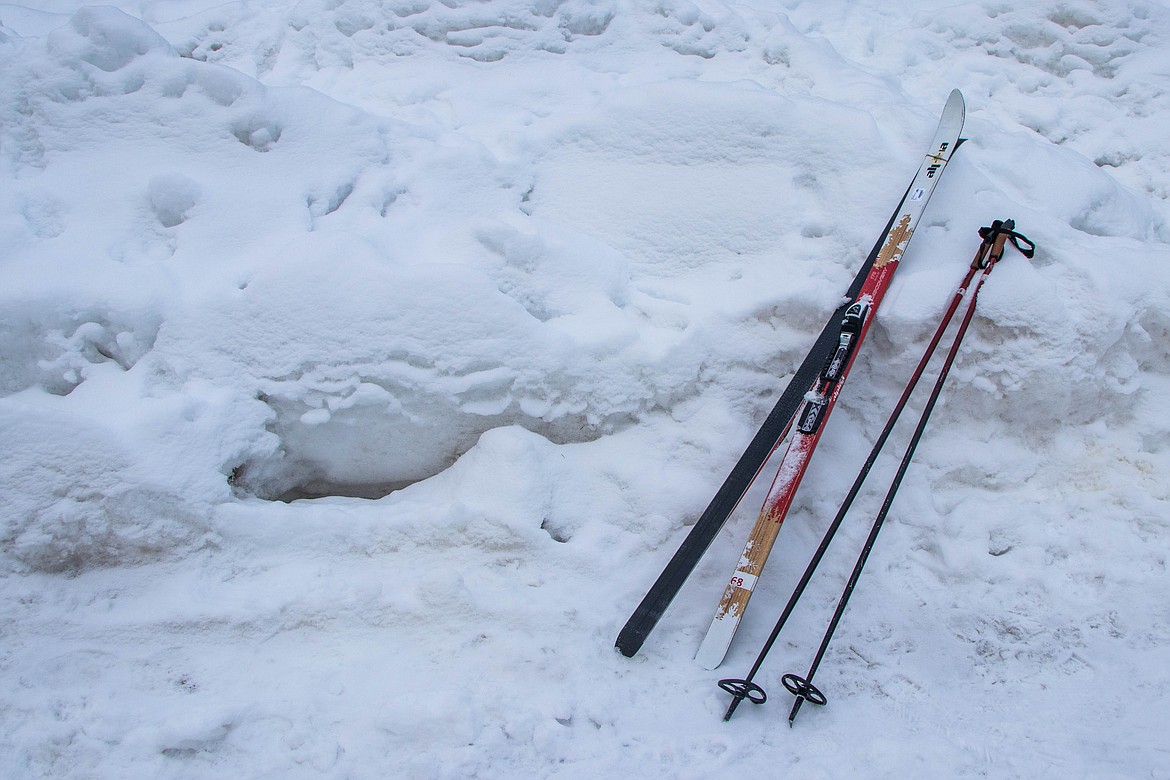 Cross country skis are seen on Jan. 25, 2023. (Kate Heston/Daily Inter Lake)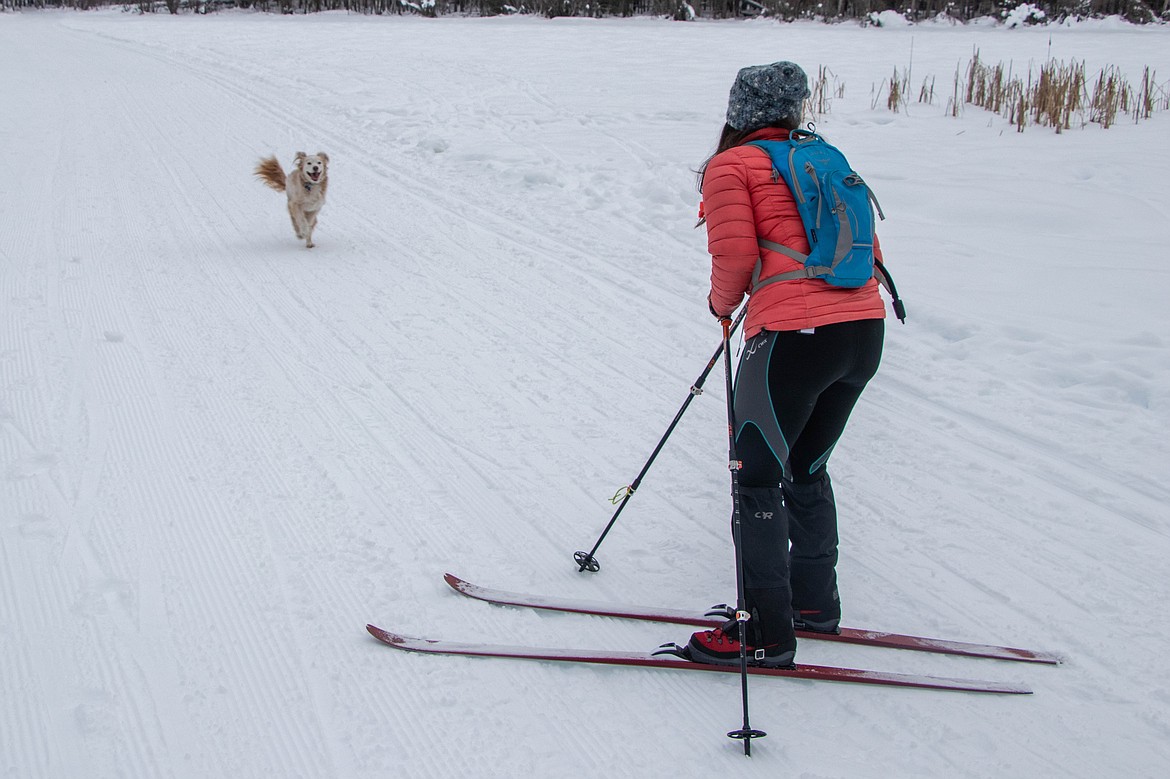 Laurie McCargar greets her dog on the Round Meadow Trail on Jan. 25, 2023 while cross country skiing. (Kate Heston/Daily Inter Lake)
Previous
Next
by
KATE HESTON
Daily Inter Lake
|
February 12, 2023 12:00 AM
Don't lean back.
I learned that pretty quickly my first time cross country skiing. If you lean back, you fall. If you go too fast, you may hit a tree. If you are stuck on an uphill slope and keep sliding down, you can always waddle like a duck back up.
But don't lean back; I learned my lesson there.
I moved to the Flathead Valley around four months ago from Iowa for a reporting job here at the Daily Inter Lake. I had never been to Montana or written for a daily newspaper, so I said why not. In a way, I wouldn't let myself lean back from the opportunity.
I grew up downhill skiing in Colorado with my family. I remember wearing a helmet cover with a unicorn horn, focusing on whether I was pizza-ing or french fry-ing, and taking ski lessons at Sunburst Mountain in Wisconsin, with a sloppy joe wrapped in tin foil for lunch if it was a Saturday. Thinking back, I don't think I actually knew about cross country skiing.
Cross country skiing – as I have come to learn – is incredibly different from downhill skiing. The outfits, the poles, the skinny skis, are all strikingly different – including finding a way to keep yourself balanced throughout the whole ordeal.
Last month I drove out to Round Meadow Trails – outside of Whitefish in the Flathead National Forest – in my Subaru Forester to meet up with a group of women to cross country ski. It was my first time, and I was going with a group called Outsiety.
Laurie McCargar, whom I contacted prior to the big day, runs Outsiety. With the group, women of any age or activity level can host an event, whether that be cross country skiing or a Bunco night. Conveniently, Laurie had a cross country event that week, and she encouraged me to go.
I was hesitant, but I did not want to shy away from the experience. Part of why I moved to Montana was to try new things and regain the love for things that I had not done in a while. Within 10 minutes of the first phone call with Laurie, she had already hooked me up with a pair of rental skis and I signed up for the event online.
Don't hold back, I thought to myself.
In all honesty, I chuckled when picking up my skis that morning. Longer than downhill skis and far, far skinnier, they looked like large twigs that had an obscene bend to them. The rental technician handed me the tallest poles I had ever seen and a pair of shoes to click into the skis. And with that, I was off.
When I arrived in the trailhead parking lot, there were a handful of cars with ladies standing near their trunks, unloading their gear and talking amidst each other. I finished my handful of Ritz crackers – a last minute "lunch" if you will – and stepped out of my car. Immediately I was met with a hello and a wave from the lady next to me.
I garnered enough courage to walk over to the group once I was dressed and "geared up." I introduced myself and was met with encouraging smiles and questions about my life. I returned the favor. Quickly, I had a group of new friends – Lydia, Coral, Amber, LynnRose, Julie — whose skill levels varied from beginner to advanced.
Once Laurie arrived with her dog Cody, we headed for the trailhead. I had never been to the Round Meadow Cross-Country Ski Area before, but the group told me it was a good trail for beginners. The path we were taking was only around a 3.5 mile loop. Easy, I thought to myself.
The group gave me some tips: look in front of you rather than down at your skis, don't rely completely on the poles, find your glide, every downhill will lead to an uphill. And don't lean back.
A woman named Marianne helped me click into my skis and just like that we were learning how to glide. A few beginners — including myself — stuck towards the back of the pack.
Within the first 500 feet there was a bit of a downhill slope. Lydia, a woman in her 20s who had been cross country skiing once before with Outsiety, flew down the mountain and fell down. Julie, another young woman visiting with her mother from Texas, fell shortly after Lydia. Unfortunately and unknowingly I was next.
I had a big backpack on and the second I started to speed up I leaned back against the speed and ended up wiping out, falling on top of my camera, slowly sliding down the hill while attempting to bring my body to a stop. I do not want to do this anymore, I thought.
I got back up — in my opinion pretty smoothly — and started again, pizza-ing all the way down the hill like I did as a kid on the mountain.
Pretty quickly after I was thoroughly enjoying myself. It was in the high 30s that Wednesday — sun barely peeking through the clouds — and I was sweating with a jacket already wrapped around my waist. Five of us trudged along through the groomed snow, the rest of the group went ahead of us.
We were surrounded by trees of all sizes, green with the faintest brush of snow on their branches. There were a few other parties out on the trail, with whom we exchanged smiles as we passed them.
Most of the trail was flat. We spoke to each other about jobs, boys, where we were from, skiing on the mountain, our animals, and on the various hills throughout the trail we cheered each other on and laughed together about little mistakes or mishaps. While I was not remarkable at cross country skiing, it felt comfortable. According to Laurie McCargar, that is the whole point of Outsiety.
"I just want to emphasize that this is a group for all women," McCargar said, noting that the events do not need to be outdoor activities. "That's really important; it's about women showing up for each other."
There are now many women who repeatedly show up to Outsiety events.
LynnRose Pine, the owner of Rosehips Reflexology in Columbia Falls, first found the group on Facebook about five years ago and went to a skinning information session. A friend a few years later helped her get her own skinning gear, in part inspired by the information session, and she began going hiking with the group.
"I am always watching to see what events I can go to because it's a great group of ladies," LynnRose said. "You meet new people all the time, it's very inspiring to see that."
Coral Rogers, who lives in Whitefish, moved here in 2007 and also discovered skinning from Outsiety.
"I would never have done that in my life without having this opportunity to do it and meeting the ladies," Coral said.
LynnRose, a seasoned skier, went with the more advanced group while Coral and her daughter, Julie, stuck with my group.
When we finished the trail, I clicked out of my skis and gave some of the girls a smile. My body was exhausted after the 3.5 miles that I thought were going to be easy.
Most of the women were headed to a cabin down the road for a girls night with a lasagna dinner. I, on the other hand, went home and showered, getting into bed early for the night.
The next morning my entire body was sore. Truly my entire body. My arms, my abs, my thighs, my hands, my neck, my feet, my calves. I waddled into work the next day exhausted, but eager to tell my coworkers about my experience — it was a good one.
Trying new things is a natural part of life, as is fearing them. While cross country skiing was a simple task compared to moving across the country by yourself at the ripe age of 22, the experience was more than just a sore back from learning to glide.
Who knows, with enough practice, one day I might just meander into the expert group.
Most importantly, I reaffirmed the reward of leaning forward — experiencing new things that otherwise would have scared me.
But also don't lean back.
Reporter Kate Heston can be reached at kheston@dailyinterlake.com or at 758-4459.
Recent Headlines
---