Columbia Falls speech team wins Class A Western Divisional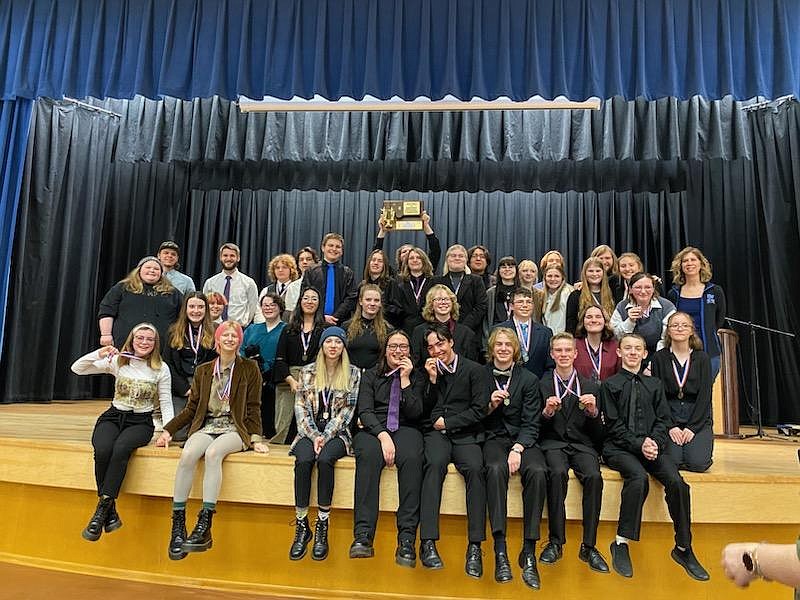 The Columbia Falls High School speech and debate team won the Class A Western Divisional tournament held Jan. 20-21. Columbia Falls' 33 competitors all qualified to compete at state. (Photo provided by Dawn Roe)
by
HILARY MATHESON
Daily Inter Lake
|
January 24, 2023 12:00 AM
Columbia Falls speech team wins Class A Western Divisional
Columbia Falls High School is the Western Class A divisional speech and debate champion, racking up 256 overall points on their home turf.
Divisional runner-up, Whitefish High School, scored 137 overall points.
Divisionals determines who qualifies to compete at state. Both teams had all competitors qualify.
Individual event champions on the Columbia Falls team were: Aiden Rohn and Braiden Crawford, Public Forum Debate; Zack Tillman and Lucas Counts, Duo Interpretation; Eleanor Hollingsworth and Kynsleigh Gould, Policy Debate; Eddie Chisholm, Lincoln-Douglas Debate and Carson Settles, Informative Speaking. Whitefish's Iona Sarraille was the Memorized Public Address champion.
"The entire team poured their hearts into this season and have given it their all, bringing eight wins during the regular season and the first-place win at divisionals," said Columbia Falls head coach Dawn Roe. "It has been an exhausting few weeks with invitational tournaments, final exams, divisionals and the kids are feeling the drain."
The teams head to Sidney for the Class A state tournament scheduled for Friday and Saturday.
Students placing in the top eight at the divisional tournament qualify to compete at state.
"We expect strong competition from similarly sized teams from Laurel and Billings Central," Roe said. "We don't have many opportunities to compete against the east side throughout the season so this will be the first time the kids will see many of these teams. Irregardless of the outcome, I am proud of this team and everything they have accomplished this year."
Additional state qualifiers from Columbia Falls include: Selah Heinzen and Julianna MacPherson, Public Forum Debate; Christopher Daenzer, Lincoln-Douglas Debate; Brandon Widhalm, Humorous Interpretation; Charles Hakes, Extemporaneous Speaking; Mika Bennett, Impromptu Speaking; Brin Shull, Original Oratory; and Greyson Pfeifle, first alternate for Original Oratory. Other state qualifiers from Whitefish are: Avery Sorensen, Extemporaneous Speaking; Scarlet Burke, Informative Speaking; Astir Pulsifer, Original Oratory; Lauren Rossi and Avery Sorensen, Memorized Public Address; and Ella Walker, Dramatic Interpretation. Iona Sarraille also qualified to compete in Impromptu Speaking.
"We were thrilled to qualify all members of the Divisional team," Whitefish head coach Sara Mueller said. "With such a young team, we knew we would need to be at our best to place in Divisionals. To walk away solidly in second was a highlight. With a very short week of practice ahead, we are excited to travel to Sidney for the state tournament to make a run at placing there, as well. We have every reason to believe the competition will be stiff but know ourselves to be among the teams making it competitive."
Roe thanked the valley for helping the high school host the tournament.
"Columbia Falls and the Flathead Valley once again showed their support this weekend for the Speech and Debate program; over 230 members of the community gave their time to judge our Divisional tournament," she said.
Following are local individual results.
Policy Debate
1 Eleanor Hollingsworth and Kynsleigh Gould, Columbia Falls
2 Lauren Rogers and Boone Shanks, Columbia Falls
3 Ava Minns-Prezeau and Celestine Young, Columbia Falls
5 Alex Losee and Vana Fortune, Whitefish
Public Forum Debate
1 Aiden Rohn and Braiden Crawford, Columbia Falls
2 Addie Blackaby and Zoe Tremper, Whitefish
3 Brynn McDonald and Bjorn Bungener, Whitefish
6 Quinn Caudle and Logan Emerson, Columbia Falls
7 Jayce McDonald and May Rowles, Whitefish
Lincoln-Douglas Debate
1 Eddie Chisholm, Columbia Falls
2 Charlotte Perkins, Whitefish
6 Alanna Milhollen, Columbia Falls
Memorized Public Address
1 Iona Sarraille, Whitefish
2 Eleanor Smiley, Columbia Falls
6 Merrell Cooley, Columbia Falls
7 Robyn Maddux, Columbia Falls
Extemporaneous Speaking
5 Colton Little, Columbia Falls
8 Sophie Petioni, Columbia Falls
Humorous Interpretation
2 Makinzie Taylor, Columbia Falls
3 Scarlet Burke, Whitefish
4 Annie Walsh, Whitefish
5 Elli Sandstrom, Columbia Falls
Informative Speaking
1 Carson Settles, Columbia Falls
2 Ruby Davis, Columbia Falls
7 Charles Hakes, Columbia Falls
Original Oratory
4 Nessa Solomon, Whitefish
7 Lauren Rossi, Whitefish
Duo Interpretation
1 Zack Tillman and Lucas Counts, Columbia Falls
2 Cole Pickert and Jackson Schindler, Whitefish
3 Reed Wollenzien and Carson Settles, Columbia Falls
4 Ruby Davis and Elli Sandstrom, Columbia Falls
7 Astir Pulsifer and Unity Loveless, Whitefish
Dramatic Interpretation
3 Kajsa Mohr, Columbia Falls
4 Reed Wollenzien, Columbia Falls
Recent Headlines
---