Ski museum shows documentary about World War II Army division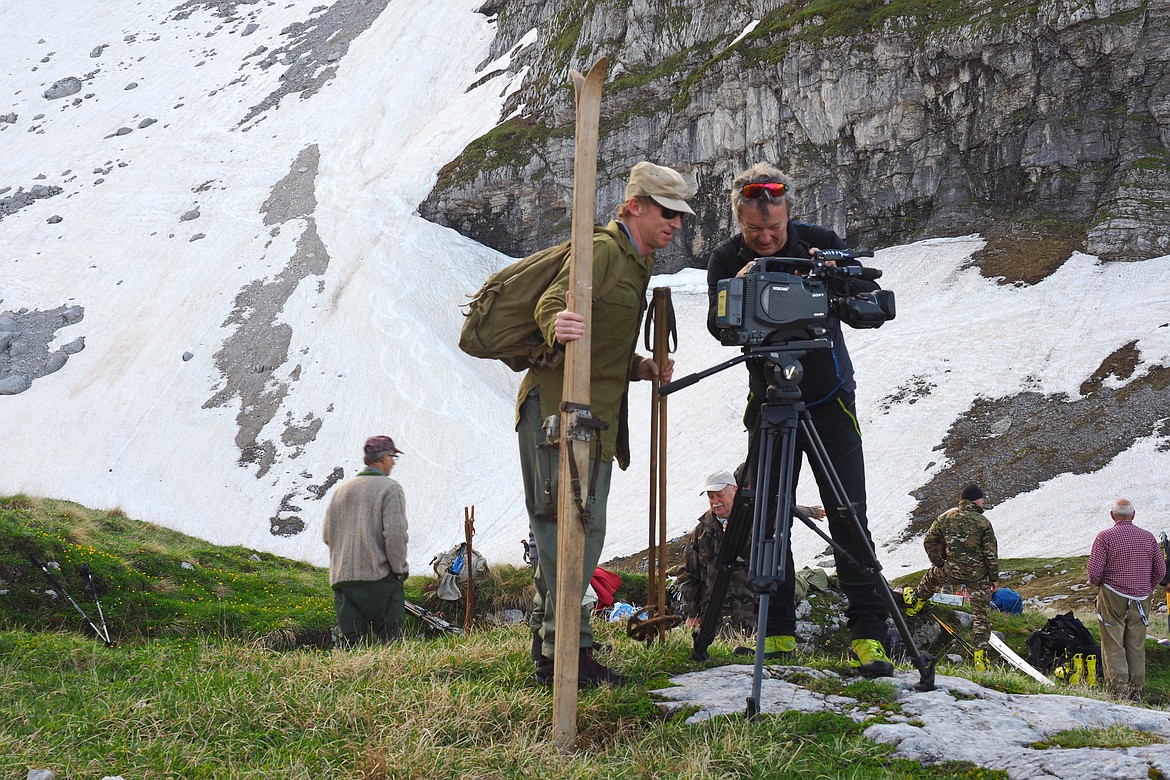 Filmmakers working on a scene for the documentary film, "Mission Mt. Mangart," which chronicles the famed 10th Mountain Division during World War II. (Courtesy photo)
|
March 16, 2023 12:00 AM
The Ski Heritage Center Museum presents the award-winning documentary film "Mission: Mt Mangart" at the O'Shaughnessy Center on March 19.
The film, written, produced and directed by champion extreme skier Chris Anthony, was voted Cannes World Film Festival's Best Historical Film in the April 2021 Edition.
"Mission Mt. Mangart" follows the legendary 10th Mountain Division's trailblazing efforts as an experimental infantry unit made up of world-class athletes, mountain men and cowboys during World War II. It takes us from the initial cold-weather training in the mountains between Vail and Leadville, to the fierce battles in the mountains of northern Italy, and finally to the improbable giant slalom ski race at Mount Mangart on June 3, 1945. The 10th Mountain Division left behind an indelible legacy equally matched by their legendary heroism during wartime.

A complete list of awards to date for "Mission: Mt. Mangart" includes Best Historical Documentary Cannes World Film Festival 2021, Best Documentary Castellabate Film Festival 2021, Best Feature Length Documentary Florence Film Awards 2021, Silver Medal Milan Gold Awards 2021, Best Original Score Florence Film Awards 2021, Silver for Original Score Milan Gold Awards 2021 and Finalist for European Cinematography.
Chris Anthony's skiing history includes appearing in 28 Warren Miller ski movies, competing in nine World Extreme Skiing Championships, winning the Alaska Extreme Skiing title, and working as an Alaska Heli-Ski Guide. Anthony is a 2018 Colorado Snow Sports Hall of Fame inductee and executive director and founder of the Chris Anthony Youth Initiative Project.
"Mission: Mt. Mangart" will play at the O'Shaughnessy Center in Whitefish on Saturday, March 19. Doors open at 6 p.m., and selected short films will play prior to "Mission" at 7:15 p.m.
Tickets are available online at www.fvsef.org/ski-museum.
Ahead of time, adult tickets are $20; students and military tickets are $15. Tickets at the event are adults $25, students and military $20.
There are also VIP tickets available for $50 which include a meet-and-greet with film producer/director Chris Anthony. Beer, wine and light appetizers will be served.
The Ski Museum is located at 705 Wisconsin Avenue in the historic Saddle Club cabin adjacent to the Stumptown Ice Den in Whitefish.
The museum features a photographic exhibit portraying the history of skiing in the Flathead Valley and on Big Mountain, a Hall of Fame honoring the ski pioneers and local skiing legends, a life-size cutaway reproduction of the interior the Hellroaring Ski Cabin circa 1935 and a video library featuring rare footage of skiing in the Valley and around Montana in the 1930s, 40s and 50s.
Work is currently underway to add a 10th Mountain Division "Ski Troops" exhibit featuring the Flathead Valley men who served in this winter warfare unit in WWII, an oral history exhibit presenting the personal recollections of local skiing pioneers, and an outdoor exhibit featuring a collection of the historic ski lifts that have operated on Big Mountain. The museum is currently closed for exhibit construction and will re-open in early April.
Recent Headlines
---