Jury finds Zackary Maas guilty of deliberate homicide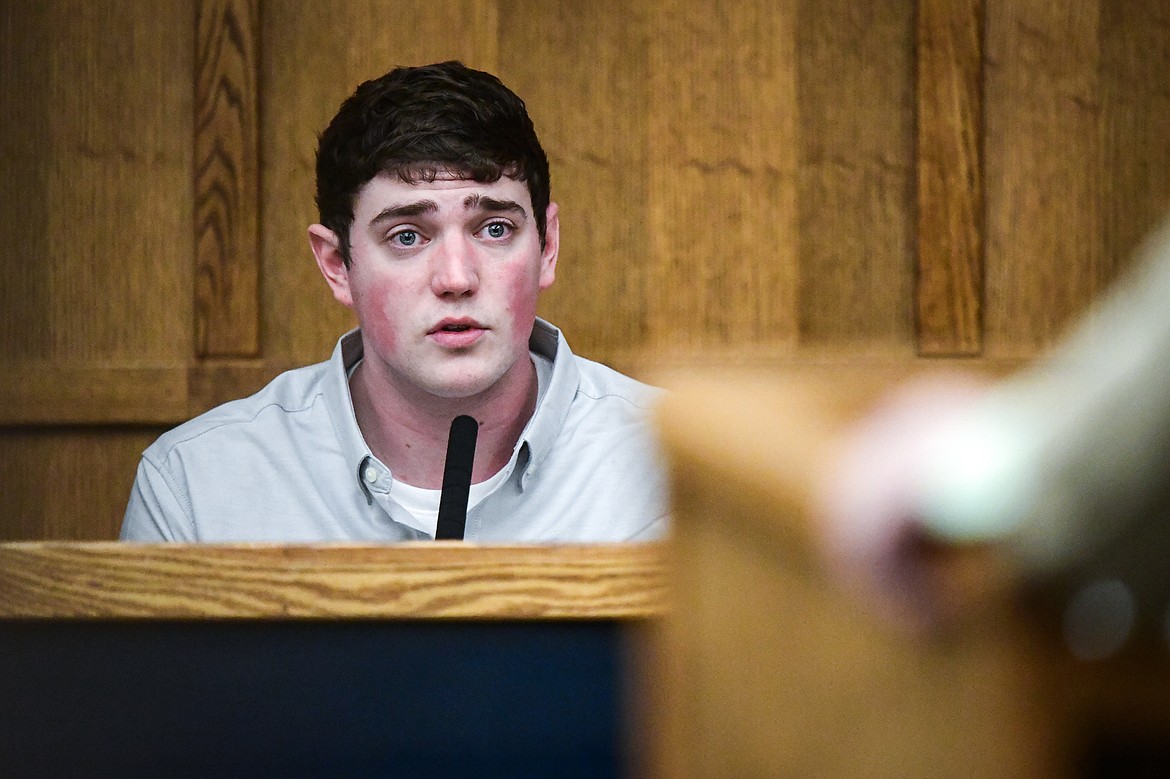 Zackary Matthew Maas testifies during his deliberate homicide trial in Flathead County District Court on Wednesday, March 15. (Casey Kreider/Daily Inter Lake)
by
DERRICK PERKINS
Daily Inter Lake
|
March 17, 2023 11:25 AM
After a little more than three hours of deliberation, a jury found Zackary Matthew Maas guilty of deliberate homicide Thursday evening.
Prosecutors accused the 26-year-old of firing the shot that eventually killed Gabriel Wagoner in the early morning hours of March 13, 2022. Over the course of a four-day trial in Flathead County District Court, they argued that Maas, a Columbia Falls resident, attacked Wagoner in his Kalispell apartment out of revenge.
"The defendant said what he was going to do to Gabriel and then he did it," said Deputy County Attorney Ashley Frechette during her closing argument. "He said he was going to take Gabe's life away and he did."
Prosecutors leaned on text and social media messages seized during the investigation to show that Maas had told Wagoner and others about his plan to take vengeance for an alleged 2021 break-in at his father's home. Maas, they said, suspected Wagoner of being involved in the theft of property and decided to confront the older man.
In the early morning hours of March 13, Maas and another man, Jerum Auclaire, entered Wagoner's home using a key left outside the 700 block First Avenue West building. Reportedly armed with a Glock 48, Maas held Wagoner at gunpoint before allegedly roughing him up. After Wagoner agreed to take them to the home of another individual supposedly involved in the 2021 theft, Maas shot Wagoner in the back.
Investigators never recovered the gun, prosecutors noted.
With Wagoner lying partially paralyzed at the top of the steps leading from his basement apartment, Maas and Auclaire fled. Neither contacted police or called emergency responders on Wagoner's behalf, prosecutors said.
Maas was arrested several days later while heading out on a shopping trip in Kalispell. Authorities picked up Auclaire in Carbon County on March 17 of that year.
Maas' defense attorney, Stephen Nardi, argued the 26-year-old fired in self-defense, shooting to protect Auclaire. In Nardi's telling of the events of that morning, Wagoner took up a baseball bat as the three left and made as if to swing at Auclaire's head.
"He did it so his friend did not have his skull caved in by an angry man who was really [upset]" at Auclaire, Nardi told the jury in his closing argument.
Jurors heard from Maas and Auclaire during the trial, both of whom offered varying stories to investigators and the court. Wagoner's version of events, which Nardi pointed out had changed with each telling, came from investigators and relatives who spoke with him prior to his April 14, 2022 death.
Maas, who took the witness stand over the course of two days, maintained he fired to protect Auclaire and regretted his actions. Maas described the messages he sent outlining his desire for revenge as talking tough.
He testified that he never intended to hurt or kill Wagoner that morning in 2022, just clear the air and maybe score drugs for himself and Auclaire.
WHILE PROSECUTORS repeatedly hammered on the basic facts of the case — namely that Maas entered Wagoner's home unannounced, threatened him with a loaded gun and eventually shot him — Nardi spent the trial focused on Wagoner's purported actions in the moments prior to the shooting.
Painting Wagoner as an unreliable narrator who shifted his story to appear better to relatives and authorities, Nardi latched onto his initial statements to arriving first responders: That he ran his attackers off with a bat.
Maas made plenty of mistakes that day and in the days that followed, Nardi allowed. But when he saw his friend threatened by Wagoner, a man Maas knew as angry, unpredictable and violent, he used justifiable force to save the life of another.
"The evidence is pretty clear in this case that [Wagoner] was a complicated man, but he was a very angry man and he had a capacity for violence," Nardi told the jury. "He would fly off the handle almost instantly. All he would have to do is have some sort of stimulation to get him going."
And Wagoner was found to have methamphetamine in his system that morning, Nardi said. He told jurors it was up to them to decide how Wagoner used the baseball bat, which was recovered near where he collapsed that morning.
Nardi contended Wagoner had decided to take matters into his own hands when he grabbed the baseball bat.
But he had every right to do so, said County Attorney Travis Ahner, who prosecuted the case alongside Frechette, in his rebuttal.
"At that moment Gabe Wagoner is justified in using deadly force against Zack Maas," Ahner said. "He didn't start a fight; he didn't go anywhere. A man came into his house unannounced and pointed a gun at him."
After working around the defense's scenario for nearly three days of courtroom testimony, Ahner centered his final argument on it. One person in that apartment had the option of justifiable use of force and it wasn't Maas, Ahner argued.
"At that point, Wagoner is allowed to use deadly force," he said. "He's allowed to cave in Jerum Auclaire's skull."
JUDGE DAN Wilson, who presided over the case, is expected to hand down Maas' sentence on May 11.
Deliberate homicide is punishable by death, life imprisonment or a stint of between 10 and 100 years in Montana State Prison. Owing to the use of a gun, prosecutors can seek to tack on an additional two to 10 years behind bars.
In the meantime, Maas is staying in the Flathead County Detention Center, where he has resided since Wagoner's death nearly a year ago.
Auclaire, who faces a felony charge in connection with the shooting, has a pretrial conference set in his case for April 7. Judge Danni Coffman is presiding over that case.
After the jury retired to begin deliberating on Thursday, Wilson took a moment to praise the attorneys involved. Their conduct, he said, was laudable.
"I have been exceptionally pleased and honored to preside over a case with such honorable and prepared and thorough and ethical counsel," Wilson said.
News Editor Derrick Perkins can be reached at 758-4430 or dperkins@dailyinterlake.com.
Recent Headlines
---