Fighting back — Rock Steady Boxing members go the distance in battling Parkinson's disease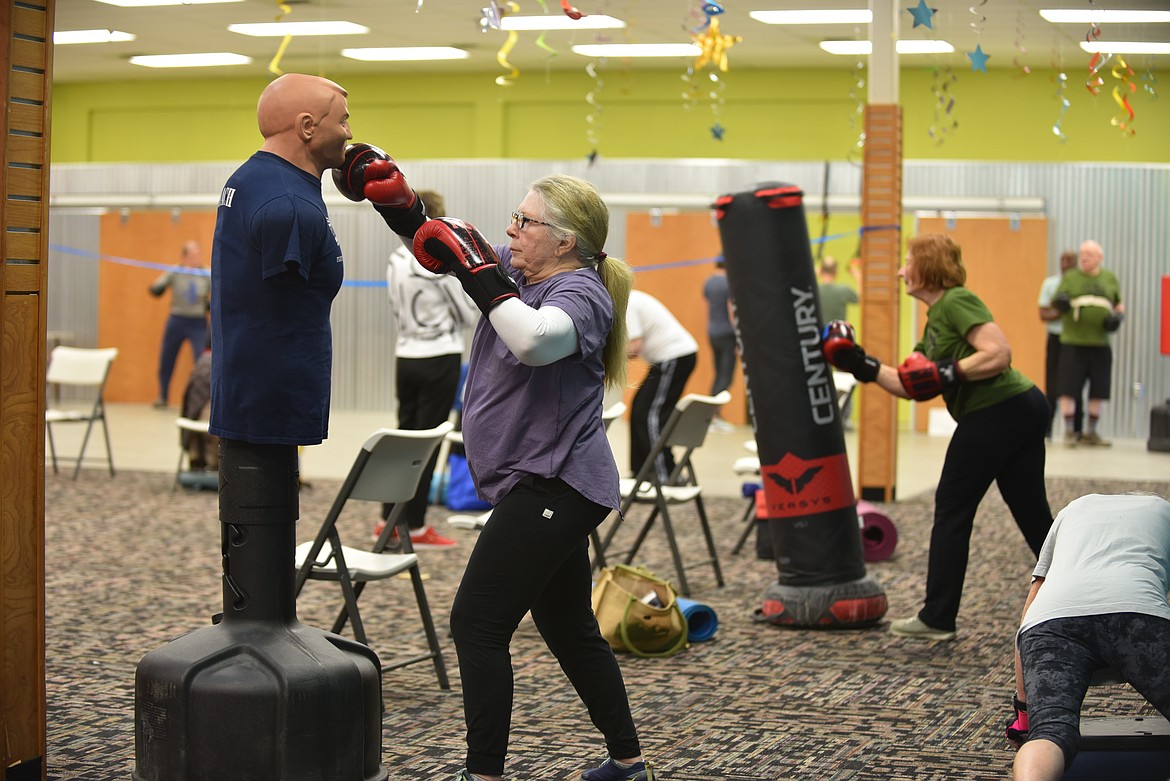 Lela Newey boxes a freestanding body opponent bag during the Rock Steady Boxing — Glacier class for people with Parkinson's on Monday, March 13, 2023, at Gateway Community Center in Kalispell. (Hilary Matheson/Daily Inter Lake)
by
HILARY MATHESON
Daily Inter Lake
|
March 19, 2023 12:00 AM
By mid-morning on a Monday, members of Rock Steady Boxing — Glacier are stretching, punching, running, balancing, bobbing and weaving, planking and sweating their way around a room at the Gateway Community Center in Kalispell.
Just before 9:30 a.m. the empty room was transformed into a training ground replete with freestanding boxing and reflex bags, a body opponent bag, balance course and other fitness stations focused on movement, balance, flexibility and strength.
Participants share a common goal — to fight the symptoms of Parkinson's disease. They return for the camaraderie that helps them along in what will be a lifelong battle.
Parkinson's is a degenerative neurological disorder that can cause tremors, stiffness and loss of balance over time. Symptoms progress over time. While there is medication to help control symptoms, there is currently no cure. What has been proven to slow the progression of symptoms is intense exercise said Rock Steady Boxing — Glacier head coach Lynnell Gravelle. She is a longtime physical therapist at Advanced Rehabilitation Services, specializing in treating people with Parkinson's.
"It's really important for them to move every day to get their exercise in. It's like your exercise is definitely your medicine," Gravelle said.
She established the valley's first Rock Steady Boxing affiliate program in 2018 with the backing of Advanced Rehabilitation Services. Over the years she's watched the program grow from about six people to 25. Rock Steady Boxing is a national nonprofit that seeks to improve the quality of life for people with Parkinson's disease through no-contact boxing-based fitness. It was founded in 2006 by an Indiana resident diagnosed with Parkinson's who teamed up with a Golden Gloves (amateur) boxer to develop an exercise regimen that would combat loss of eye-hand coordination and movement.
"Boxing is the hardest exercise there is and it just so happens that the components of boxing correspond nicely with the things that people with Parkinson's need to work on," Gravelle said. "It works on hand-eye coordination, balance, agility, powerful big movements … strength, [and] cognition."
The program is tailored to meet the fitness levels of people at different stages of the disorder.
Coaching people with Parkinson's has taken on a new meaning since her father was diagnosed with it this year and she was able to set him up with a Rock Steady program where he lives in Florida.
"I'm trying to travel down to Florida every couple of months to work with my dad," Gravelle said.
At the Kalispell-based program, additional coaches, volunteers and spouses stand by to assist and encourage participants through the rigorous exercises.
Jan Peterson of Lakeside is here to support her husband Curt.
"I'm his helper. But I tell you what, this kicks my butt as well," she said. "Curt's been coming for a year. He was diagnosed three years ago. When we found this group, it was really just such a lifesaver."
The group is so much more than a group exercise class.
"These people are just so generous and so kind and helpful," she said.
"The more the merrier," Curt Peterson adds.
BEFORE STARTING, the group gathers inside a ring of chairs where they stretch and warm up.
"Boxers, are you ready," assistant coach Loretta Merriman shouts.
The group yells back, counting the repetitions.
"We do have a birthday today so we're going to start working our voices by singing happy birthday loudly to Duane [Morast]," Gravelle says.
Of course, there is fun and some games mingled into the boxing. As the coaches go around the room explaining the different exercises, Gravelle stops in front of a birthday-specific one. It's not eating cake, she jokes.
"Take a balloon, blow it up, tie it, that will work on your breath and your fine motor. Grab that balloon and then find Duane and bop this balloon over to where Duane and say 'Happy birthday!'" she says.
The group proceeds to put on their boxing gloves, some emblazoned with the words "fight back," the music is turned up and the group gets to it.
The boxing classes are open to anyone of any ability who has been diagnosed with Parkinson's.
Marjory McClaren of Kalispell started attending the boxing classes a few months after the program started. When not boxing, McClaren is also a facilitator for the Flathead Valley Parkinson's Support group.
"Exercise was really important," McClaren said after she received her diagnosis. "It's like one of the most important things. I hadn't tried boxing before, but I thought if they recommend that I'll do it."
In a show of support, McClaren said her sister started going to a boxing gym.
"My sister is in California, and she went to a boxing gym down there, which is very cool. So we started doing boxing together," McClaren said. "She turned out to be a great boxer too."
"In general, exercise is good for everybody, but especially," she said pausing, "You can't take days off with Parkinson's because it doesn't take days off. Right? We can't take days off from exercise. Even if it's just some stretching or yoga or a walk with the dog. You gotta keep moving."
The cost is $15 per class. For more information, call Gravelle at 406-261-8311 or email lynnell@arspt.com.
Reporter Hilary Matheson may be reached at 758-4431 or hmatheson@dailyinterlake.com.
Recent Headlines
---