Lakeside spin studio aims for health beyond workout
by
SUMMER ZALESKY Daily Inter Lake
|
March 19, 2023 12:00 AM
In a dark room, a neon sign lights up with the words "You can." That's the motto of Psycle MT, the Flathead Valley's only boutique spin studio.
Ali Coleman and Marti Moran, friends, founders, and owners of Psycle, have dreamed of owning a spin studio since 2013. With Moran's background in spin instructing and Coleman's background in business and marketing, the two women's skillsets melded perfectly to forge Psycle.
"Everyone says don't go into business with your friends," Coleman said with a laugh. "But we have such a perfect balance. We're kind of a dynamic duo. It just works really well and we have a lot of support behind us from our families and our community."
Spin classes are structured and rely on a mix of upbeat music, choreography, and cadence. As spin is new to the community of Lakeside, Coleman and Moran prioritize creating an environment that is inclusive and welcoming for both newbie and expert cyclists.
"Spin is a push between your muscles, your brain, and your heart. There are a lot of people who walk through these doors who have never once taken spin, so as an instructor, it's crucial to fill in the gaps. Everyone comes in at a different stage and level and there is no specific size or shape that fits spin. Everyone has to start somewhere," said Coleman.
Psycle offers 10 unique classes per week and plans to continue expanding to meet the needs of the community. Classes offer high intensity, low impact, and glute/arm workouts as well as their trademark "Wine and Climb" and "Before Brunch" rides that end with the opportunity to connect over drinks.
Coleman and Moran explained that spin is more than just a workout; it is also a way to boost mental and emotional health.
"In a place that's so gray and slow in the winter, it's important to have somewhere people can go and have community and workout and sweat," said Moran.
Coleman added, "We want people to come in here and work through their anxieties. You can push past what's been holding you back and you can recharge your batteries."
With minimal lighting and black walls, cyclists are inspired to focus on their ride and their workout. According to Coleman and Moran, the dark space helps riders to forget about their daily to-do list and be fully present.
"When you're on that bike, you want to deprive your senses," Coleman explained. "You should feel like it's just you. We want people to commit to being a better version of themselves and that's why we chose to do it in a dark room. We don't want you comparing yourself to the person next to you, we just really want you to do you."
As Lakeside's Chamber of Commerce director, Coleman said she is always on the hunt for ways to improve her community. The duo said that they have received immense support and have already sold out over half of their classes in just one month of being open.
"There's just something with spin that makes you push yourself. You're forcing yourself to do hard work and that makes you feel like you've accomplished so much in a 45 minute class that you go out and just keep accomplishing more in your life," said Coleman. "It radiates into your community and into your family and the more happy people we have, the better place we have to live."
Psycle MT is located at 100 Bierney Creek Road, Suite F in Lakeside. The studio can be reached by phone at 406-489-2527 or email at psyclemt@gmail.com. To stay up to date with the latest classes, visit psyclemt.com, follow Psycle on Instagram @psyclemt, or follow on Facebook at Psycle MT.
Reporter Summer Zalesky may be reached at szalesky@dailyinterlake.com.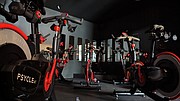 Recent Headlines
---