Judge denies suspected Columbia Falls shooter's release request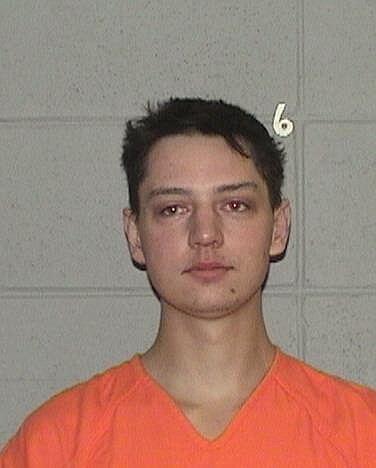 Matthew Clark Burns. (Photo courtesy the Flathead County Sheriff's Office)
Judge Amy Eddy denied Thursday a request by the man accused of shooting at his ex-girlfriend's Columbia Falls home with an AR-15-style rifle last month for release from custody on his own recognizance.
Matthew Clark Burns, 22, pleaded not guilty to a single count of felony assault with a weapon in Flathead County District Court shortly before his Nov. 16 bail modification hearing. He is being held in county jail with bail set at $100,000.
"An order of protection was in place … you violated that order of protection and you then shot through her bedroom while she was in her bedroom," Eddy told Burns, who appeared before the judge in an inmate's orange uniform. "That is conduct that cannot be tolerated, assuming that it is true."
Columbia Falls Police officers arrested Burns while investigating an Oct. 25 shooting at the Fourth Street home of his ex-girlfriend, Chelsey Vonderheide, according to court documents. A bullet passed through the window of her bedroom and struck a mirror on the opposite wall, according to court documents. Authorities later recovered the round from inside a closet. 
Vonderheide told investigators that she had an order of protection out against Burns and another individual inside the home during the shooting recounted seeing the 22-year-old in the neighborhood earlier in the evening, court documents said. 
While searching for the spent casing outside the home, officers spotted a vehicle possibly linked to Burns slowly driving through the area. Stopping it, they found an "extremely intoxicated" Burns behind the wheel and a .30 caliber AR-style rifle in the vehicle, court documents said. 
Investigators had by then determined that the round found in the victim's home was a .30 caliber bullet, according to court documents.
Burns subsequently provided a breath sample, which returned at .226, court documents allege. 
Testifying during the bond modification hearing, Vonderheide said that the alleged shooting represented the culmination of Burns' cycle of violence and aggression. The pair had dated for four years, she said. 
"I fear the pattern will continue to repeat if he is released," she said. 
His release, she said, would affect her emotionally and leave her fearing for her safety as well as that of her family, who live on the same property. Vonderheide said it would mean potentially putting her business plans – she runs a cleaning service – on hold. 
"These are all things that I find highly unfair," Vonderheide told the court. 
Defense attorney Greg Rapkoch had earlier called Burns' mother, Fay Dowling, to the stand to testify as to the arrangements that would be made if he were released. Dowling told the court that Burns had no assets or other means by which to cover bail. She and her husband were overstretched as well, she said, after inheriting mortgaged property in West Virginia.
If Burns were released, Dowling said she would seek to bring him with her to tend to the West Virginia property. Under her supervision, he would resume counseling and attend 12-step meetings, Dowling said.
Asked about his past behavior, Dowling said he had struggled to connect with his community. And routinely skipped chores. 
"His biggest thing was spending time on his computer," Dowling told the court. "He did not go out, he did not run around with anyone. He did not like the canyon."
Rapkoch told Eddy that Burns would submit to alcohol and GPS monitoring if released on his own recognizance. 
Deputy County Attorney Stacy Boman argued to keep his bail set, describing the alleged shooting as a "deeply terrifying event that could have ended much differently."
Boman questioned whether Burns would abide by conditions barring him from contacting Vonderheide. He already violated an order of protection, she said.
"The $100,000 bond is more than appropriate," she told Eddy. 
An omnibus hearing in Burns' case is scheduled for Dec. 13 with a status hearing set for Jan. 8. 
Assault with a weapon is punishable by up to 20 years in Montana State Prison and a $50,000 fine. 
News Editor Derrick Perkins can be reached at 758-4430 or dperkins@dailyinterlake.com.
Recent Headlines
---