Our children are worth funding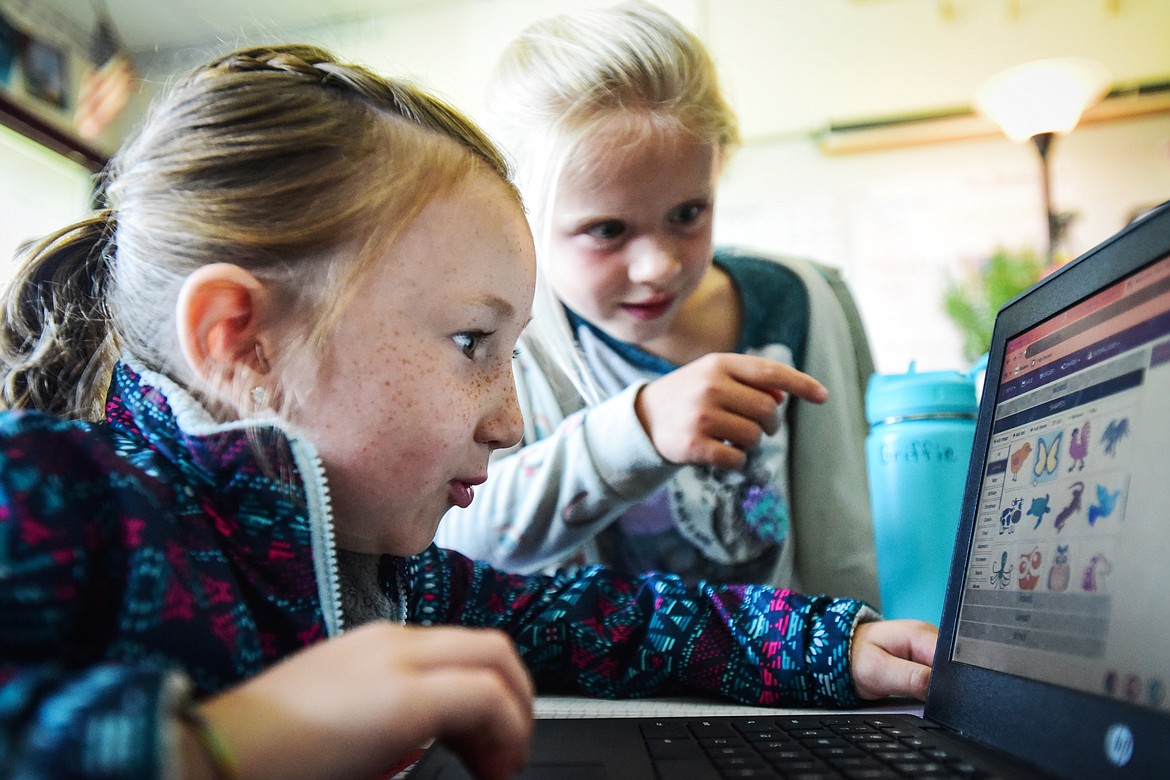 Second-grade students use SeeSaw, a website that helps kids generate a word cloud about themselves, in Sharon Sinclair's classroom at Edgerton Elementary School on Tuesday, Sept. 19. (Casey Kreider/Daily Inter Lake)
This past August, the Kalispell Public Schools Board of Trustees unanimously approved the resolutions to call for technology and safety levies to be put in front of the voters this fall. As voters and members of our community ourselves, our board recognizes this is another ask of the public, but we wouldn't be asking if we didn't feel the need was absolutely necessary for our schools and our children.
A safety levy has never been run in Kalispell. This levy for both elementary and high school districts would help offset general fund expenses related to safety. Our community funded a security audit last year that allowed the district to take a proactive approach addressing safety concerns ranging from physical site improvements to more student centered services. The levy will also address student mental health and wellness by funding support staff, and counselors as well as a district suicide prevention specialist. It would also fund Kalispell Police Department school resource officers and the possibility of campus security officers that are partnered with the KPD and our local veterans. There are always ways to make our schools safer but with a budget deficit, cut backs are inevitable. Approving a safety levy would allow KPS to take the proactive measures that are necessary to make our campuses even safer.
Keeping our children up to date with technology is important in this fast-paced world. It allows them to be competitive with other students around the world. Technology expenses not only cover physical equipment from ChromeBooks to touch screen boards in the classroom but also computer replacement, software, technology educators and so much more. Operating a district this size and keeping it secure from external hackers is a very real threat. Did you know that there are 100,000 to 125,000 hacking attempts on our system every day? It is imperative to have quality security measures in place to keep our system secure and our children safe not only from outside threats but also online threats. We are very aware of the dangers constantly lurking online. Our technology team here behind the scenes at KPS are fathers themselves and I assure you this is in the forefront of their mind. They work diligently to find the best programs out there to make sure our kids are as safe as possible when they are online. This comes with a high cost that we will be able to continue covering with the funding from a technology levy.
The existing elementary technology levy will be sunsetting this year. Without it, that is an additional million plus that we will have to pull out of the general fund to support all of our students' technology needs. Our elementary schools have been fortunate enough to be operating technology expenditures out of an elementary technology levy that was passed by the voters in 2014. This levy will sunset in June 2024, so we are asking the community to please renew it.
Currently all technology expenditures for the high schools are being absorbed by the general fund. We are operating on a budget that is in a deficit. So to absorb both elementary and high school technology expenses next year will not be possible. The last time our voters said yes to a high school levy was back in 2007. That was 16 years ago. We can only say no for so many years. Our children are members of this community. They are the future that will make up the bedrock of our society. I am asking you to please invest in them. Our children deserve to be supported and funded. When you get your ballot in the mail, please vote yes for our kids.
Heather Asher is chair of the Kalispell Public Schools Board of Trustees.
Recent Headlines
---