Band Tin Finley celebrates collaboration while following creative passions
by
TAYLOR INMAN
Daily Inter Lake
|
September 28, 2023 12:00 AM
The band Tin Finley can trace its beginnings to the Tin Angel restaurant in Nashville.
Members of the band say a seed was planted there that later cultivated in Montana, where the trio now blends harmonies and creative passions for music.
Whitefish musician Annette Strean was pursuing her career and working at the Tin Angel when she met her future husband, Kirk Cornelius, during his meet-up with a friend at the local haunt. Years later, Kati O'Toole, who grew up in Polson, would be living in Nashville and working at the Tin Angel too, when she was introduced to Strean by a mutual friend.
"But I also went to her show. She played at the Mercury Lounge and I was in the audience. I just thought she was so cool up there on stage. So yeah, that's the first time I really saw her," O'Toole said.
The two probably couldn't have predicted back then that more than a decade later they would be harmonizing in a treehouse back home in Montana.
Tin Finley performs on Friday, Oct. 6 for the Daily Inter Lake's lunch concert series Press Play.
Performing at the Mercury Lounge, O'Toole saw Strean with pop band Venus Hum. The band toured the world, and opened and performed in the touring show for Blue Man Group. Strean had moved to the music city to pursue her career in 1997.
After playing music with Cornelius, the two developed a relationship and later married — a "very Nashville move," according to the group.
Cornelius, a guitarist and singer-songwriter, would go on to work as a tour manager, later getting into the world of strategy and design.
Strean would continue working as a recording artist, writer, singer and songwriter. However, she had to take a step back for some years due to nodes on her vocal chords that required surgery and subsequent vocal rehab.
O'Toole got a music production and engineering degree at Berklee College of Music in Boston and headed to Los Angeles where she worked in a world-renowned studio and cut her teeth as a touring musician. She started working as the head of production at StudioPros, an online full recording studio. Later moving back to Montana with her family, she and her husband built the Montana Treehouse Retreat.
After moving back home, she and Stearn reconnected.
"So we went to Kati's house, and it was my sister's best friend's childhood home — like I'd been there, it was very cool. Kati and I started talking and she offered me a job," Strean said.
The job was singing, writing and recording for an online studio, which helped Strean rekindle her love for music again.
Tin Finley was born from the musical connection between Strean and O'Toole. The two began playing small shows outside of work — their own songs as well as a lot of covers.
"Eventually, we were like, 'We would like to do this deeper and more, and write our own songs together. Then Kirk joined in to do a show at the KALICO Art Center … and it was an amazing show where we told stories about our songs, that was our first bigger performance," Strean said.
O'Toole said she had released a couple of albums prior to forming Tin Finley, but those songs weren't relevant to her life anymore, so she was excited to collaborate and write new songs instead of continuing to perform those older ones. The band started digging deeper into their new collaboration with Cornelius, gaining more interest and booking more shows, then the pandemic arrived in spring of 2020.
The band used the opportunity to form closer relationships in their music and embark on recording. The first song they wrote together was "Start a Fire."
"The way we approached it was that I play piano and Annette sings. She writes amazing lyrics, and sometimes I have trouble putting lyrics to things, but I'll come up with these piano themes," O'Toole said. "So I sent her this piano theme and she wrote the first verse. She came over and we wrote that song in a treehouse that I have on my property. We just went back and forth and recorded a demo in the treehouse. It was really fun."
The two said they have varying musical influences, and while O'Toole's lyricism can be more realistic as to paint a picture, Strean's leans more abstract.
"Kati is coming from that storytelling, and I have a picture and I'm trying to create, like a space. And Kirk is somewhere in the middle of that, so you get different experiences," Strean said.
Their collaboration on Tin Finley has allowed them both to experiment and embrace their ideas when writing and performing music.
Strean said there's an intimacy and vulnerability about being in a band with people that gets better over time.
"To be able to do that again and have the friendships grow, and to be able to do it with my husband Kirk as well. The music is a different style of music than what I have played in the past, but I love how we all come together to access and create a space, and that we all get full permission to totally dive into that and do exactly what we want to do," Strean said.
Even though she was working as a music producer for the past 14 years, O'Toole said those projects were working for other people, leading her to feel like she wasn't getting out her creative energy.
"I feel like it's just a part of my being like, I need to play music. And it's just a way I've always expressed myself. I have two young kids and a business, so I'm very busy. But if I push aside this musical side of me — it's who I am, if I'm not doing it, I don't feel like myself. So, I'm really grateful to be able to do that," O'Toole said.
The band is excited to get back into the studio this winter to continue to record more songs. Their singles "Start a Fire" and "Crack in the Window" are available to stream on Spotify and YouTube.
"We love to collaborate with different museums and galleries, just really cool places, like we just played at Home Ranch Bottoms up in the North Fork, which is one of our favorite places, and we play Max's Market in Bigfork," Streans said.
The band is also available to play for elopements through Elope Montana, performing at ceremonies and recording songs for couples.
To find out more information about Tin Finley, check out their Instagram @tinfinley or visit their website tinfinley.com.
The Daily Inter Lake Press Play concert is Oct. 6 at noon at the newspaper's warehouse, 727 East Idaho Street.
The concert series is a subscriber-only benefit and tickets are available by making a donation to the newspaper's Newspapers in Education initiative, which looks to bridge the gap between classrooms and the real world by delivering more than 130,000 free newspapers each year to schools in Flathead, Lake and Lincoln counties.
Tickets with an option to purchase lunch are available online at https://tickets.dailyinterlake.com/
For more information, contact Melissa Wells at 406-758-4436.
Reporter Taylor Inman can be reached at 406-758-4433 or by emailing tinman@dailyinterlake.com.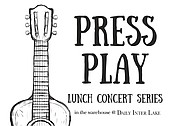 Recent Headlines
---