Whitefish's proposed rental assistance program well-received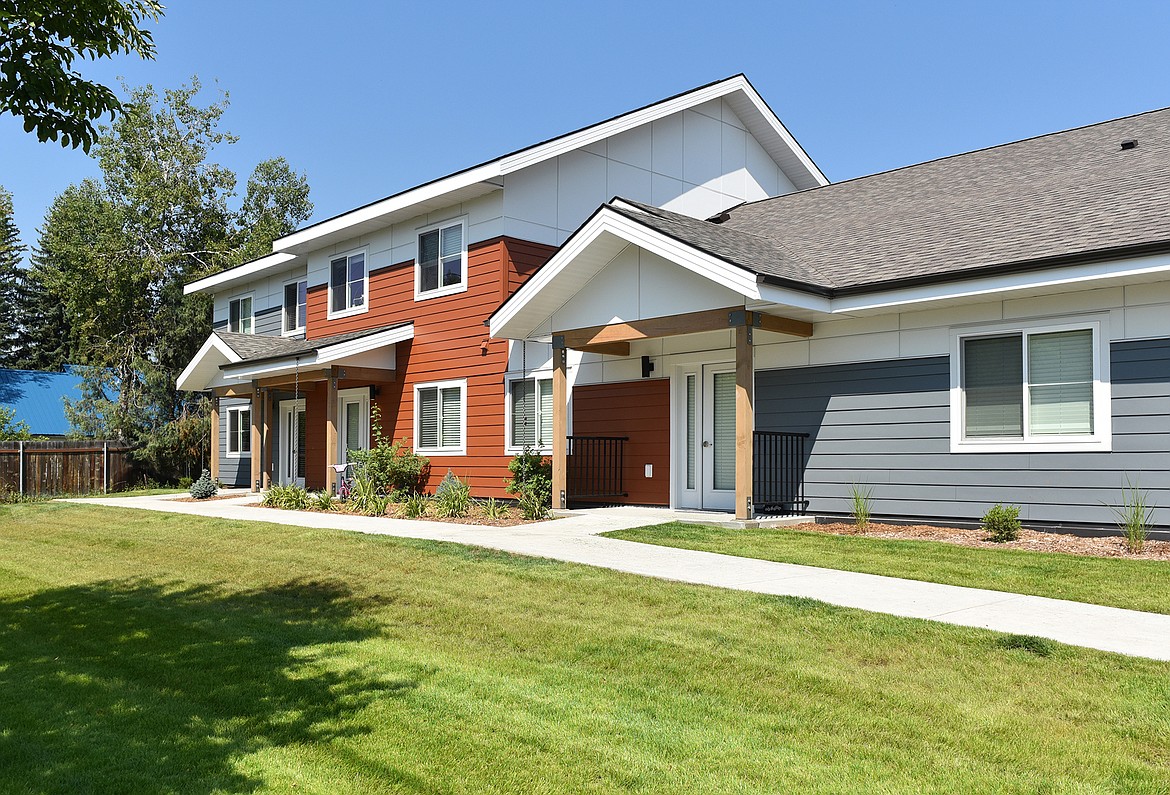 The Alpenglow Apartments, owned by the Whitefish Housing Authority, include 36 units designated for affordable housing. (Heidi Desch/Whitefish Pilot)
by
JULIE ENGLER
Hagadone News Network
|
September 29, 2023 12:00 AM
The Whitefish City Council showed interest in a program aimed at providing rental assistance to residents of Whitefish.
Daniel Sidder, executive director of Housing Whitefish, in partnership with the Whitefish Chamber of Commerce and the Whitefish Housing Authority, presented an overview of the Whitefish Workforce Assistance Fund to the council at a recent work session.
Sidder asked the city for its input and for $200,000 to help get the pilot project off the ground, as well as a commitment for funds in the subsequent two years. The hope is to launch the program early in 2024.
The council had a positive reaction to the proposed program and was in agreement that it had merit and was needed in the community.
After the discussion, it was determined that Whitefish City Manager Dana Smith and Sidder will bring forward an agreement between Housing Whitefish and the city for the contribution of $200,000 for the council's consideration in November.
Sidder said the goal of the program, which was modeled off Colorado's Winter Park Housing Assistance Fund, is to help the local workforce live where they work.
"We think that's important for a lot of different reasons, but mainly, we want people to invest their time, energy and talents in Whitefish, if they're working here," said Sidder. "It's increasingly difficult to do that and the entry point for rentals is quite high. Just to be able to come, work and even be here, that can be a barrier for a lot of people."
In order to qualify for assistance, applicants must earn less than 120% of the area median income, pay more than 30% of their income for rent, work an average of 32 hours a week in the 59937 zip code and currently live or are looking for housing in Whitefish.
"We're recommending a cap of $4,800 a year for households, with payments not to exceed 25% of their rent or pushing them underpaying 30% of their income on rent," Sidder said. "The money can be used for monthly rental assistance, as well as first and last required at move-in."
For example, a family of three paying $2,100 for a two-bedroom home is paying more than 30% of their $65,000 income, which would be $1,625 a month. The family is eligible to receive the maximum amount per month of $400, and will go from paying 39% of their income toward rent to paying 31%.
Payments are made directly to the housing providers. Applications for assistance will be accepted on a quarterly basis.
While there is no other funding secured currently, Sidder said the program does have some proposals from the bigger employers in town, but he wanted to get input and a commitment from the city first.
"There is interest in the business community to support this program, and our goal would be to raise an additional $100,000 for the fund in the first year," he said.
One concern voiced by some councilors was that the fund applies to the 59937 zip code, rather than only to the Whitefish city limits. Councilor Frank Sweeney suggested a potential solution.
"You take our $200,000, and that's your seed money and you get to operate and get to begin to support people," said Sweeney. "Then you raise your money on the outside… you could use those funds [for people with needs outside the city limits] and restrict the city funds only for properties within the city."
Smith responded to those concerns by reminding the council that a Tenant Rent Assistance Program is identified in Whitefish's Housing Roadmap and that all the information from the Roadmap is based on the entire 59937 zip code area.
"Cities have to initiate it [a new program], to get the buy-in, to prove that it works, and as time goes on, you'll see that businesses can help support a larger portion and the city's contribution can go down," Smith said. "We wouldn't be using resort tax dollars for this. I would recommend using our affordable housing fund."
Councilor Ben Davis thanked Sidder for the proposal, which he described as a great thing, and said he would like to see more initiatives like this in the future.
"I concur with, I think, most folks here that this is a program we should definitely fund," said Davis. "In my opinion, I don't think it's worth getting too hung up on the 59937 issue. The community benefit comes in the form of allowing those folks to be here, allowing the businesses to have the staffing they need to be successful, which helps the community as a whole be successful."
Sidder said while this program is not a long-term solution to the housing challenges in Whitefish, it is a shorter-term program that can assist the workforce while more affordable units are being built.
Recent Headlines
---