Wolfpack faces big Bruin test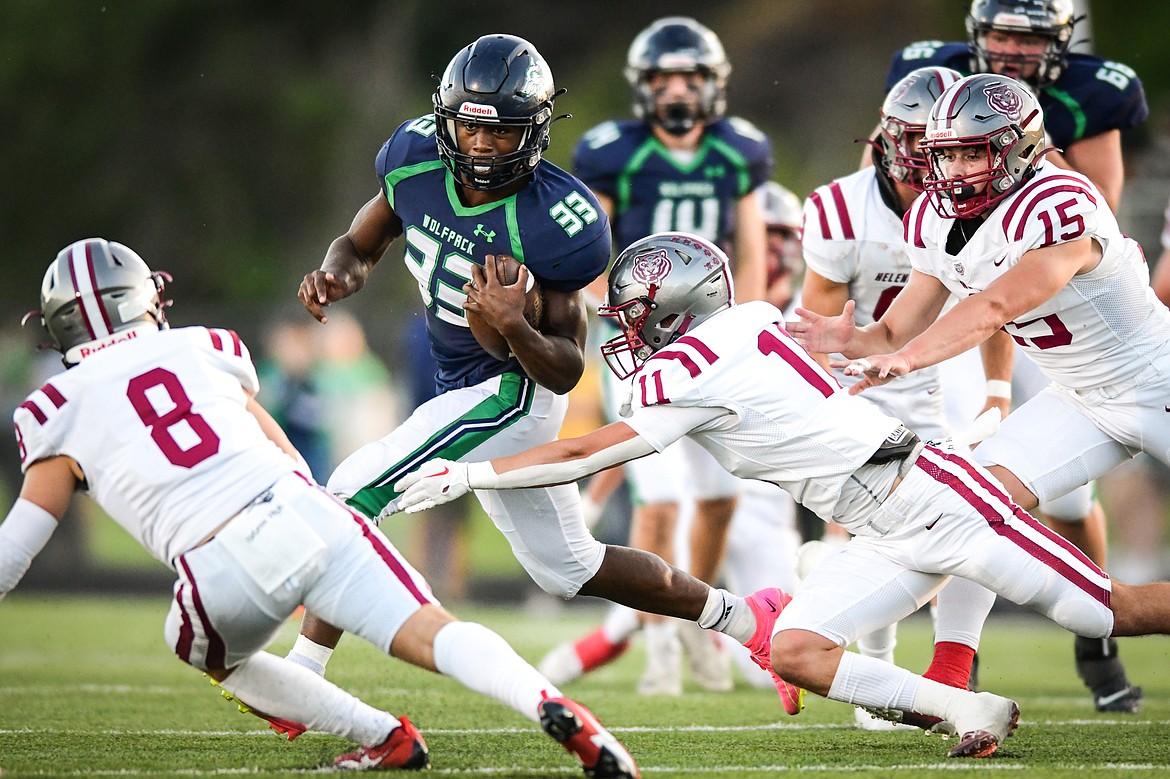 Glacier running back Kobe Dorcheus (33) picks up yardage on a run in the first quarter against Helena at Legends Stadium on Friday, Sept. 15. (Casey Kreider/Daily Inter Lake)
The tests keep coming for the Glacier Wolfpack, who on Friday will host the defending state champion Helena Capital Bruins in a key Western AA football game.
The 7 p.m. kickoff will match teams that are 2-1 in league: Capital (3-2 overall) fell to Missoula Sentinel 17-14, the same night the Pack (4-1) lost 28-27 at Butte.
Last year the Bruins beat Glacier 35-27 in Helena, and a lot of the mainstays off that team — speedy running back Tom Carter for one, tight end Hayden Opitz for another — were seniors. Still, with dual-threat quarterback Merek Mihelish running the show for his head coach dad Kyle, they are still very good.
"Their tight end is a really good player: Conor Toivenen," Glacier coach Grady Bennett said. "But really, it's up front that stands out. They were physical and really good last year, and they graduated several to the college ranks, one to the Cats (Talon Marsh), one to the Griz (Opitz). But they sure bring back a lot. They look every bit as good."
With Tuff Adams, Mihelish and Lance Baumgart all over 300 yards, the Bruins average 243 yards on the ground.
"That's what they prefer, obviously — to run it first," Bennett said. "They want to be really physical on both sides of the ball. Win up front, run the ball, keep it out of the opponents hands. "And they have a very capable QB. (Merek Mihelish) is one of the best athletes in the state and he's thrown the ball well, when they've asked him to."
The Bruins handled crosstown rival Helena 35-0 last Friday, while the Pack won 42-0 at Missoula Hellgate. Bennett called the Glacier victory "workmanlike," and valuable for getting a lot of junior varsity players — Hellgate canceled its JV game for lack of players — action in the second half.
Meanwhile, with Kobe Dorcheus picking up 140 yards on just four carries, the Pack averaged nearly 14 yards per rushing attempt against the Knights. Glacier will find tougher sledding on Friday, but Bennett hopes his team keeps getting better.
"You watch any league you see teams that continue to get better, and others don't," he said. "I like the trend we're on. That's the goal, to be better this Friday night than we were last. If we can do that I feel like we'll be in good shape."
Flathead at Helena
Braves coach Caleb Aland takes his team up against the Bengal team that was surprisingly shut out last week, given the apparent gifts of its skill players.
"Their quarterback (Carter Kraft) is pretty good," Aland said. "I think a big reason he's as good as he is is the people he has around him. (Receiver) Manu Melo is a difference maker. How he changes direction. Teams the last two weeks have done a really good job of containing him. I think if we can do the same that gives our front seven a better handle on their quarterback."
Flathead (1-4, 0-2 in league) again had trouble in the red zone in last week's 21-7 loss to Butte, including a fumble at the Bulldog 9-yard line in the fourth quarter of a 21-0 game. The Braves can hang their hats on a defense that has been sturdy: Butte, an explosive team, managed just 265 yards of offense. The week before Sentinel managed 303 yards, but took advantage of six turnovers to pull away for a 46-7 win.
"That's a top-three program in the state," Aland said of the Spartans. They were 3 of 10 on thirds. I think our defense has surprised a lot of people."
Aland is mindful that Helena brings a lot of motion and different formations for his defense to handle. Meanwhile the offense has yet to get truly untracked.
"If we were to finish drives," he began. "We've had a really good week of practice. Hopefully we're done with that song and dance and can start playing a complete football game."
Recent Headlines
---