Emma Ingalls: Trailblazing journalist, legislator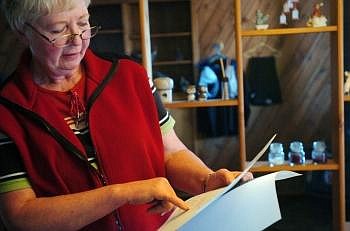 Emma Ingalls: Trailblazing journalist, legislator
by
CANDACE CHASE/Daily Inter Lake
|
June 3, 2009 12:00 AM
A woman ahead of the times
Jo Durand of Polson admits she didn't know a lot about her great-great-grandmother Emma Ingalls.
"I knew she started the newspaper and that's about all," she said.
Durand and the rest of her extended family were thrilled to learn more about the co-founder of the Inter Lake who fought for women's voting rights, then became one of the first two women state legislators in Montana in 1917.
On Thursday, Durand, her daughter and granddaughter and at least 10 other relatives covering seven generations will travel to Helena for the unveiling of a plaque listing 89 women legislators.
The plaque and ceremony pay special tribute to Ingalls and Margaret S. Hathaway as Montana trailblazers.
"We decided to put their faces on the plaque," said Sheryl Olson of the Department of Administration.
Because Jeanette Rankin became a U.S. congresswoman the same year, the election of the first two women state House members and first woman superintendent of schools wasn't widely celebrated.
To help make up for the slight, an unveiling and dedication of the new plaque in the Montana Capitol Rotunda was planned with invitations sent to all women elected to state offices as well as other dignitaries.
"Then we thought, 'Wouldn't it be great if we could find the descendants?" Olson said. "The historical society took that on. That's how we found Emma Ingalls' family."
Durand, her sisters Vivien Lambeth and Sandy Huntley, and brothers Guy and Jim Clatterbuck descended from Ingalls' daughter Bernice as the fifth generation of the family in Montana.
Their grandchildren Aleta Mergenthaler, Scott and Paul Lambeth and Buck McAllister form the sixth generation still in Montana, with four great-grandchildren making up a seventh.
Durand remembers the family stir generated by the invitations to Helena.
"They were really happy to find so many descendants still in Montana and we got so excited," she said.
Learning more about Emma Ingalls prompted her to explore boxes of mementos she had received when her father died. Her sister Vivien Lambeth dusted off a treasured scrapbook of clippings collected by Ingalls and passed down through the generations.
The family's Helena itinerary includes a stop at the Montana Historical Society to share their scrapbook.
"We have unique stuff in there," Durand said. "It's articles she [Emma] wrote that she thought were important."
She displayed Emma's fragile marriage certificate that documented her nuptials at 19 to newspaperman Clayton Ingalls in June 1879.
In 1889, the family took the steamer Tom Carter across Flathead Lake to Demersville, where they started a farm and established a newspaper plant.
From the beginning, Emma played a role in every aspect of the Inter Lake's operation, from reporting to editorializing to sales and circulation. Her scrapbook shows the range of events she covered from women's rights to crime.
"I think she is really an interesting writer," Durand said.
Durand was fascinated by an engraved invitation to a hanging of four men that Emma saved in the scrapbook.
"The hanging was in Missoula," Durand said. "She got the invitation from the sheriff's office."
Emma also kept pictures drawn by the American Indian suspects to tell their side of events. In the end, Pierre Paul, Lala See, Pascale and Antley were hanged on Dec. 19,1890.
Another article displayed at the Museum at Central School shows how Emma used the power of the press to unmask one Judge Sheppard by writing about his handling of a man shot dead in downtown Demersville.
She wrote that Sheppard had the corpse hauled to Langerman's Saloon, where he searched the dead man's pockets. Finding a pistol and a $20 gold piece, the judge convicted him of concealing a six-shooter and fined him $20.
With the murder victim's gold piece in his pocket, Sheppard adjourned to Foy's Bar. His fun was short-lived when the Inter Lake hit the street.
Sheppard promptly arrested Emma's husband for contempt and demanded a printed apology in return for his release. The judge got more than he bargained for as Emma printed the entire story again with new details about his reputation.
"His court is famous at the Supreme Court of Montana because of his arbitrary decisions which were always in favor of the last drink of whisky," Emma wrote.
While succeeding in ousting the judge, Emma and Clayton lost the battle to save Demersville, which faded away when the railroad came through Kalispell. In 1892, they moved the publishing plant to Kalispell, incorporated the paper and hired an editor.
Due to Clayton's failing health, they moved to their farm but Emma continued to write articles and champion women's rights to vote.
After receiving the invitation to the Helena dedication, Durand learned more about her great-great-grandmother's life through the research desk of the Flathead County Library.
After Clayton died, Emma blazed new trails in agriculture as the first to irrigate her crops.
"She introduced alfalfa to the valley," Durand said. "She was really a smart woman and very respected."
After selling the farm in 1914, Emma became active in the Republican Central Committee of Flathead County, serving as secretary and chairman. She campaigned for woman's suffrage and successfully ran for the Legislature in 1916.
Durand has a yellowed clipping showing profiles of Emma and Hathaway, the other new woman legislator, looking sternly professional in the June 3, 1917, Butte Miner.
"This was when many women couldn't even vote," she said.
According to information compiled by the Montana Historical Society, Emma secured the chairmanship of the Committee on Public Morals, Charities and Reform in her first term. In her second term, she sponsored a bill creating Mountain View Vocational School for Girls in Helena.
In 1920, Emma was given the honor of introducing the House bill to ratify the Woman Suffrage Amendment to the U.S. Constitution during a special legislative session.
Durand said that few stories came down through the family about Emma. Due to bad roads, she said her family only visited her paternal grandmother Vivien Clatterbuck, Emma's granddaughter, a few times a year.
"Back in the '50s, we didn't do a whole lot of traveling," she said.
In the early years, her grandparents ran a Rollins dude ranch, the Diamond X, that employed Ace Powell as a wrangler. The famous artist drew the artwork for a brochure Durand found in her box of family heirlooms.
"I have the original artwork," she said, pointing to the Diamond X brand Powell drew on a horse in the picture.
Durand hopes to fill in more of the information that slipped away from subsequent generations after Emma Ingalls made her permanent mark in Montana. She feels proud that they all remained in the state.
"All of us grew up and raised our families in Montana," she said. "It was very lean at times."
She said the family feels privileged to take part in the Helena ceremony, particularly with their daughters and granddaughters attending the event called "Celebrating Women Elected to Serve Montana."
"The unveiling and all hoopla - this is a once-in-a-lifetime opportunity," Durand said.
Reporter Candace Chase may be reached at 758-4436 or by e-mail at cchase@dailyinterlake.com.
Helena event celebrates women in public service
A bipartisan event scheduled Thursday in Helena celebrates women who serve in all branches of state government, with special attention to Emma Ingalls and Margaret "Maggie" Hathaway, the first two women elected to the Montana Legislature.
Dee Brown, R-Hungry Horse, the 2009 House minority whip, will speak and former legislator Marjorie Fisher of Whitefish will help unveil a plaque commemorating women who served in the Legislature through 1995.
Festivities begin at 9 a.m. in the Capitol Rotunda. Those attending should arrive early due to limited seating.
Ellen Baumler, author and historian with the Montana Historical Society, is the keynote speaker.
Other speakers include:
n Karla Gray, former chief justice of the Montana Supreme Court.
n Diane Barz of Polson, former Supreme Court justice and District Court judge.
n Carol Williams, 2009 Senate minority leader.
n Margarett Campbell, 2009 House majority floor leader.
n Dorothy Eck, former legislator and Constitutional Convention delegate.
n Betty Babcock, former first lady, legislator and Constitutional Convention delegate.
n Janet Kelly, director of the Montana Department of Administration and chairwoman of the Capitol Complex Advisory Council.
Secretary of State Linda McCulloch and Fisher will share in unveiling the plaque outside the main door to the Senate chambers. A reception follows the ceremony.
Recent Headlines
---