Five-year plan targets homelessness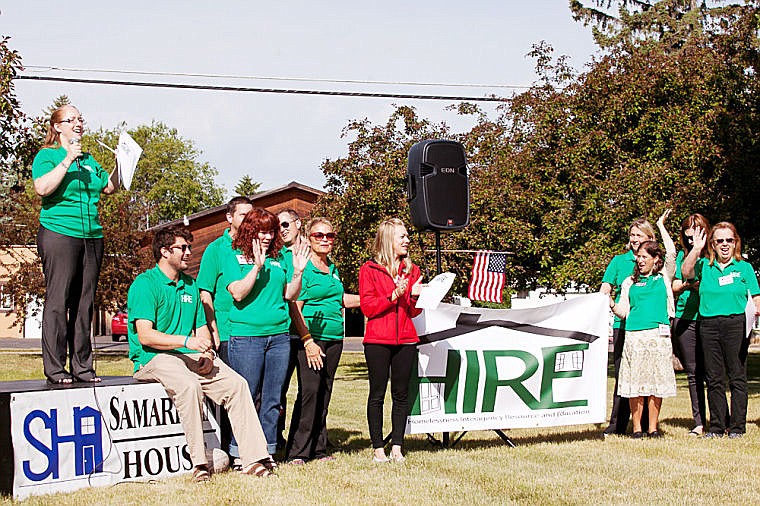 <p>Homeless Interagency Resource and Education unveiled a new five-year plan to improve the lives of homeless people in Northwest Montana. The event was Thursday morning outside the Samaritan House Administration Building in conjunction with Project Homeless Connect.</p>
Through tireless effort, organization and research, a new organization has unveiled a plan meant to beat homelessness in the Flathead Valley.
HIRE, or Homelessness Interagency Resource and Education, is a new program involving Samaritan House, Northwest Community Action Partnership and other local agencies with a detailed five-year plan to improve the lives of homeless people in Northwest Montana.
The program was unveiled at Thursday at Project Homeless Connect, an event providing resources and services to individuals and families without homes to sleep in at night. More than 700 people in the Flathead Valley are homeless; more than 5,000 are homeless in Montana.
Allison Metzler, director of HIRE, introduced dozens of people who have helped make the plan or provide support for it.
Those supporters included Flathead County Commissioner Cal Scott, who was only a 30-year-old trailer away from being on the streets himself.
"In 2007 we lost what was essentially a family fortune," he said. "And in 2008 we lost our home, my wife and I. If it hadn't been for a trailer we bought in 1974, we would have been homeless. We're all just a few steps away from being homeless."
The five-year plan seeks to help people who find themselves down on their luck by increasing shelter space and the number of beds available as well as increasing communication between service providers and the community.
Other goals include finding affordable housing and increasing preventive measures for the homeless and people on the brink of it and community involvement with programs.
Sean Patrick O'Neill, the author of the plan, spent countless hours in the last year researching similar plans. He started his involvement as a VISTA AmeriCorps volunteer, and continues as a member of the planning committee for HIRE.
At Project Homeless Connect, where families, children, veterans and anyone else homeless can talk to resource providers, the most vulnerable members of a community are thought of.
Darlene Schottle, superintendent of Kalispell Public Schools, affirmed this.
"We feel every day at school when a child doesn't have a safe home to go to," she said. "It is heartwarming to see what this community has come together to do."
According to the findings in the five-year plan, Kalispell had 218 children without homes in 2013. The numbers of disabled or mentally ill and veteran homeless were 169 and 115, respectively.
Maureen Porter, a representative from U.S. Sen. John Walsh's office, read a prepared statement from Walsh. The senator, a veteran of the U.S. Army and Montana National Guard, decried the all-too-common problem of homeless veterans. He offered his full support to HIRE.
Samaritan House Director Chris Krager expressed his gratitude to the people who gathered for the event at Samaritan House, the local homeless shelter.
"The Flathead is very fortunate to have this group of people," he said.
Reporter Ryan Murray may be reached at 758-4436 or by email at rmurray@dailyinterlake.com.
Recent Headlines
---