Historic bike shop opens upstairs hostel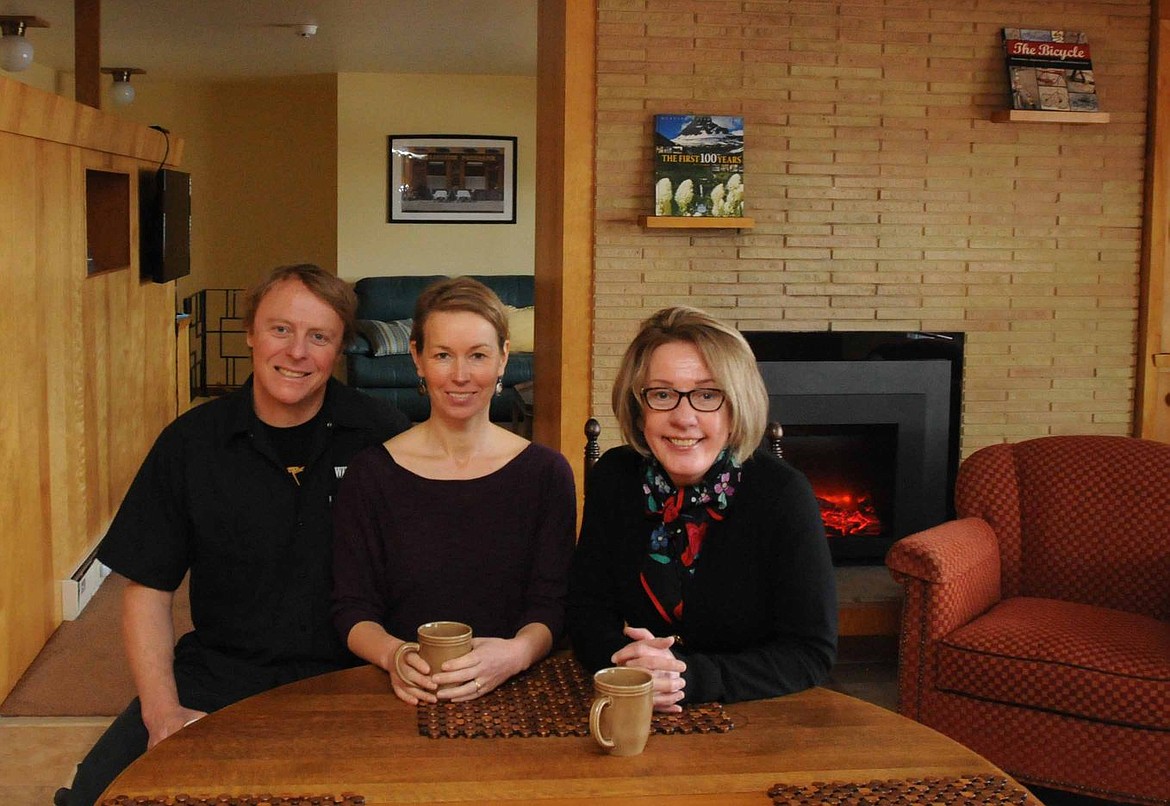 <p><strong>Hans Axelsen</strong>, Jeni Axelsen and Margaret LeKander sit in the Kalispell Hostel above Wheaton's on Thursday. (Aaric Bryan/Daily Inter Lake)</p>
by
Seaborn Larson
|
February 6, 2016 9:00 PM
Wheaton's Cycle, Kalispell's oldest bike shop that opened in 1918, has added a new facet to the business that caters to not just the cycling community but anyone traveling through the Flathead Valley.
The Kalispell Hostel is located directly above the bike shop and features two bunk rooms and a couples' queen-sized bed room. The 1,800 square-foot space was built above Wheaton's in 1958 when the original shop was rebuilt, and still radiates that historic vibe.
"We wanted to create a place that people can be comfortable, enjoy downtown amenities and have easy access to other adventures you can have in Montana," hostel manager Jeni Axelsen said.
The front entrance leads up a stairway to the hostel's living room. Several leather couches sit in front of a window overlooking Main Street and the rest of downtown Kalispell. The living room and dining room are separated by a fireplace while a wall of wood paneling and cabinets runs through the entire living area. There's a wide back patio area with old bicycle wheels lining the railing that leads down to the back parking lot. Axelsen said there will be more additions to the bicycle theme in the coming months.
"It's retro and eclectic at the same time," Axelsen said.
Wheaton's owner Margaret LeKander lived in the apartment until 1989 before changing it into rental space. LeKander eventually moved out and turned the apartment into a rental space.
Last spring, Hans Axelsen, store manager at Wheaton's and Jeni's husband, came up with the idea of turning the rental into a hostel after noticing an increase in tourists traveling by bike. LeKander thought it could be the perfect use for the flat upstairs.
"The younger generations of people have become used to staying at hostels like this across the world," LeKander said. "We just want to create more of an experience for people coming through Kalispell."
The Axelsens and LeKander jumped into the transition last spring, installing new smoke and carbon dioxide detectors, painting the interior, adding new appliances and filling the rooms with new beds. The hostel officially opened in December, hoping to straighten out all the kinks before the upcoming summer bicycle season.
"We were initially trying to make it a bicyclist-friendly hostel, but there's so many hikers, skiers and travelers that come through the valley," Hans said. "It just makes sense to make it a hostel for everyone."
Hans said someone has already stayed while coming to Kalispell for a job interview, and a few hockey players have set up reservations for the upcoming Pond Hockey Classic. Thanks to advertising on social hospitality sites such as Airbnb, the hostel management has already taken reservations as far out as June.
"They're interesting people, everyone's got a great story when you talk to them," Hans said.
Before the hostel, Hans said cyclists touring through the valley would likely end up staying at a hostel or hotel in Whitefish. A Colorado native, Hans has a lot of pride in Kalispell's downtown and hopes to bring some of those travelers in to stay when they come to ride bicycle routes such as the Northern Tier, Continental Divide or even the Rails to Trails bike paths west of town.
"Kalispell is the center of the valley," he said. "It's going to be a thriving destination soon."
It's a good time for Wheaton's to offer another business in downtown Kalispell. The downtown district has seen several new stores open in the past few years such as Sweet Peaks, Kalispell Brewing Co. and The Toggery. Simultaneously, the city's Core and Rail Redevelopment project will remove the railroad tracks traversing through Kalispell and replace the line with a new bicycle and walking path.
"It's going to be a very positive thing for Kalispell," Jeni said. "The hostel is a good fit for that and of course that's something we want to see."
For more information, visit www.kalispellhostel.com.
Reporter Seaborn Larson may be reached at 758-4441 or by email at slarson@dailyinterlake.com.
Recent Headlines
---