Amid upswing in bike thefts, one specially designed bicycle is retrieved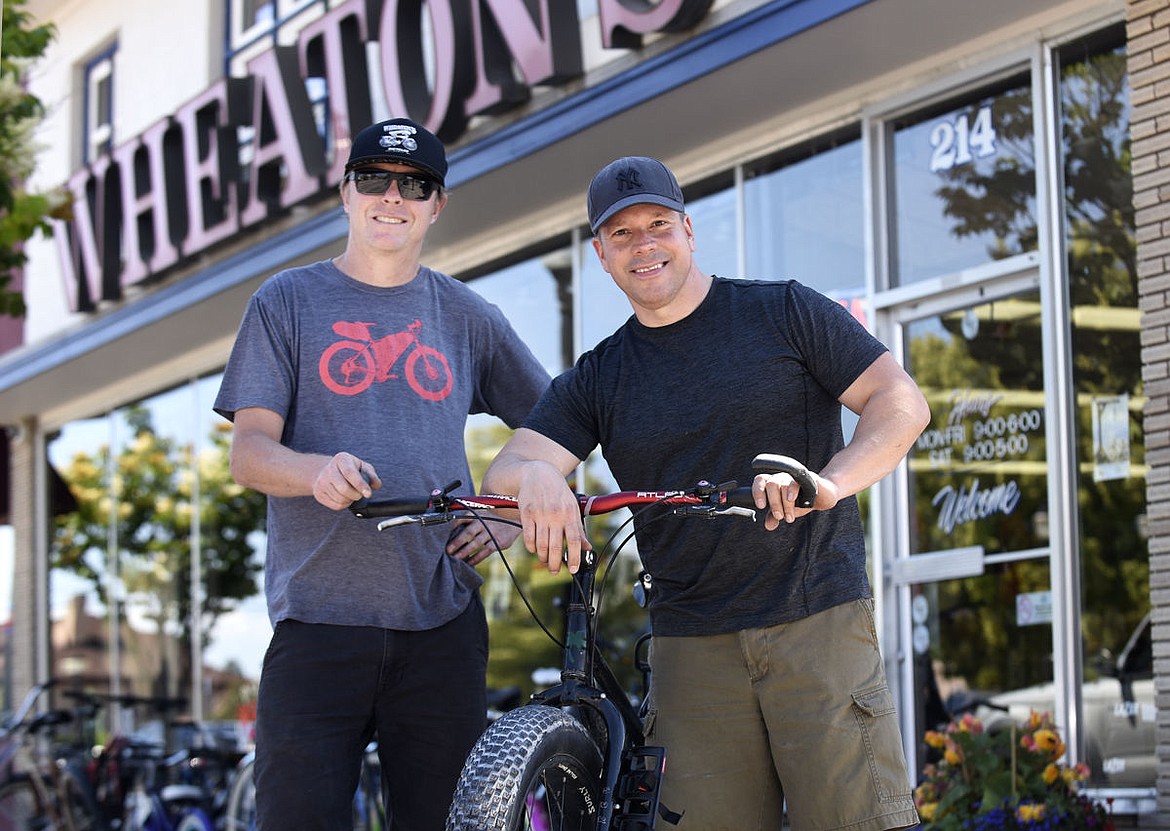 <p>Wheatons manager Hans Axelsen, left, and Mike Potter stand with Potter's recovered fat bike in front of the cycle shop in Kalispell on Wednesday. Mike Potter puts a tire on his fat bike at Wheatons on Wednesday. The bike, which Potter rode across America on, was stolen from him about eight months ago. The bike was recovered after it was brought it to Wheatons to get repaired and Wheatons manager Hans Axelsen recognized it. (Aaric Bryan/Daily Inter Lake)</p>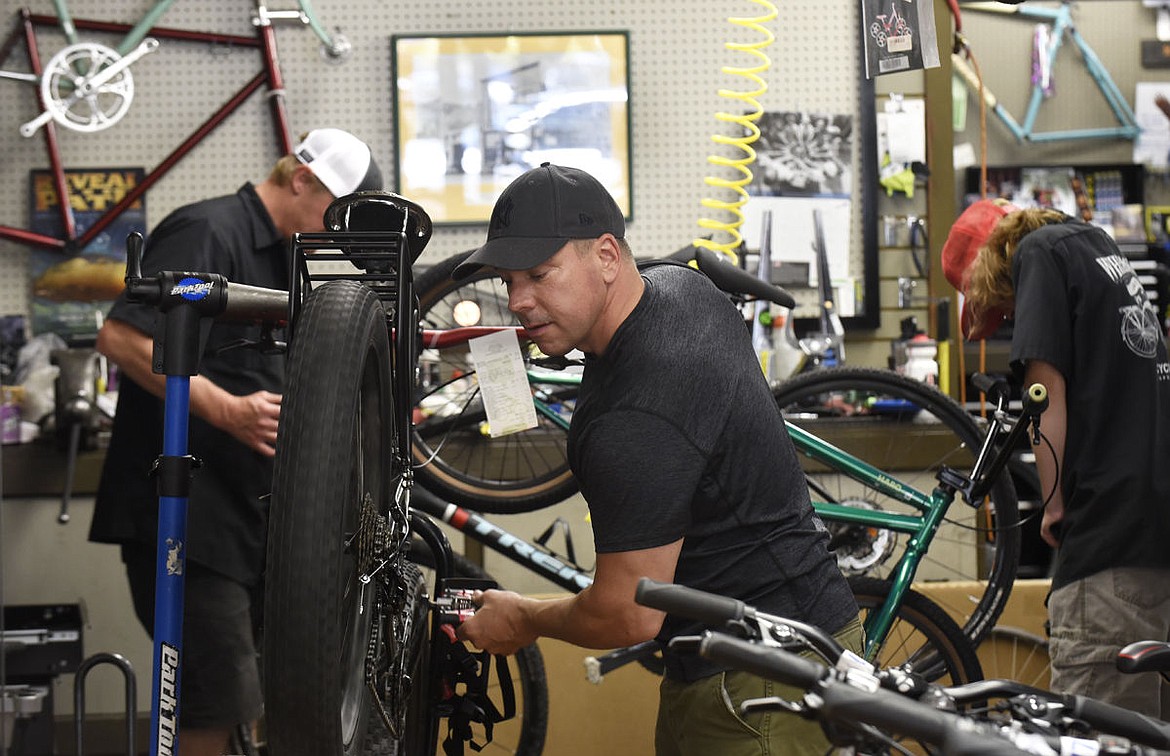 <p>Mike Potter puts a tire on his fat bike at Wheatons on Wednesday. The bike, which Potter rode across America on, was stolen from him about eight months ago. The bike was recovered after it was brought it to Wheatons to get repaired and Wheatons manager Hans Axelsen recognized it. (Aaric Bryan/Daily Inter Lake)</p>
Previous
Next
by
Katheryn Houghton
|
July 16, 2016 7:57 PM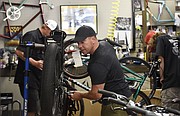 The manager and head mechanic at Wheaton's Cycle in Kalispell has come to expect news about stolen bikes in the Flathead Valley. What surprised him recently was a custom bike he helped design that resurfaced eight months after it was stolen. 
Hans Axelsen knew every inch of the fat-tire bike he created with a customer. The bike was designed to work on sand, snow or roads for thousands of miles. Every detail was unique, down to the offset spoke to the wheel.  
So when a couple showed up in the shop with just a tire that needed repair, Axelsen knew he had to say something. 
"It's hard to know how to begin, 'This isn't your bike,'" Axelsen said, recalling the situation. "I just looked at what I was holding, that tire and wheel combo, and I knew that I had Mike Potter's tire in my hands." 
The couple had no idea the bike they brought in for repairs had traveled nearly a 7,000-mile trek tracing the perimeter of the United States, with Whitefish local Mike Potter documenting his entire trip for the online world to see. 
Axelsen said he pulled up Potter's website for the couple to see, and their jaws dropped as they saw the tire they brought into the shop and traced its journey from Montana down to Mexico. 
"I never expected to see that bike again. More and more bikes are disappearing," Axelsen said about an uptick in bike thefts. "Before, we used to get a few calls a week from customers asking us to look out for stolen bikes. Now we get three a week." 
He said historically, once a bike was stolen it would resurface in a pawn shop or at another bike shop. But now, once bikes are taken they often disappear. 
Bike shops pass the word around when a custom bike is taken, but Axelsen said that's not enough anymore to get a bike back to its owner.  
"The whole thing has gotten more organized," he said. "Whoever is taking these bikes is getting them out of the valley. I don't know if that means Missoula or Spokane, or if that means out to the coast. We just don't know where they go. That's why I was so surprised to see Mike's in the shop again." 
According to the Flathead County Sheriff's Office, reported bike thefts in the Flathead more than doubled last year, increasing from 23 stolen bikes in 2014 to 51 last year. 
Sheriff Chuck Curry said the increase in reported thefts can be attributed to a number of reasons, such as more people choosing to report the thefts. He said that uncertainty in the data makes it hard to know whether bike thieves are becoming more professional in the Flathead. 
"Bear in mind, some of these bikes reported are $5 Huffy, the kind your 6-year-old left in the front yard," Curry said. "High-end bikes normally have a greater success because people tend to record the serial number, but a lot of people bought their kid a bike at Walmart and can describe it as a blue Huffy." 
He said as of July 8, 16 bikes had been reported stolen to the county already this year. 
"So that number really falls in the middle of 2014 [and 2015]," he said. "Whether that's significant, again, it's hard to know at this point." 
Mike Potter, born and raised in Whitefish, had worked with Wheaton's Cycle to give shape to a bike that would fit to his body, height, gear preferences and long journey around the United States. Simply put, it's not the smartest bike to steal and keep local, Potter said. But whoever took it probably didn't realize that. 
He was visiting his mother in Whitefish when its lock was broken and the bike was removed from her front yard. It was in the middle of an autumn day, he said. 
After a few months of silence from the Sheriff's Office and local bike shops, Potter gave up the dream of having his one-of-a-kind bike returned to him. 
But the last week of May, Potter answered the phone to hear Axelsen say he was looking at his beloved bike's tire. 
"I immediately got to Kalispell and saw these people standing like deer in headlights, obviously upset," he said. "And there it was, my tire. Every detail, out of 100 options, matched what we had done before my 2014 trip. My bike journey was back alive." 
Potter got in the car and followed the directions to the couple's home. He followed a rough road to a house with a trailer in the back yard, where they lived. 
He said there were dozens of bikes stacked in the front yard and parts scattered throughout their mobile home. 
Behind the trailer in a patch of grass he saw his $3,000 bike. It was stripped of a lot of the features he had added for his journey — such as two custom-sized water bottle holders and camera holders — but the serial number matched. 
Axelsen said this was a unique case in several ways. 
The people who had the bike didn't have an idea of its value, nor did they take it out of the valley. The couple said they'd bought it at a garage sale for $25, though Potter suspects they stole it. 
Because the bike was so unique, Axelsen could recognize it. Potter had the serial number, as well as hundreds of photos documenting his ownership of the bike. 
Axelsen said when someone first gets a bike, they need to copy down the serial number and take photos to increase their chances of finding it if it's ever stolen. He said it's worth it to invest in a U-Lock or a heavy-duty chain lock. 
He said it's also important to keep a bike out of sight over long periods of time. 
"If you keep it in sight and give someone plenty of time, if they want your bike they will get it," Axelsen said. 
He said the majority of theft cases he has heard about in the last year are travelers waking up to an empty bike rack. 
Axelsen said travelers should take their bike in the hotel with them, or if that's not allowed store them in their vehicle and cover it with a blanket. 
"For a lot of people, Kalispell and the Flathead has this small town feel, but without the actual security of a small town anymore," he said.  
Potter said he's slowly been restoring his bike to the condition it was before it disappeared last year. He recently replaced his handles and is starting to collect the little things, like his water-bottle holders. 
Next, he said, is the Butte 100, a race the weekend of July 30 that takes place along the Continental Divide. 
"I'm just ready to start the adventures again," Potter said.
Reporter Katheryn Houghton may be reached at 758-4436 or by email at khoughton@dailyinterlake.com.
Recent Headlines
---