Entrepreneur makes craft beer more sustainable
by
Peregrine Frissell Flathead Journal
|
December 20, 2017 3:53 PM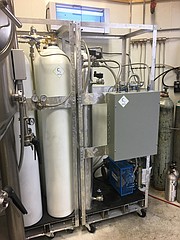 Any burgeoning industry presents opportunities for entrepreneurs to make the production process more efficient, and the craft brewing renaissance of recent years is no different.
Taylor Woods, a Missoula-based entrepreneur and University of Montana Business School alum, has devised a way to capture carbon dioxide emitted during the fermentation process, clean it and recycle it for use in the carbonation process later on. His business, COBrew, uses technology that promises to save breweries up to 30 percent on CO2 costs each year and help brewers lower carbon emissions in their facility by up to 90 percent.
"Let's say you were spending $100,000 a year on CO2, when you convert to COBrew, you only have to spend $70,000," Woods said. "That's like a whole employee salary right there."
Previously, it was standard for CO2 emitted during the fermentation process to be allowed to just drift off into the atmosphere. Woods said he first noticed the phenomena and began working on a solution several years ago.
After experimenting with his technology, he is able to produce a beverage-grade CO2 that behaves just like regular CO2 when used to carbonate the product near the end of the brewing process.
He filters out any contaminants and yeast cells from the gas emitted during the fermentation process, compresses it into tanks where they are stored until they can be used. He said the storage abilities help a lot because CO2 is such a critical component of the brewing process.
"CO2 is such a critical component of making beer. Anybody that produces a large amount of beer, if you run out of CO2 you have to shut down production because that is one of the key ingredients of production," Woods said. "Everything grinds to a halt."
After the heavy lifting of getting a small business off the ground, Woods is ready to enter the market in earnest.
The first COBrewed beer came from Lolo Peak Brewing Company, which produced an AlpenGlow wheat ale in November from the recycled CO2 that was popular in the tap house.
"A lot of the people I've talked to think COBrewed beer tastes better," Woods said.
Woods is now working on deals to get into breweries throughout the state, and is even traveling to Portland this month as part of a marketing campaign to expand the name recognition and market penetration of his product. Though the deals have yet to be finalized, Woods said he has had very promising negotiations with a couple of different breweries in the Flathead Valley, one of which is in Whitefish.
Woods said the exact savings a brewery using COBrew services sees depends on a variety of factors, including the CO2 supplier and volume of beer the brewery produces.
He said the CO2 market is surprisingly fragmented, and even in Missoula different breweries use different suppliers. Some are mom-and-pop shops and others are corporate behemoths, but all charge enough over the course of a year that 30 percent adds up to a lot of savings.
Because many breweries in Montana are small, locally owned enterprises, Woods has created a payment process that helps breweries use savings to pay for the equipment, so they can use the technology with no added cost.
He leases the equipment on a fixed-rate monthly price to the brewery and also provides regular servicing, so small brewers can institute the technology without pouring resources into learning to use it and repair it themselves and can also experience savings immediately.
"That way, the brewer can focus on making beer and not working on their CO2," Woods said.
It also makes it so that as breweries grow they see more savings. The cost doesn't go up for using the equipment more, so any additional CO2 saved can go right back in the brewery's pockets and be used for other investments.
Woods said it currently takes them about six months to procure equipment for new clients, which is fairly standard in the brewery business and due in part to the fact that each COBrew system is tailor-made to the client's needs.
He said is also working on ways to cut that down so they can expand more quickly, using expertise and production capacity he believes are available in the nearby Bitterroot Valley.
Once produced, the technology is easy to move and scalable, perfect for breweries that start small and are able to expand quickly if they are popular.
"The technology is modular and scalable. So if you do increase rapidly you don't need more equipment you just need more storage," Woods said. "It's able to meet the needs a of a growing brewery quickly."
In his travels and talks with brewers throughout the Mountain West, Woods said it is clear that brewers care a lot about sustainability, and this was an untapped frontier in their quest to make brewing more environmentally friendly. He is securing manufacturing contracts with that in mind.
"It adds a whole next step of sustainability," Woods said. "A lot of the parts are made in America."
Woods said he's enjoying many of the aspects of getting his business off the ground, but his drive is rooted in one thing: his love of beer and a desire to see it produced sustainably.
"I like craft beer, and you can literally see the bubbles going into the atmosphere," Woods said.
Reporter Peregrine Frissell can be reached at 758-4438 or pfrissell@dailyinterlake.com.
---