Sparrow's Nest prepares to welcome homeless teens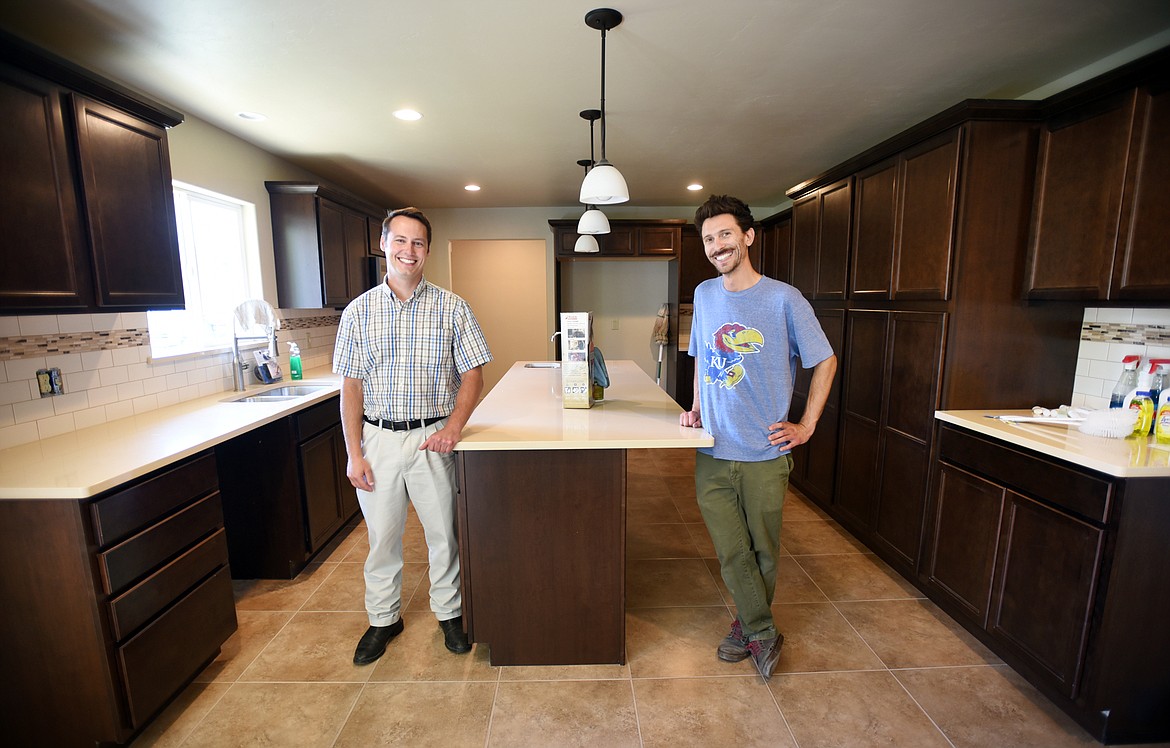 Jerramy Dear-Ruel, executive director of the Sparrow's Nest of Northwest Montana, left, and AmeriCorps VISTA member Jamie Pollard are pictured in the nonprofit's new house for unaccompanied, homeless high school students in Kalispell on Monday, July 30. Pollard's term in AmeriCorps ends in a month, but he will stay on as the new development director. (Brenda Ahearn/Daily Inter Lake)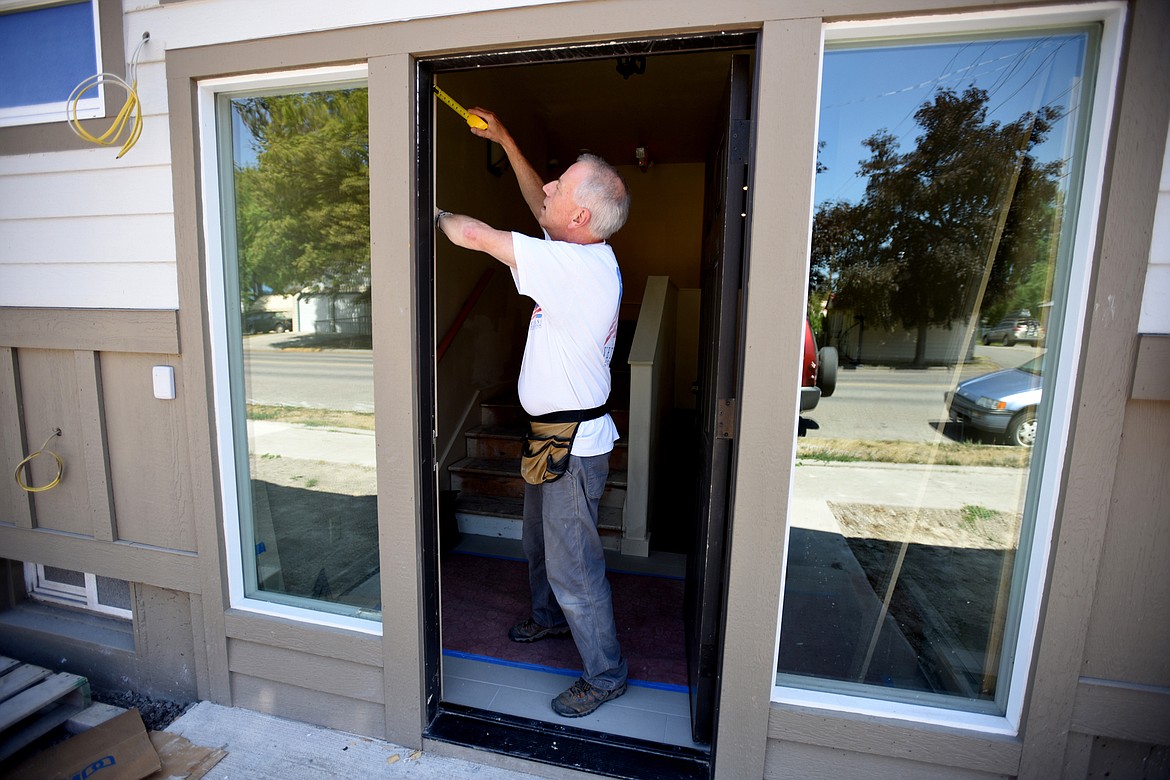 Sparrow's Nest of Northwest Montana board member and volunteer Bret Luedke installs trim around the front door of the Kalispell residence on Monday, July 30. The goal is to have the house move-in ready before the first day of school in late August. (Brenda Ahearn/Daily Inter Lake)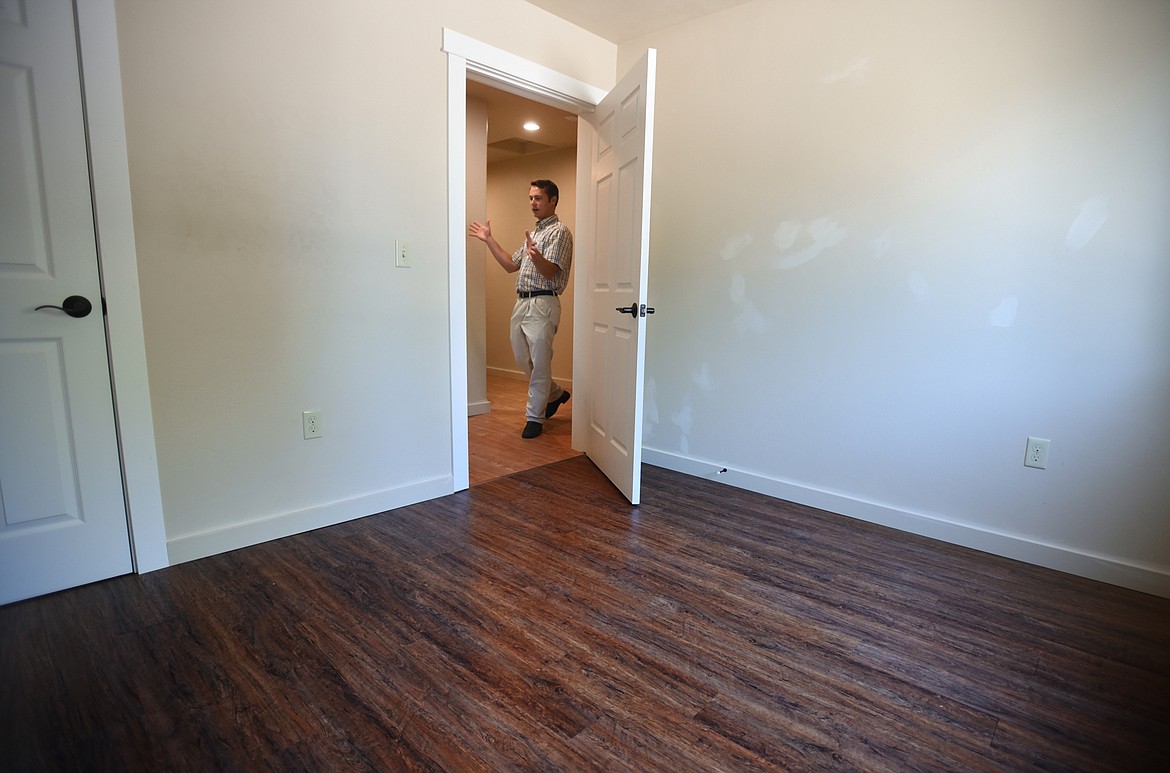 A view from inside one of eight bedrooms. Executive Director Jerramy Dear-Ruel said each room will be furnished with a twin bed, dresser and desk during a tour of the house on Monday, July 30. (Brenda Ahearn/Daily Inter Lake)
Previous
Next
by
Hilary Matheson Daily Inter Lake
|
August 4, 2018 4:00 AM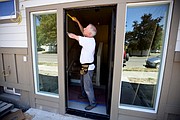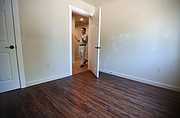 Piece by piece, the Sparrow's Nest has been woven and it will soon be ready to receive homeless high school students around the valley to its Kalispell home.
"We hope to start moving residents in before school starts in August," said Sparrow's Nest of Northwest Montana Executive Director Jerramy Dear-Ruel.
The former church building donated by Brian and Victoria Tanko, of Kalispell, in 2014 has been transformed into a home that can house up to eight unaccompanied, homeless high school students.
Homelessness according to the McKinney-Vento Homeless Assistance Act is defined as lacking a fixed, regular or adequate nighttime residence. The term "unaccompanied" means a student is not living in the physical custody of a parent or guardian.
On Monday, Dear-Ruel gave a tour of the home, which features eight bedrooms, six bathrooms, two laundry rooms, a kitchen and dining area, common living rooms, a computer lab and rooms for studying, gaming and crafting. Downstairs, renovation work still continues. Contractors Dale and Tina Barnes oversaw construction.
"We completely gutted it clean," Dear-Ruel said about demolition work, down to replacing studs. "It was all purely on a volunteer basis."
Dear-Ruel estimated the cost of renovations to be around $500,000.
Once the Kalispell home opens, the Whitefish location will no longer house students. Whitefish began accepting students in 2016, after St. Peter Lutheran Church offered use of its parsonage, which was vacant at the time. The church is in the process of hiring a new pastor who will live in the home.
Marcia Bumke, a Sparrow's Nest founder and former chairwoman, said the timing is perfect.
"They just wanted the home up there to be of use and it's been great to get the program off the ground," Bumke said.
In 2017, Sparrow's Nest celebrated its first resident to graduate from high school. The student, Estevon Torres of Columbia Falls, completed his freshman year at Montana State University this year.
Subsequently, the organization has celebrated two students graduating from Linderman Education Center, one from Whitefish High School and another recently passing the HiSEt.
To live at the Kalispell home, potential residents go through an application and screening process starting with a referral. Anyone can submit a referral. Once a referral is received, Dear-Ruel and a case manager meet with the student, which is followed up with a tour of the home.
"We try to make it as comfortable as possible for them because a transition like that is pretty filled with all kinds of emotions — some anxiety, curiosity, excitement," he said.
Residents are required to be enrolled in high school or working toward completing the HiSET, a high school equivalency test, and must pass a drug test.
"Once they're in the home, they do have household obligations," Dear-Ruel said, which includes setting goals, building life skills and completing 32 "productive hours" a week by participating in extracurricular activities, volunteering or working part-time, for example.
People may ask, what situations result in student homelessness?
"We've seen a variety of circumstances," Dear-Ruel said, from parents dependent on drugs to other family crises, and noted an uptick in 18-year-olds who have aged out of the foster care system but are still in high school with no place to go.
"There is a lot of trauma these guys have dealt with," Dear-Ruel said, adding that students arrive with different levels of maturity and resiliency.
Since the home will not have a licensed therapist on staff, students are also required to seek outside counseling.
The Sparrow's Nest organization began in 2013 with a group of Flathead High School parents. These parents wanted to do something to help after learning the extent of student homelessness in Kalispell Public Schools, which had hired homeless education liaison Ronda Stevens, who now serves the district as a project director for a grant program that focuses on youth mental health awareness and training. The group also learned the options for sheltering unaccompanied, homeless youth, such as the Flathead Youth Home in Kalispell, were few.
While these parents had no prior experience on how to establish a nonprofit or a licensed, residential community home for teens — what they did have was care, concern and passion to find out how to get it done.
Bumke was one of those parents. Her situation was unique in that she had housed a couple of homeless teens her daughter, who was a high schooler at the time, had brought home.
One teen's response to a question about the hardest part of being homeless and attending high school has stayed with Bumke.
"He said the hardest part was asking for help. I thought, you know, that's what the adults are for," Bumke said about taking the burden off the shoulders of youth. "Of course it's hard asking people for help. It's hard and humiliating. That's why we're OK with going out and asking people for donations."
"We can help them now, or help them later," she said.
The community is invited to attend an open house from 1 to 5 p.m. Aug. 11 at 204 Seventh Ave. W., Kalispell.
For more information or to donate, call 406-309-5196, email admin@sparrowsnestnwmt.org or visit https://www.sparrowsnestnwmt.org. Donations may also be mailed to Sparrow's Nest of NW MT, P.O. Box 8384.
Kalispell, MT 59904. Besides monetary donations other needs include: an eight-passenger van, gift cards, paper towels, cleaning supplies, toilet paper, toiletries, stamps and printer paper.
Reporter Hilary Matheson may be reached at 758-4431 or hmatheson@dailyinterlake.com.
Recent Headlines
---