No headline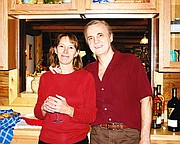 Gil Jordan and Kimberly Pinter of Coram will celebrate 40 years of marriage July 30.
The couple were married July 30, 1978, at their home in Whittier, California, by Gil's father, Dr. Thatcher Jordan, a Methodist minister, who coincidentally was performing his 1,000th wedding.
Gil and Kim met at Rio Hondo College in Whittier, where they were both employed, Gil as the Theatre Department stage manager, and Kim working in the Community Services office.
Together they purchased 40 acres of wilderness forest two and a half miles off the highway in Coram. Over the next eight years they visited the Montana property every summer and began building their log home, where they moved in 1985. Gil got a job as a social worker with the Western Montana Mental Health Center's Lamplighter House in Kalispell, where he worked for 13 years, while Kim worked at Human Resources (now Community Action Partnership).
Gil and Kim recently retired from the Museum at Central School and Northwest Montana Historical Society where Gil was the executive director for 12 years, and Kim was a volunteer for the first six years and executive assistant for the past six years.
The couple now devote more time to home-based projects like gardening, home improvements and reading, and remain involved with the community. Gil continues 31 years of service with the Coram-West Glacier Volunteer Fire Department where he has been secretary-treasurer for 29 years. In June 2017, Gil became a board member with Citizens for a Better Flathead, and starting in September will add the Whitefish Theatre Company board to his responsibilities.
Recent Headlines
---