Blacktail ski area offers apres ski live music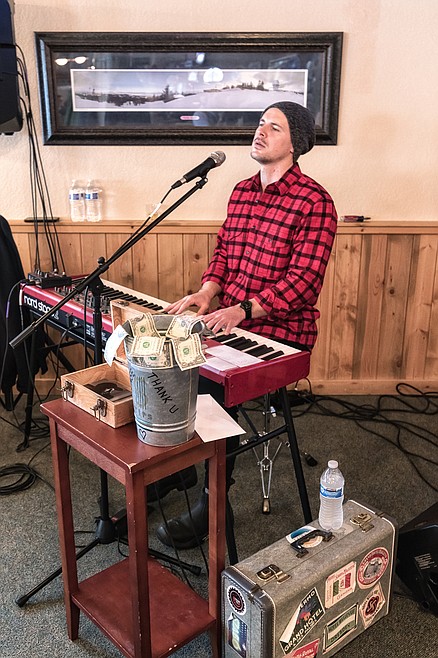 Eric Alan performs at Blacktail Mountain's Mountain Top Music Series.
by
Carol Marino Daily Inter Lake
|
February 7, 2019 4:00 AM
Blacktail Mountain Ski Area brings music to the mountain every Friday with its Mountain Top Music Series.
The series is booked out for the rest of the season, said Arin Lever, Blacktail Mountain's marketing director.
"We've created a favorable concept among musicians and fans alike, 'Sing for your skiing.'" he said. "Many local musicians are very willing to trade their talents for an opportunity to ride the slopes of Blacktail Mountain. On any given Friday you can spend a day making tracks on Blacktail Mountain and be rewarded for your effort with live music, apres ski at Muley's Bar & Restaurant."
Even non-skiers like to come up to Blacktail to enjoy a winter's drive, grab a burger and beer and listen to the live music at Muley's.
Blacktail Road is a 14-mile-long Forest Service Road, connecting with U.S. 93 in Lakeside. Albeit, a bit winding, it is well-maintained, plowed and sanded, Lever said, adding that one can expect the drive from Lakeside up to Blacktail Mountain's Ski Lodge to take 30 minutes unless you would like to pull over and take photos overlooking Flathead Lake.
"Having a maintained road that one can travel to the top of a mountain in winter is a rare occurrence and having a ski lodge at the end of that mountain-top drive is an anomaly," Lever said. "It's pretty magical to see the sunsets up on the mountain during apres ski and it's been just an absolute joy to watch the musicians bring their families up for ski days on the mountain."
Singer/songwriter and pianist Eric Alan is one of the musicians who has played for Muley's Music on the Mountain series. The Kalispell native has traveled and performed across the country, but is happy to be back home, having returned to the valley last year.
"I missed home and realized that I can have a successful career in live music right here," Alan said. "It's fun going up to the mountain because it takes you out of your own and transfers you to a different world. And that brings something new to the music."
Playing at Muley's has other benefits, Alan says. "People who've just gotten off the mountain are already in a good mood. They're happy to be back inside, warm and cozy. That definitely makes it fun for me."
Alan's sets include a mix of his original alternative and pop rock along with popular covers of Elton John, Neil Young, even Prince, spanning genres and generations. He's scheduled to play from 3 to 5 p.m. Saturday, Feb. 16.
Recent Headlines
---