Go find your fun this Fourth of July weekend
by
Carol Marino Daily Inter Lake
|
July 4, 2019 4:00 AM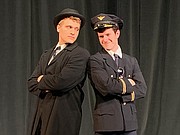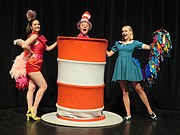 Parades, pyrotechnics, art festivals, theater, rodeo, even vintage aircraft —the Flathead Valley is jumping this Fourth of July weekend. Whatever floats your boat, consider yourself personally invited to a host of entertaining happenings.
Here are some of the highlights:
KALISPELL
- Kalispell's Fourth of July Parade is one of the most colorful celebrations in the valley. The parade commences at 10 a.m. heading north on Main Street, rain or shine.
Early risers can enjoy a free sausage and coffee at Bethlehem Lutheran Church, chased by a free waffle breakfast before the parade from 8 to 10:30 a.m., compliments of Johnson-Gloschat Funeral Home, at their South Main Street locations.
A free old-fashioned ice-cream social follows from 11 a.m. to 2 p.m. on the lawn at the Conrad Mansion, featuring live music and barbecue vendors. The Mansion Museum will offers self-guided tours for $5.
- The Wings of Freedom Tour touches down at the Glacier Park International Airport in Kalispell July 4 and 5. Featuring World War II-era planes, the display is an opportunity to get up close and learn more about these unique aircraft. Presented by the Collings Foundation, the tour travels across the nation in honor of the freedom these fighters and bombers helped preserve during World War II. Visitors are invited to explore the exterior and interior of these historical aircrafts.
The fee is $15 for adults and $5 for children under 12. Personal flights in the B-17 Flying Fortress and B-24 Liberator are available, with pricing available at 800-568-8924. Ground tours: Today, 9:30 a.m. to 5 p.m.; Friday, 9:30 a.m. to noon.
The Wings of Freedom Tour will be held at the Semitool hangar at Gate 7, which can be accessed a half-mile north of the Glacier Park International Airport entrance on U.S. 2. Parking will be available at Gate 7. For more information, contact Hunter Chaney with the Collings Foundation at 978-562-9182.
- Artists and Craftsmen of the Flathead have their annual summer show this weekend at the Flathead County Fairgrounds in the Trade Center Building. With more than 75 vendors featuring everything from jewelry and woodworking to homemade salsa and jams, there's plenty to catch the eye and temp the taste buds. Hours are 10 a.m. to 5 p.m. Friday and Saturday; and 10 a.m. to 4 p.m. Sunday.
Admission is free. Food trucks will be on site and door prizes will be given away.
- Join a ranger at Lone Pine State Park for a special, kid-friendly pollinator program at 2 p.m. Friday. Learn about pollination, the difference between bees, wasps and flies, check out some local flowers and more. At the end, you get to build your own "bee hotel" to put in your yard or garden. The cost is $4 per person or $10 per family. Registration is required by calling 755-2706.
- Glacier Symphony's annual "Symphony Night at the Farm" concert Friday and Saturday is a great way to celebrate our nation's birthday with an "American Salute" featuring popular patriotic tunes, along with a selection of romantic music by George Gershwin and Aaron Copland.
Set on the rolling lawn at Rebecca Farm, the venue offers plenty of room to spread out blankets and low-backed chairs and enjoy the evening. Bring a picnic and your favorite beverages or enjoy food and drinks from on-site vendors. Entry is by the carload. Car passes are $50; or bike in for $5.
Rebecca Farm is located at 1010 West Spring Creek Road. Gates open at 5:30 p.m. The concerts begin at 7:30 p.m.
• The Kalispell Farmers Market, the Flathead Valley's largest, is open from 9:30 a.m. to noon Saturday in the parking lot of Flathead Valley Community College.
BIGFORK
- Bigfork's Fourth of July Parade starts at noon in downtown Bigfork. This year's theme is "American Heroes."
Horses, clowns, fire trucks and floats of all designs stream down Grand and Electric Avenues cheered on by huge crowds.
Joining Bigfork's parade this year will be a flyover of a C-130 by the Montana Air National Guard.
Remember, there's no parking in downtown Bigfork after 8 a.m., and Grand and Electric Avenues will be closed to traffic. Parking for the parade will be in the field at the intersection of Montana 35 and 82, with a free shuttle service downtown from 8 a.m. to 4 p.m.
At 4 p.m., head over to the single lane bridge to watch the ducks race down the Swan River. The owner of the first duck under the bridge wins $200.
Get ducks at Roma's Gourmet Kitchen Store, Eva Gates Homemade Preserves and The Jug Tree. Proceeds support the Bigfork High School Scholarship Program.
- Bigfork Summer Playhouse takes up residence at the Bigfork Center for the Performing Arts throughout the extended holiday weekend. Tickets are available online at bigforksummerplayhouse.com and at the box office from noon to 5 p.m. Monday through Saturday and during performances; or call 837-4886.
7:30 p.m. today — "Seussical the Musical," based on the children's stories of Dr. Seuss, brings some of the best-loved characters together in an unforgettable, magical, musical extravaganza. The cast will have you tapping your toes and wanting to sing along as they bring these characters to life on stage.
8 p.m. Friday — "Catch Me If You Can" (PG-13) — From 1963 to 1968, Frank Abagnale Jr. worked as a co-pilot, hospital supervisor, attorney, and stole over two million dollars ... all before the age of 21. The musical production is based off the 2004 DreamWorks movie starring Leonardo DiCaprio and Tom Hanks.
8 p.m. Saturday — The Playhouse presents one of the greatest musicals of all time, "Oklahoma!" Beloved by audiences worldwide for its grandeur, dancing, humor and heart, the show celebrates the pioneer spirit that forged the American West
•The Bigfork Pro Rodeo will fill the bleachers Friday, Saturday and Sunday. The venue is located at the intersection of Montana 82 and 35. Gates open 5:30 p.m. The action starts at 7 p.m.
Active and retired veterans receive free admission the first evening. The final day, gates open at 3:30 p.m. and the rodeo starts at 5 p.m. and kids 12 and under get in free.
Otherwise, tickets are available at the gate and are $20 for adults and $10 for children ages 12 and under. Food vendors will be on site and live music will add to the festivities. Parking is free. Go to bigforkrodeo.com for more details.
WHITEFISH
- The Fourth of July Boat Parade on Whitefish Lake — Whitefish's newest holiday tradition — will follow the lake's eastern shoreline, beginning at 8:30 p.m. today in the cove off Whitefish Lake State Park as the crowd gathers at City Beach for the big fireworks show at dusk. Boaters will compete for the "Most Patriotic Boat" award and a $500 gift certificate from Whitefish Marine.
For more information, or to enter your vessel in the parade, call Cole at 862-8594. A free shuttle runs from 7 to 11 p.m. from O'Shaughnessy Center to City Beach.
• The 40th annual Whitefish Arts Festival takes place this weekend. Hours are 10 a.m. to 6 p.m. Friday and Saturday, and 10 a.m. to 4 p.m. Sunday.
Sponsored by Whitefish Christian Academy, the festival takes place at Depot Park and features all handmade art from more than 100 juried artists across the country. Admission is free.
- The Market Beautiful, billed as Montana's most unique vintage shopping event, takes place from 10 a.m. to 4 p.m. Saturday, rain or shine. The market is located at 1876 Voerman Road
General admission is $7 with kids 12 and under free. Or get a jump on early shopping at 9 a.m. for $15. For details, go to http://www.themarketbeautiful.com
LAKESIDE
- The long-standing tradition in Lakeside is to launch fireworks at dusk from a barge on Flathead Lake. Plenty of shore-side public viewing is available, including Volunteer Park. Boaters can enjoy the display from their watercraft. Tune in to 107.3 FM for a complementary music show starting at 10:30 p.m.
POLSON
- Polson kicks off the Fourth with its Firecracker Fun Run, a 1-mile race from the St. Joseph Medical Center down the parade route ending on Third Avenue. Entry fee is one canned or dry good per person. Donations are accepted as well. The run starts at 11:45 a.m., with registration at 11 a.m. at St Joseph Medical Center.
- Polson's Fourth of July parade begins at noon. This year's theme is "1909 to 2019 – Celebrating 110 Years of Growth." The fireworks show begins at dusk. The best place to watch is Riverside Park.
- The Singing Sons of Beaches featuring Steve Riddle, Nick Terhaar and friends will play a final musical tribute to the life and legend of the late Greg Devlin from 6 to 9 p.m. July 4 at the East Shore Smokehouse, 35103 Montana 35. For reservations, call 887-2096. A potluck party for family and friends will also be held from 1 to 3 p.m. Friday at Boettcher Park in Polson. Bring your own chairs. Call Jeneil Devling at 406-261-9868 for details.
- The Polson Farmers Market is open from 9 a.m. to 1 p.m. Friday.
- The Port Polson Players stage "The Sunshine Boys" at 8 p.m. Friday and Saturday, and 2 p.m. Sunday at the Port Polson Players Theatre. Lewis and Clark, The Sunshine Boys, were a successful Vaudeville comedy duo. During the later years of their 43-year run, they stopped speaking to each other. Laughter abounds in this Neil Simon classic. For reservations, call 883-9212.
ARLEE
- The 121st Arlee Powwow continues this week at Arlee's Powwow Grounds. The celebration of the Salish and Pend d'Oreille tribes features traditional dance competitions, singing, drumming and a big July 4 parade. There are also many vendors with handmade beaded crafts and food booths.
TROY
- Troy's Old Fashioned Fourth of July celebration kicks off with a 5K run/walk at 8 a.m. followed by breakfast at Roosevelt Park at 9 a.m. The parade begins at 11 a.m.
The Cruisers Car Show opens at noon with food, vendors, artists and informational booths, all at Roosevelt Park. Enjoy live music throughout the day.
The celebration is capped of with a great fireworks display at 11 p.m.
LIBBY
- Ron Adamson's "The Libby Chainsaw Event" will be held today through Sunday on the corner of Louisiana Avenue and U.S 2 from McDonald's. Hours are from 2 to 7:30 p.m. today; Friday and Saturday,10 a.m. to 7:30 p.m.; Sunday, 10 a.m. to 5 p.m.
Carvers, vendors, seminars, food, auctions, raffles, and activities for the kids.
- Libby's Farmers Market is open for business from 3 to 7 p.m. July 4 outside the Chamber Office and Fireman's Park.
COLUMBIA FALLS
- Columbia Falls Farmers Market will be open for business from 5 to 8:30 p.m. on the Fourth of July at the Coop. The live music lineup promises to be great.
- The Brash Summer Series Rodeo gets under way at 7 p.m. July 4 at the Blue Moon Arena, 167 Half Moon Road. Adults cost $12, children 6 to 12 cost $6, and children 5 and under get in free. VIP tickets are also available online at http://glaciercountryrodeo.com
MARION
- The Marion Fire District puts on a parade and carnival starting at 11 a.m. on Gopher Lane. Games, live music, food and fun — free for everyone.
WEST GLACIER
- West Glacier's Farmers Market is open from 2:30 to 6 p.m. Friday.
- Fridays on the Front Porch is from 5 to 8 p.m. Friday at the Great Northern Resort, located at 12127 U.S. 2. Enjoy live local music, food and local spirits. The scene is family friendly and it's fun to dance in the grass or have the kids play in the volleyball court.
POLEBRIDGE
- Polebridge pulls out all the stops with its quirky Fourth of July parade, starting roughly at noon. The semi-spontaneous and often hilarious event draws hundreds each year to this small, remote North Fork community.
Recent Headlines
---