NURSES VOTE IN FAVOR OF UNIONIZATION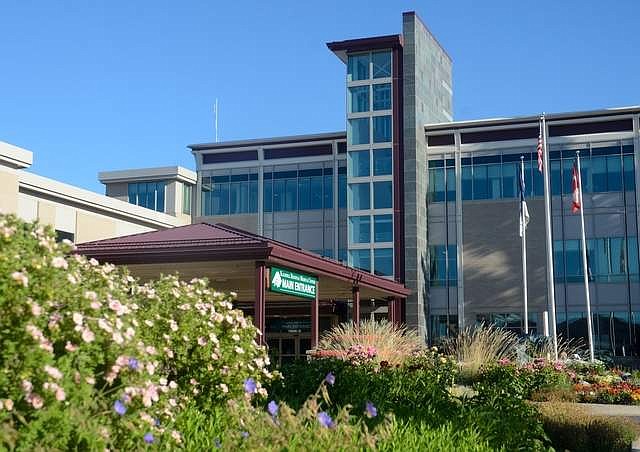 The main entrance to Kalispell Regional Medical Center.
(Matt Baldwin/Daily Inter Lake)
by
KIANNA GARDNER
Daily Inter Lake
|
July 12, 2019 12:00 AM
The majority of registered nurses and other affected employees from Kalispell Regional Medical Center, Brendan House and The HealthCenter voted in favor of unionization following a two-day union election — an upshot decided by a wide margin of those who cast their ballots.
The voting body consisted of a total of 650 employees from the three centers. According to a press release from the union, Service Employees International Union 1199NW, 571 eligible voters submitted ballots with 372, or about 65 percent, voting in favor. The outcome of the secret ballot election, which was supervised by the National Labor Relations Board, was decided by the majority vote. Therefore, although a portion of those who could vote, didn't, the results of the election are still valid. The electorate body had multiple opportunities to cast their ballots on Thursday or Friday. The deadline to vote was 5:30 p.m. Friday.
According to the union press release, nurses say they voted to join the union to "have a voice in their future, a great ability to advocate for their patients' safety and quality care, and an environment in which their contributions and insights are valued."
"As a nurse my top priority is providing the best possible care to my patients every single shift. With the current climate and changes at KRMC it's been difficult to do that. We constantly work short staffed and struggle to retain skilled and seasoned nurses," said Sarah Johnson, a registered nurse in the intensive care unit. "Having the nurses united in SEIU Healthcare 1199NW means we can make changes in our hospital that will ultimately create the hospital and environment we envision for our patients and community."
All nurses who make up the bargaining unit must now pay union dues, regardless of whether they voted in favor of unionization or not. Since Montana is not a right-to-work state, they are not given an option to opt out of the union. The bargaining unit will include all registered nurses at Kalispell Regional Medical Center, the HealthCenter, Brendan House and Kalispell Regional Medical Center clincs, according to a press release from Kalispell Regional. The unit excludes North Valley Hospital nurses and any Kalispell Regional Healthcare nurse in a supervisor or manager role.
Moving forward, union and hospital officials will settle on terms of their collective bargaining agreement, which experts say can often take months or even years in some cases. Once those terms are reached, union representatives will be allowed to negotiate various terms and conditions of employment for nurses including wages, hours, benefits and more.
According to the hospital press release, Kalispell Regional officials, who heavily campaigned against a union, acknowledge the "full impact of operating in a unionized environment is unknown."
"We will now move forward with a union presence and are preparing for that reality," said chief executive officer of Kalispell Regional, Craig Lambrecht.
"While I respect the outcome of this vote, I am disappointed that this pathway was chosen over what I believe to be the better approach of having a direct working relationship with our nurses to continually improve patient care and move the organization forward," Lambrecht continued.
The potential for a union election had been building for some time, with hospital officials saying they have been aware of nurses' efforts to unionize since fall of 2018, around the same time Kalispell Regional was hit with a $24 million whistleblower lawsuit settlement, an event many say prompted trust issues with hospital staff and management. And months after the lawsuit, the Montana Nurses Association filed charges against Kalispell Regional, claiming the hospital was impeding on employees' rights to unionize. The charges, however, were dropped in early February after an investigation by the National Labor Relations Board came up empty-handed.
The union election was a continuation of those efforts, according to hospital officials.
A group known as the KRH Organizing Committee delivered a note to Lambrecht on June 13, announcing a petition had been filed for union recognition. After the petition was filed, the employer and the union settled on July election dates, and extensive campaign efforts by both sides ensued.
About one week after the original petition was filed, Lambrecht, who has been with the hospital for about three months, announced the introduction of organized labor potentially could lead to a buy-out.
"If we have situations where providers don't want to work here and we can't recruit and then patients aren't coming because they aren't confident in what we are doing, it gets really hard to create an environment of growth," Lambrecht said in a recent interview. "Without that growth and that confidence in our service delivery area, there's a chance we might jeopardize our independence and have to partner with someone else."
Information regarding a potential partnership was not provided in the press release.
Reporter Kianna Gardner can be reached at 758-4439 or kgardner@dailyinterlake.com
Recent Headlines
---